Juicy Couture Debuts Baron Von Fancy Collaboration
Juicy Couture debuts its Baron Von Fancy collaboration, which hits stores in January.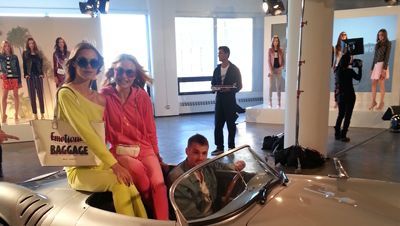 (Image credit: Jessica Minkoff)
The fashion set gathered at Milk Studios on Tuesday where Juicy Couture showed its Spring 2014 collection. The lifestyle brand debuted its first sportswear range along with an Instagram-worthy collaboration with artist Baron Von Fancy.
"It was great working with Juicy's aesthetic because its so in line with my own," says Von Fancy, who was chillin' inside Juicy's own 1955 Porsche Spyder with two blonde models. "The fun, playful vibe was just what I wanted for my first collaboration with a large-scale brand." Get your hands on the graffitied pieces—including a tote splattered with the words "Emotional Baggage"—that hit stores in January.