32 Unique Father's Day Gifts So Much Better Than Socks and a Tie
Guaranteed to please even the fussiest of dads.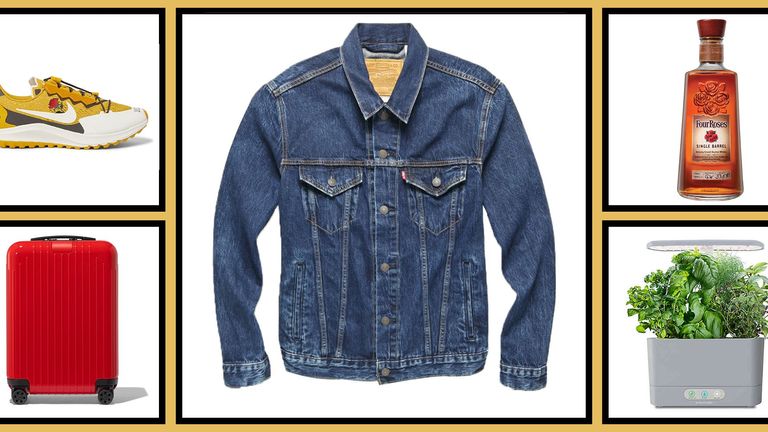 (Image credit: hearst owned)
It's easy to get tripped up when looking for gifts for Dad. He's so staunch with his "I don't need anything new" stance—which, to be honest, is probably why he usually gets such snooze-worthy presents (see: a pair of a socks and a tie). But what to get him for Father's Day this year? I mean, what do dads even like? Here's an idea: For a second, stop thinking of your old man as an old man. This is going to blow your mind, but your Dad was once a bro. He secretly likes cool stuff, though he'd never admit it; he's just so out of the loop at this point that he doesn't know what's cool these days. That's where you and your siblings come in ("we're all splitting this, right?"). Start by thinking: What do your guy friends like? Drinking, cool gadgets, hip clothes that don't look like they're trying too hard, some secret beauty products (shhh), and hanging out with their guy friends. Guess what—your dad likes those things, too. So in honor of Pops, try a little harder to think of Dad as a dude (gross, I know), and I think you'll find shopping to be a lot more fun. Here are 32 unique gift ideas for the cool dad that will leave him enthralled.
1/32
AeroGarden AeroGarden™ Harvest with Gourmet Herb Seed Pod Kit
A great choice for city-dwelling dads. Help encourage not only his green thumb but his kitchen prowess with this foolproof, space-friendly herb garden.
2/32
Madewell Garment Dyed Crewneck Sweatshirt
Inspired by athletic gear of the 1940s–not too oversized, not too restrictive–this cozy cotton fleece sweatshirt is as easy as it is chic. Perfect for all of Dad's weekend errands.
3/32
EdgeStar Craft Brew Single Tap Kegerator
This is a present for Dad, of course, but are you and your siblings going to say no to sharing a pint with your old man? It's Miller Time!
4/32
K.Haring Spoon
Perhaps Dad is lucky enough to live in a recreationally legal state, or maybe he's leaning on a bit of the flower to help with that "ole tricky football shoulder" (sure, Pops). Whatever the case, step up his smoke-break with this Keith Haring glass bowl. His golf buddies with think he's real cultured.
5/32
August Home August Smart Lock
Okay, so by now, you've got your father up to speed on how his smartphone works. Next, blow his mind with this keyless smart lock for the house. The August Smart Lock attaches easily to the existing deadbolt at his house, and once operational, there's no more worrying "Did we lock the door?" and no more "Where are my dang keys!"—in fact, no more keys at all! He can set his phone to auto-lock the door when he leaves, Bluetooth will let it know when he arrives, he can even grant access to you—all from his phone (if only he could find that).
6/32
ROKR Self-Assembly Puzzle Model-Pendulum Clock
Remember how your father was talking all that game about how good he was getting at puzzles? Well, challenge him to put his money where his mouth is with this 3D wood puzzle which, when fully actualized, is a working pendulum clock! If he can do it, it'll look super impressive. If he can't, it'll be fun to watch him lose his damn mind. Win/win?
7/32
Timex + Todd Snyder Exclusive Timex Marlin Blackout 34mm
In the eternally sage words of Rocky Balboa: "You like having a good time? Then you need a good watch." This season, Todd Synder partnered once again with Timex to re-issue and reimagine a 1960s Timex Marlin. Perfect for Dad to wear to any suited-up occasion.
8/32
iRobot iRobot Roomba
Let Dad really feel like the king of his clean castle with a simple, "Alexa, vacuum my house!" He won't have to lift a finger, and isn't that what a Father's Day gift is all about?
9/32
Tom Dixon Tank Platinum Stripe Whiskey Set
Maybe you've got one of those design-oriented dads? Everything perfectly in its place, furniture well-considered and curated? Well, first off, I'm sorry. He sounds super difficult to buy for. That said, you probably can't go wrong with this Tom Dixon platinum striped decanter and tumbler set. Its minimalist design is sure to please even the pickiest of dads.
10/32
YETI YETI Tundra Haul Cooler
It's summertime, and just like you, Dad's itching to head out to the beach. This Yeti Haul Cooler with its two wheels and tow handle will make it easy for him to transport his brews from the backseat, to the beach, to the boat.
11/32
Polo Ralph Lauren Polo Ralph Lauren The Earth Polo
Dads care about the planet, so give him a fun eco-approved polo to chat with his buddies about. "Did you guys know this shirt was made from plastic bottles? My beautiful and thoughtful daughter got it for me for Father's Day. She's the greatest." Or, at least, something like that.
12/32
PETZL PETZL - ACTIK Headlamp
Trust me: He will use this. Headlamps are not just for spelunking anymore! Lights go out all the time, so allow Dad to keep his hands free when searching for that fuse box and whatnot. After his first use with this 300 lumen (read: very bright) headlamp, it will become an indispensable tool in his Dad arsenal and earn its warranted place of pride on his bedside table.
13/32
Combo Packs
Let's face it, your father couldn't find his head if wasn't attached. The old man isn't as on it as he used to be, bless him. So throw him a bone and slip him some of these Tiles. He can attach them to the things he's most often misplacing: His keys, the TV remote, his wallet, that $10,000 check he was meant to cut you...
14/32
Chain Collection Classic Chain Wrap Bracelet
Like I said, your father wants to be cool, he just doesn't know how. Help him. A single cool bracelet to pair with his watch will amp up his wrist party, which is probably looking bleak right now. Suddenly, he's not a like a regular dad, he's a cool dad!
15/32
Chain Collection Bose Frames Alto
You've always got your AirPods in—why not get your father in on the action? These classically styled Bose sunnies feature an open ear design and are Bluetooth enabled so Dad can take calls while listening to his old-timey jams and still look "made in the shade." (Worth noting: They also can be made with his prescription.)
16/32
Raey Exaggerated Wide-Leg Denim Shorts
Fact: Dads like jorts. Offer him an option that you could actually be seen hanging out with him in. Unfortunately, we can't do anything about the beat-up brown belt and God-awful square toe loafers he'll choose to rock with these.
17/32
1pt ONE PART Welcome Kit
Cocktails have changed. Dad might not know this. But a great drink that's all-natural and easy to make at home? Dad definitely gets that. The Welcome Kit from One Part Co. is his intro to the perfect cocktail with a gourmet twist. The set includes three infusion blends (peppery, savory and tangy), and comes with cool barware and blank labels. Once infused, Dad can take credit for creating his very own fancy small-batch hooch for when the neighbors come over.
18/32
Brybelly Ceramic Poker Chip Set
What's that saying—whoever has the most toys in the end wins? Elevate not only Dad's poker night with the guys but also his clout when he busts out these Nevada Jack casino-grade ceramic poker chips. Made from the same weight and material of the chips in professional casinos, your father will feel like a winner even when he's losing his shirt.
19/32
Wynd Wynd Plus Smart Air Purifier
This one is a little more for you than for your father. Who doesn't want Dad to be healthy? This Wynd portable air filter can help out with that. Pop it in his office and it will monitor the air around him and filter out allergens, pet dander, and even that cigar smoke that fills his office, even though he "has no idea why it would smell that way."
20/32
Thorsun Mid-Length Printed Swim Shorts
Upgrade Dad's summer swimwear game with some stylish new trunks from fashion-favorite Thorsun. These have got all the pockets your dad might require—a front side-slash, a back zipped one, and even an internal pocket. Perfect poolside, especially when paired with a short-sleeve button-down, but even better on that Mexico getaway he's been promising your mom.
21/32
Rimowa Rimowa Essential Lite Cabin S
He works hard, so why not make your father's overnight business trips feel a little more luxe? The Cabin S is Rimowa's lightest model ever, designed to allow Pops to pack it to the gills and easily lift it into the overhead on his connection to Omaha.
22/32
Nike x Undercover Gyakusou Zoom Pegasus 36
Instant street cred? Here, have some Nike x Undercover '70s-inspired "Zoom Pegasus 36 Trail" sneakers, Dad. Every kid on line at the Supreme store will be giving your dad mad props. And the best part: He'll have no idea why.
23/32
Package Free Zero Waste Shave Kit
It's time for Dad to ditch those disposable blades and endless bottles of shaving cream. Help him cut down on his carbon footprint with this cool all-in-one shave kit. This 3-piece safety razor comes with saving soap and replacement blades, all tied up in a reusable drawstring bag. Doing good never looked so good.
24/32
Gentleman Gift Set
What's a more classic Father's Day gift than cologne, accompanied by a card with you and all of your siblings' names on it? Show Dad what a gentleman you think he is with ScentBird's Gentleman Gift set. Three distinguished fragrances to help your Pa smell as refined as he is.
25/32
Car Vent Mount
It's probably best for Dad to keep both hands on the wheel at all times. This Belkin car-vent mount for his smartphone might really help with that. It adjusts to fit any device (even in their case) and rotates 180 degrees for landscape mode to help him see the map better.
26/32
Four Roses Single Barrel Private Selection OESQ
Go on and give the man a real man's drink. Four Roses single barrel, barrel-strength Kentucky straight bourbon is just the kind of special treat Dad will reach for to cap off a job well done.
27/32
Cuisinart 20-Piece Deluxe Grill Set
Dads = grill masters. Help him get down to some serious business at the next cookout with this 20-piece briefcase of stainless steel grill tools sure to impress at the next family reunion.
28/32
Audew Portable Air Compressor Tire Inflator
This Audew super-fast inflator takes all the guesswork out of keeping Dad's tires in tip-top shape. Plug it into the cigarette lighter, punch in the desired PSI, and presto, Pop's got perfectly pumped Pirelli's.
29/32
Levi Trucker Jacket
No distressing, no bleaching, no bells and whistles. A classic Levi's trucker jacket is a must have in every modern man's closet. Perfect for any dad, it's as tough, timeless and tried and true as the man himself. (Plus, think of how funny it'll be when he goes total denim-dad when matching it with his jeans.)
30/32
SOG SOG MacV Tool SM1001
With this TSA compliant 12-tools-in-one device that can live on his keychain, Dad will be ready for anything. Multiple wrenches, screwdrivers, a bottle opener, even a line cutter? This tool is every grown-up Boy Scout's dream.
31/32
Eno ENO SingleNest Hammock
Isn't it time Dad gets in a little R&R after all that he does? This ultra light hammock packs to the size of a softball in its own built-in stuff sack, so storing it is a cinch.
32/32
The Gift of Style
What's better than shopping for Dad? Literally anything. This year, why not pay someone else to do it? With personal styling tips from Stitch Fix experts starting as low as $20, investing in Dad's upgraded new look while saving your sanity is worth every penny.
For more stories like this, including celebrity news, beauty and fashion advice, savvy political commentary, and fascinating features, sign up for the Marie Claire newsletter (subscribe here).
Joseph Errico is Marie Claire's Fashion Director. As a career-long fashion editor and celebrity stylist, he has had the opportunity to work alongside the world's top image makers and talent. He has styled editorial and advertising, red carpet, music videos, fashion shows and writes about fashion, culture and most anything bon vivant-y for marieclaire.com. He feels most at home in an airport lounge, a beach, a disco or gossiping front row at the collections. His blood type is Gaultier.