Editors handpick every product that we feature. We may earn commission from the links on this page.
32 Unique Father's Day Gifts So Much Better Than Socks and a Tie
Guaranteed to please even the fussiest of dads.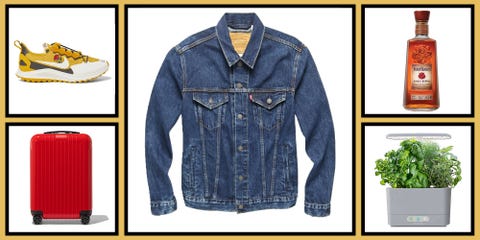 It's easy to get tripped up when looking for gifts for Dad. He's so staunch with his "I don't need anything new" stance—which, to be honest, is probably why he usually gets such snooze-worthy presents (see: a pair of a socks and a tie). But what to get him for Father's Day this year? I mean, what do dads even like? Here's an idea: For a second, stop thinking of your old man as an old man. This is going to blow your mind, but your Dad was once a bro. He secretly likes cool stuff, though he'd never admit it; he's just so out of the loop at this point that he doesn't know what's cool these days. That's where you and your siblings come in ("we're all splitting this, right?"). Start by thinking: What do your guy friends like? Drinking, cool gadgets, hip clothes that don't look like they're trying too hard, some secret beauty products (shhh), and hanging out with their guy friends. Guess what—your dad likes those things, too. So in honor of Pops, try a little harder to think of Dad as a dude (gross, I know), and I think you'll find shopping to be a lot more fun. Here are 32 unique gift ideas for the cool dad that will leave him enthralled.
This content is created and maintained by a third party, and imported onto this page to help users provide their email addresses. You may be able to find more information about this and similar content at piano.io