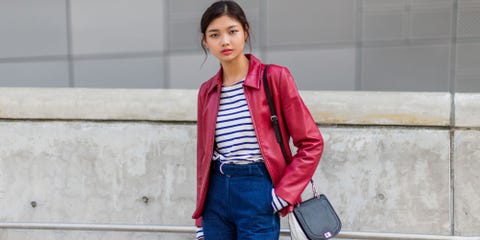 How infuriating is it that the *most* most perfect Breton shirts ever made seem to have been owned solely by long-dead artists like Picasso and Warhol? (Answer: super.) There's a certain magic to a well-worn Saint James, but for those who want to try a different tack, here are five other striped-T brands that'll make you feel like Pablo.
Like the classic Saint James but cool kewl kule, this stolid jersey knit comes in slim and boyfriend fits and with clever design details like a sleeve narrow enough to stay up, a drop shoulder, and their signature orange and blue tab.
$128, kule.com.
"If you can't beat 'em, join 'em," doesn't really apply to our lives ever, but sometimes, in some categories, men's designers don't completely suck. Here, you've got the droopy shoulder and wide neck—with the small satisfaction that comes when someone asks you where your top's from, and you're like "It was made for a dude HAHA."
$125, mrporter.com.
Re/Done, purveyor of impossibly good denim, also makes really good non-jeans products. Surprise! This '60s-inspired roll-neck might be more beatnik than others in this roundup, but its layer-ability is just the same.
$125, shopredone.com.
Fashion people swear by their T-shirts, so why shouldn't they stand behind their...other T-shirts too? This fun variation—crazy-flattering construction, as always—comes with built-in French cuffs, which are like dickies for your wrists, if you think about it.
$45, jcrew.com.