10 Casual But Cute Outfits to Wear At Home or to the Grocery Store
Yes, a hoodie can be part of it.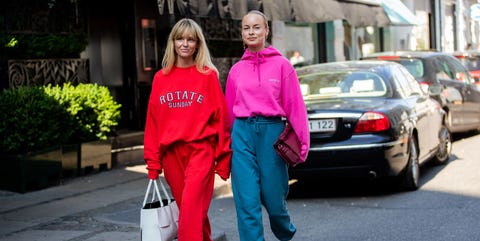 Christian Vierig
Getty Images
You've seen the movie: Recently single heroine runs into ex, complete with new girlfriend, in the grocery store. Heroine ducks behind a display of cereal boxes. I'm 90 percent sure this in How to Lose a Guy in 10 Days... Anyways, these types of situations do happen IRL, like when you happen upon your new boss on your way to Sunday Funday, or are seated next to your frenemy at a mutual acquaintance's dinner party. And when they do happen, it's best to be armed with a cute outfit that screams "I look this chic every day." The beauty of cute-but-casual outfits is that you can make a look out of all your favorite basics, from a hoodie to a pair of jeans. Even if you're not faced with any of the aforementioned scenarios, you still want to be sure to look your best at all times, right? After all, when you look good, you feel even better. Look ahead for 10 dressed-down outfits that are presentable enough for any type of encounter.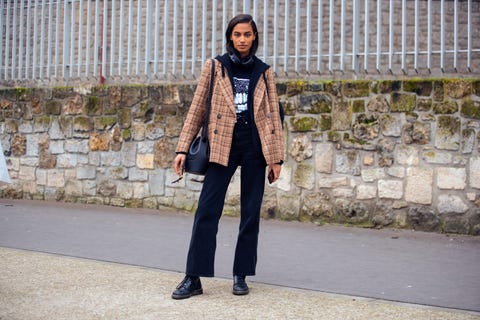 Reach for Your Hoodie
Hoodies are cozy, warm, comfortable—basically, amazing. I lounge in one while working from home, and I definitely have hoodies in at least five different colors. If you thought this casual piece was reserved for lazy days only, you're wrong. A simple way to elevate said hoodie is with a plaid blazer and a pair of black jeans. The polished-ness of your jeans and blazer will balance out the relaxed feel of your hoodie. If you think the outfit's still missing something, layer on accessories like a designer bag.
Shop a similar blazer: Gap double breasted blazer, $81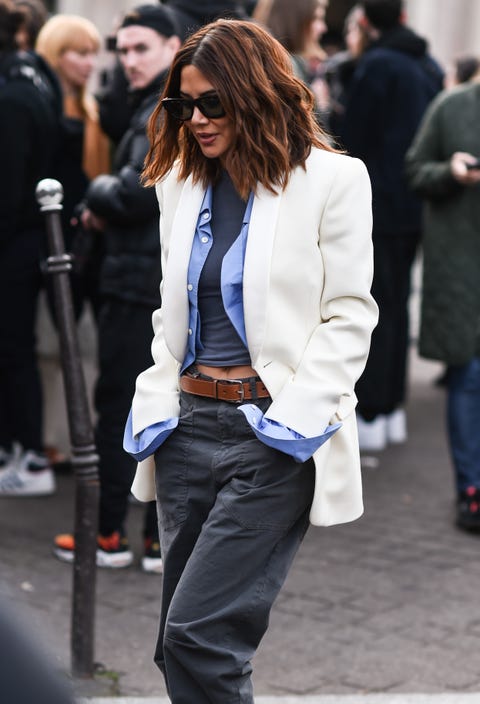 Daniel Zuchnik
Getty Images
Layer Classic Pieces
Layering can take a drab look into a fab look without much effort. Christine Centenera's look is easy to recreate because many of us already have these pieces in our wardrobe. She chose to layer classics: a gray t-shirt. a French blue button-down, and a white blazer, finishing off her look with some laid back cargo pants.
Shop a similar button-down: Everlane relaxed poplin shirt, $65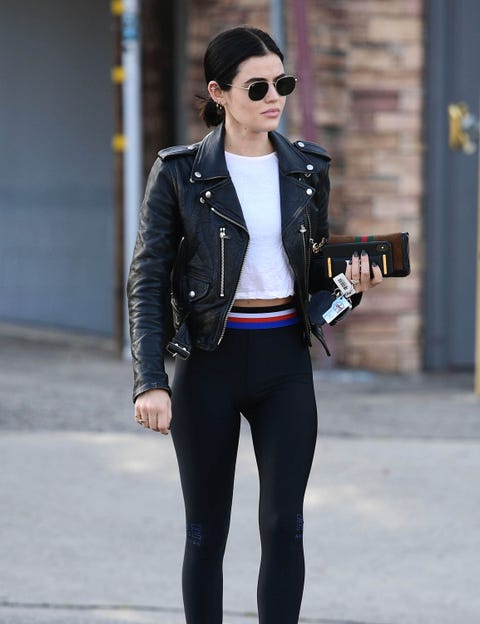 Chris Wolf/Star Max
Getty Images
Throw on a Leather Jacket
Athleisure (a.k.a. living in leggings) is all the rage, but there's always a way to elevate even the most laidback look. A leather jacket is a foolproof piece that gives any outfit an edge. Throw yours on over your workout wear and you automatically look sleek and cool.
Shop a similar jacket: Mango leather jacket, $200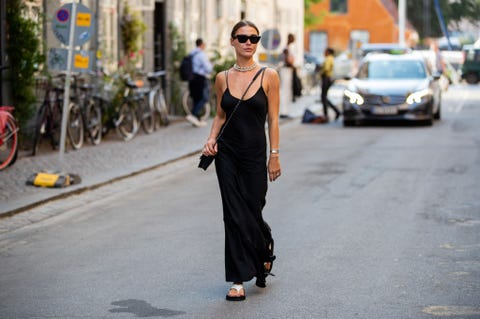 Christian Vierig
Getty Images
A Simple Slip
A black slip dress is a must-have. Throwing it on couldn't be easier, and the result is effortlessly chic. Rock it solo with a simple pair of sandals and some cool shades to beat the summertime heat. In the winter, layer on your favorite chunky sweaters and jackets and show off your winter boots.

Shop a similar slip dress: Topshop satin slip dress, $34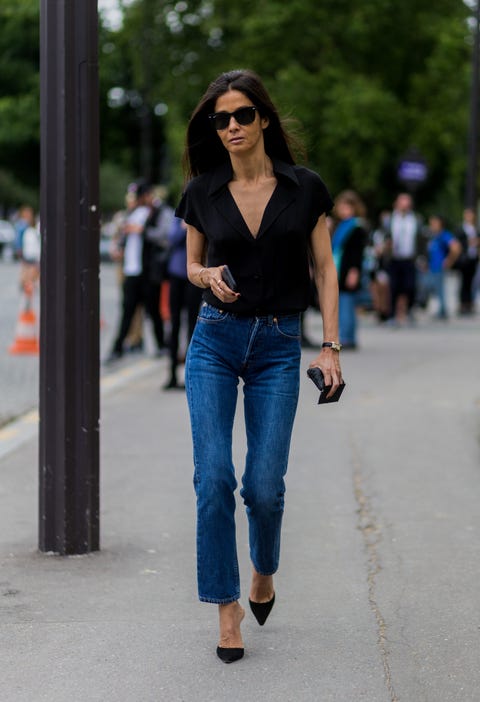 Christian Vierig
Getty Images
Jeans That Fit
The key to looking put together? Clothes that are fit to perfection. A look as simple as jeans and a black blouse can look so chic if the fit is just right. Invest in well fitted items, and/or a good tailor, and automatically upgrade your casual uniform.
Shop a similar pair of jeans: RE/DONE Hi Rise Stove Pipe, $250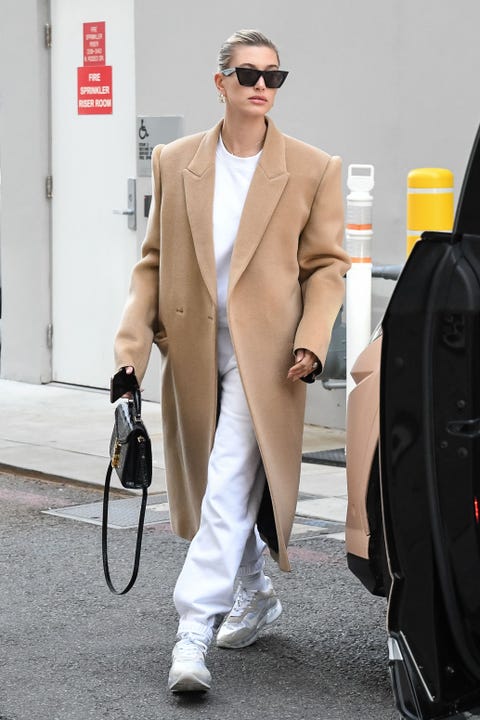 BG002/Bauer-Griffin
Getty Images
A Sweatsuit
The defining outfit of 2020 has been the sweatsuit. The once-sloppy ensemble is now considered... chic? Sweatshirt and sweatpants might not be the pinnacle of fashion on their own, but when styled right, it's a look. I suggest taking a cue from Mrs. Bieber and opting for a neutral sweatsuit as the base. Pair your comfy clothes with a chic tailored coat, sleek sunnies, and a designer bag. Top it off with some comfy kicks.
Shop a similar sweatsuit: Nasty Gal sweatsuit, $30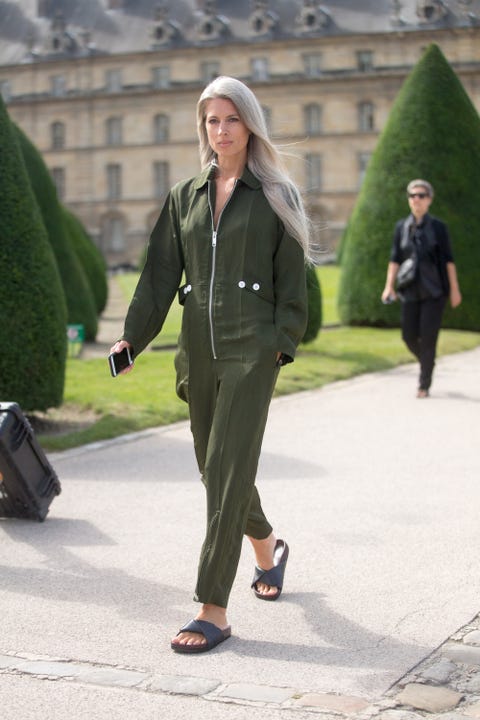 A Jumpsuit
Jumpsuits are my secret weapon for those days where I just cannot be bothered. Throw on this utilitarian-inspired piece and voilà—you have an automatic outfit. Keep the look casual with a simple sandal or take it up a notch and add a strappy heel. When in doubt, you can't go wrong with a sleek white sneaker.
Shop a similar jumpsuit: Free People jumpsuit, $138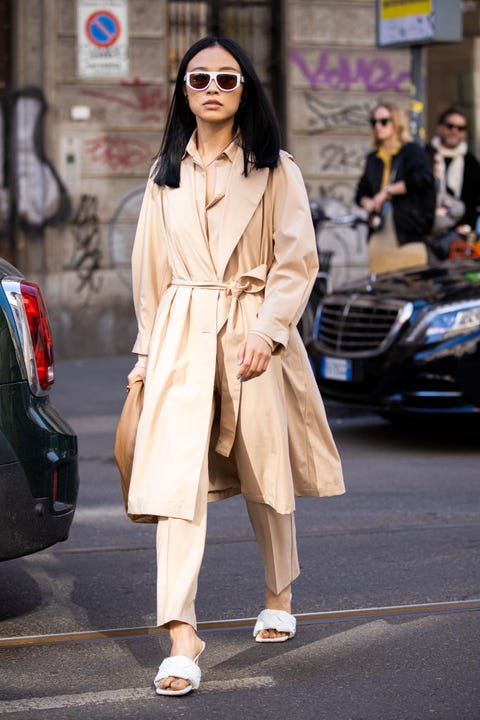 Claudio Lavenia
Getty Images
Go Monochrome
For a cute and casual look that requires minimal effort, wear the same color from head to toe. All-black is typically my go-to, but for a slight twist, try navy or beige (still neutral, more interesting). Take a page out of street style star Niki Wu Jie's book and build a monochrome outfit from three pieces: a blouse, a pair of sleek trousers, and a chic trench. Break up your monochromatic look with some white sandals and sunglasses. What appears to be a complicated outfit will, in reality, only take you minutes to throw together.
Shop a similar trench coat: H&M trench coat, $80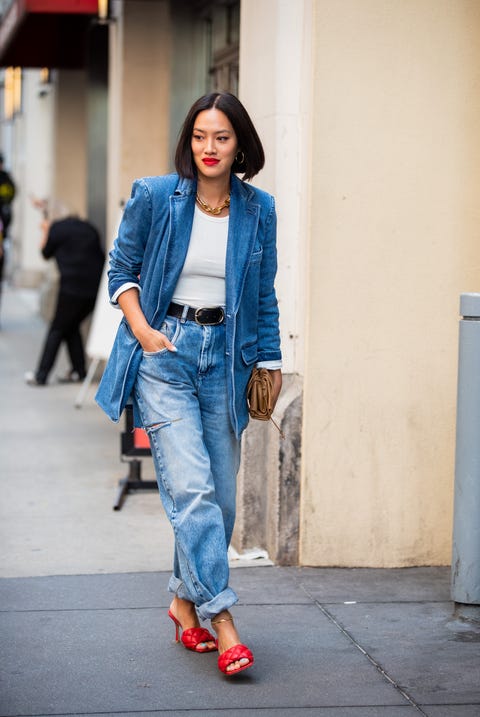 Power Up Your Denim
The phrase "casual and cute" implies that the look took less than five minutes to put together. First you'll need jeans, because they go with everything. Second, you'll need a v-neck or crew neck tee of your choice. To take this plain outfit from drab to fab, focus on the outerwear. Cover up with a blazer for a hint of sophistication, and if your outfit is lacking color, add in a bright pair of sandal heels. The beauty of this ensemble is that it combines all your basic pieces to form a fresh new look.
Shop a similar pair of jeans: AGOLDE 90's Jeans, $198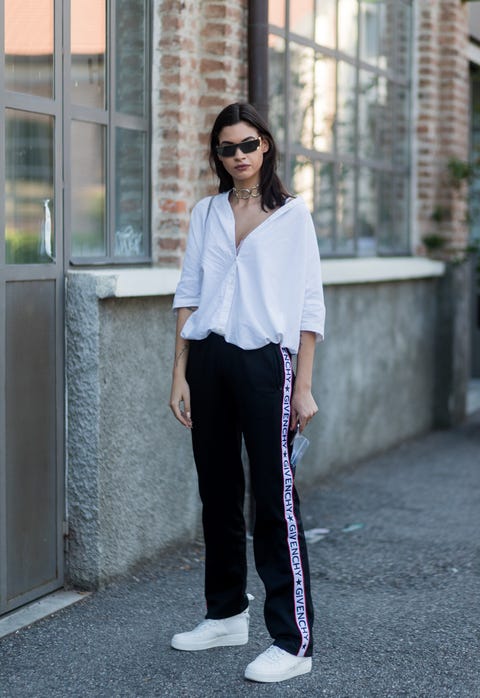 Turn Couch Sweats Into Going-Out Pants
If you associate the word "casual" with sweatpants—same. Thanks to the rise of athleisure, there now exist stylish pairs you can leave the house in. Draw inspiration from this Fashion Week-goer and pair your sweats with a classic button-down. The juxtaposition between loungewear and a classic white blouse gives you that effortless, "I tried (but not too hard)" look. For an extra dose of comfort, style your outfit with sneakers.
Shop similar pants: Adidas pants, $90
This content is created and maintained by a third party, and imported onto this page to help users provide their email addresses. You may be able to find more information about this and similar content at piano.io