What I Wear to Work: Rajni Jacques
Snapchat's head of fashion and beauty on dressing comfortably but still feeling like a "badass."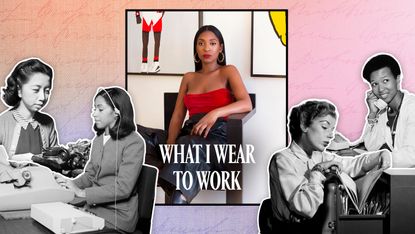 (Image credit: Rajni Jacques)
In our bi-weekly series, we highlight dynamic women—from entrepreneurs and small business founders to CEOs and celebrities—discussing their style ethos, the pieces that empower them, and how they balance life alongside whirlwind careers.
---
Rajni Jacques is a big-picture thinker. The former fashion editor likes a detailed narrative and clear-cut vision. She wants a ripe and juicy idea to sink her teeth into. "I've always loved the storytelling aspect of fashion, the context of why a trend is happening now. That's always been part of my curiosity," Jacques tells Marie Claire. This inquisitive hunger—the desire to delve into the down-deep of something—galvanized the creative to do what many dream of but are often too intimidated to pull the trigger: the career pivot.
Jacques, a master's degree from Columbia Journalism School, began in print media. "My background started in the traditional publishing way where I interned at a bunch of different magazines," she describes the industry's typical rite of passage for all over-eager neophytes. Jacques quickly moved up the ranks, clinching highly-coveted editor and director titles at publications like Glamour, Nylon, and Vibe throughout the aughts and twenty-tens.
But then Big Tech entered the picture and disrupted everything. "There was a definite shift when apps became readily available to people," Jacques describes. "It opened my eyes to see that fashion does not only live in this realm: It has permeated to others and opened itself up to people who, at one point, would not be able to be part of the conversation. I saw how the digital era—the revolution—was democratizing fashion and allowing people to become their brands, their own P.R., and build on their own, all without having to be part of the one percent, which was cool."
Instead of cowering in the face of the new and unknown, Jacques viewed it as an opportunity to launch herself into the future. "At that point in my career, I was forced to do things so traditionally by the book that I was held hostage by the magazine. I pivoted because I wanted to explore and be creative without a ceiling." She jumped headfirst into the wild, wild world of digital media as a consultant and then later made the biggest leap of all: leaving the industry to join Snapchat as its head of all things fashion and beauty.
The multimedia messaging app is the perfect place for Jacques to let her creativity and curiosity run free. Even over Zoom, her enthusiasm for the limitless potential of Snap is contagious. The possibilities of Augmented Reality particularly inspire her. "A.R. is so native to Snapchat's community. I'm sure you remember the vomiting rainbows, the doggy ear of yesteryear. Those filters still exist, but we've elevated the concept of A.R.," Jacques explains. "We're changing how fashion and beauty brands engage with the community. You can try on lipstick or a pair of shoes before you buy it. [A.R.] is about enhancing where you're at, not taking you outside of it," she articulates. And, as Jacques points out, this is all just the very beginning.
Ahead, we chatted with the busy fashion and beauty director about her love of good denim, the importance of shopping small designers, and why cargo pants are the current hero piece in her closet.
---
Her Style in Three Words
Calm, cool, and collected.
On Finding Inspiration
My inspiration comes from everywhere. I am a voyeur. I get inspiration from the kids at my kids' school; some of their outfits, I'm like, "Whoa!" I love where I live in Brooklyn. I get inspiration from walking around and seeing the most insanely gorgeous, fashionable people. Even if it's a style I know I can never pull off, I get inspiration from the streets.
I also loved Diana Ross's style in the seventies: not the glam—I mean, the glam is obviously beautiful—but when you see pictures of her in just denim and a t-shirt walking into Studio 54 and dancing in a pair of really great Levi's jeans.
Her Go-To Outfit
Denim with either a bodysuit or a t-shirt and a really great blazer. I'm very much a jeans and t-shirt type of gal. I know how to dress up: I know the time and the place for things. But I love denim—every type of denim, from hard to soft to blue to dark grays to blacks. I just feel more comfortable in denim. I can move quicker in denim. I feel like it's not as precious, so I don't have to think about, "How do I look? Am I fussy?"
Reflections on Her Personal Style
With my style, I want to feel comfortable but badass and like myself. The one thing [with personal style] is if you're confident in what you're wearing and how you look, nothing else matters. That was a lesson that—trust—I didn't know early on. I thought, "Oh my gosh. I have to go to this interview, so I must look like the girls working there." You have to learn and go through that. But then I realized I was just never comfortable. So I set out to cultivate [my style] in a way where I feel comfortable, still very professional, but me. I'm not taking something off the runway and adopting it for myself. I'm wearing what represents me best.
Her Favorite Brands
I gravitate towards brands that have really tried and true storytelling and context. I want to give props to the brands with strong points of view. I love Khaite, Brandon Blackwood, Telfar, Studio 189, and Christopher John Rogers. These brands are smaller. They're growing, garnering an audience, and getting their footing, but their point of view on who they are, what goods they're putting out there—and not necessarily the products, but the products plus the ambiance and the aesthetic—is solid. They understand this is what the girl wearing this shoe is about. It's that storytelling element of fashion that I love so much.
Collina Strada is another brand that's on point. It's definitely more playful, but I love it for when I want to play up color. The lace and silk dresses, the cargo pants—you could take one piece and build an outfit around it because it is so strong. And again, it's that point of view: who you are as a fashion, creative director, or designer and not wavering depending on what the market is doing. Like, "This is what I am, and whether you guys like it or not, that's up to you. I'm not going to change my DNA to fit into something else." I love that.
Her Favorite Recent Buy
I just bought these cargo pants by Haikure. They're made in Japan, and the quality of these pants blew me away; the material is thick and sturdy. It's giving raver, but with a good blazer, it's not raver-raver. And I love their utility because, with two kids, I'm always putting something in my pockets. And with these cargo pants, which have six big bags, I can just be like, "Alright, give that to me. Oh, you have this toy. You can't go into school with that. Give that to me! I'll put it in my pocket."
Celebrity news, beauty, fashion advice, and fascinating features, delivered straight to your inbox!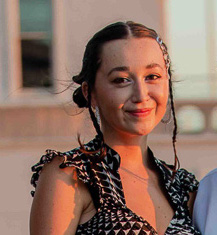 Emma Childs is the Fashion Features Editor at Marie Claire, who writes trend reports, long-form reported features, and style guides. She previously wrote for TZR, Editorialist, Elite Daily, and Mission Magazine and studied Fashion Studies and New Media at Fordham University. When she's not writing fashion deep-dives, you'll find her stalking eBay for designer vintage and perusing HBO Max (in her heart, it'll always be *HBO* MX).