The Sneakers and Denim Outfits Stylists and Celebrities Swear By
Also known as the quintessential off-duty look.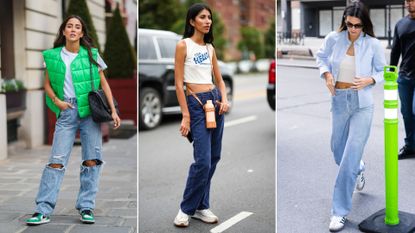 (Image credit: Getty Images)
Marie Claire Newsletter
Celebrity news, beauty, fashion advice, and fascinating features, delivered straight to your inbox!
Thank you for signing up to Marie Claire. You will receive a verification email shortly.
There was a problem. Please refresh the page and try again.
There have been too many times to count when I've stood in front of my closet at a complete loss for what to wear. When inspiration just doesn't strike, I've learned to lean on a few tried-and-true fashion uniforms. For me, a few options I always turn to are a button-down and tank, a midi slip skirt and crop top, or the infallible sneakers and denim outfit. A trusty pair of jeans from my favorite denim brands along with some trendy sneakers have never let me down when I need a stylish and comfy outfit on the fly. That's why you can catch me in the combo on a weekly basis, and I'm not its only fan.
Think of denim and sneaker outfits as the quintessential off-duty look. Everyone from models, influencers, fashion editors, and celebrities has donned the look and I have chalked it up to two main reasons why: It's an incredibly comfortable outfit (duh! sneakers!) and looks effortlessly cool. But speaking from personal experience, it turns out that styling denim and sneakers together isn't quite as easy as it looks.
I don't know about you, but I have at least 15 pairs of jeans of all different silhouettes and washes in my collection, and don't even get me started on the hordes of sneakers I've collected over the years. To get the low down on the ultimate denim and sneaker pairings, I consulted with fashion stylist Kate Moroney, as well as Ashlyn Greer and Mollye Rivera, co-founders and stylists at the online personal styling site, Fashivly, and they did not disappoint. Ahead, you'll find their expert curations on some of the year's trendiest denim styles including baggy and wide-legged jeans styled by street style stars. Soon, you'll finally have an answer on how to wear those chunky sneakers that's been hiding in your closet.
Wide-Legged Denim and Sneakers
If there's one sneaker that's taken over our Instagram feeds this year, it's the Adidas Samba. Greer says, "The sneaker of the summer IS the Adidas Samba and its coolest pairing is with a wide leg jean." The look also comes with a stamp of approval from It-girls like Kendall Jenner, Hailey Bieber, and Vittoria Ceretti, so you know it works. Rivera also thinks a classic soccer sneaker is the way to go, but she recommends opting for a pair with some color. "It's the ideal combo for a relaxed but elevated pop of interest to any outfit," she says.
If you needed further confirmation on the pairing, Moroney also pointed to Adidas Sambas, explaining, "Round-toe, sleek sneakers are a sure bet for straight and wider-leg denim styles. Anything too chunky will make for a silhouette that's too heavy."
Straight Denim and Sneakers
You really can't go wrong with a pair of straight-legged denim. The popular style looks good on just about every silhouette and pairs well with heels, ankle boots, and especially sneakers. When it comes to sneaker pairings, you can really run the gamut, however, both Greer and Rivera recommend going for a sneaker with a chunky platform. "This can be a high-top platform Converse or a low-top platform like the Adidas Gazelle Bold," adds Rivera. If platforms aren't your thing, no problem. Aside from sleek styles, Moroney recommends, "With straight-leg, you can also try a streamlined athletic sneaker with a bit more shape, like the Nike Daybreak."
Baggy Denim and Sneakers
A divisive denim trend, baggy jeans have been seen on models, influencers, and celebrities alike in recent seasons. There's something about extra-baggy denim paired with sneakers that exude cool-girl energy. To pull off the cool-girl vibe yourself, Greer says a classic pair of Nike Air Jordans is her go-to, however, Rivera opts for another divisive trend: the dad sneaker. She explains, "In very Y2K fashion, I've been loving the dad sneaker, like a New Balance 990, paired with baggy denim. You can find these in a good neutral grey or with a fun pop of color!"
Slim Denim and Sneakers
Maybe it's my Millennial side showing, but I can't fully part ways with my skinny jeans. I will say, though, that the style the fashion crowd favors (including myself!) has evolved into a slightly less skintight fit than the version Katy Perry sang about in 2010. For 2023, give your skinny jeans a modern update with a pair of fresh sneakers, specifically the Veja Campo sneakers. "Veja Campo sneaker is the way to go for skinny or slim denim," says Greer. "Ideally you want to see some ankle with this silhouette, and the Campo does exactly that." Additionally, Greer says a classic court sneaker, like the Reebok Club Vintage, is another great option for slimmer jeans.
Black Denim and Sneakers
I know you have a pair or two of black jeans in your closet, and if you don't, what are you waiting for? This shade of denim works for any occasion, whether you're heading to work (albeit a more casual office), brunch, or a night out. When paired with sneakers, these jeans can look especially classy and cool, and luckily, Rivera says that pretty much any sneaker pairs well—just match up the sneaker silhouette with the silhouette of your jeans. If you love to keep things neutral with black jeans as Greer does, she says, "A pair of black or white Converse, Vans, or even a grey New Balance dad sneaker are all great pairings." Don't be afraid of some color, either, Greer adds. "A white sneaker with a single accent color is an option too, like the New Balance 550."
Meet the Experts
Ashlyn spent her early career doing exactly what she's doing now- putting people in clothes. As a 17-year-old working in a highly personalized formal wear boutique, she spent years seeing- and dressing- every body type imaginable. After finishing an undergraduate degree in Business Management and a short internship at New York Fashion Week, Ashlyn moved to Atlanta, GA to do her Master's work at SCAD in Luxury Fashion Management and Marketing.

Following internships working in PR and events-based styling at Saks and Neiman Marcus, she moved to Charlotte, NC to join the creative marketing team at Belk, a southern based department store. Ashlyn held various roles in the company before finally leading and managing the styling department, overseeing every look that was photographed for the over 300 brands within Belk's portfolio.
After a 2 year hiatus from the industry to help lead video production for a large faith based organization, Ashlyn struck out on her own to build something. Fashivly was birthed in the fall of 2020 when a friend reached out and asked for a personal styling session.
Based currently in Charlotte, NC, Mollye is an experienced creative across multiple industries. From her 3rd grade career day as a fashion designer to actually becoming an assistant buyer and now creative producer and stylist, Mollye has always been passionate about the power of a great outfit. When she's not styling all the minimalist chic outfits of our dreams you can find her also art directing all the beautiful photos and videos you see on Fashivly.
Kate Moroney is a Fashion and product stylist based in Minneapolis and New York City, and is represented by Honey Artists. In 2022, Kate was featured on ABC, in People.com, and in The Wall Street Journal BuySide. Kate has over Ten years of experience working as a fashion stylist and consultant and works extensively in advertising, eCommerce, catalog, television, and editorial photo shoots.
Throughout Kate's career in styling, primarily in NYC and Minneapolis, she has contributed to projects for nationally recognized clients including: Saks Fifth Avenue, Vogue Italia, Evereve, Marion Parke, Target, Lulu Lemon, Restoration Hardware, Elle Magazine, Levi's, Minnesota Twins, Minnesota Timberwolves, The Mall of America and Money Magazine among others.
Celebrity news, beauty, fashion advice, and fascinating features, delivered straight to your inbox!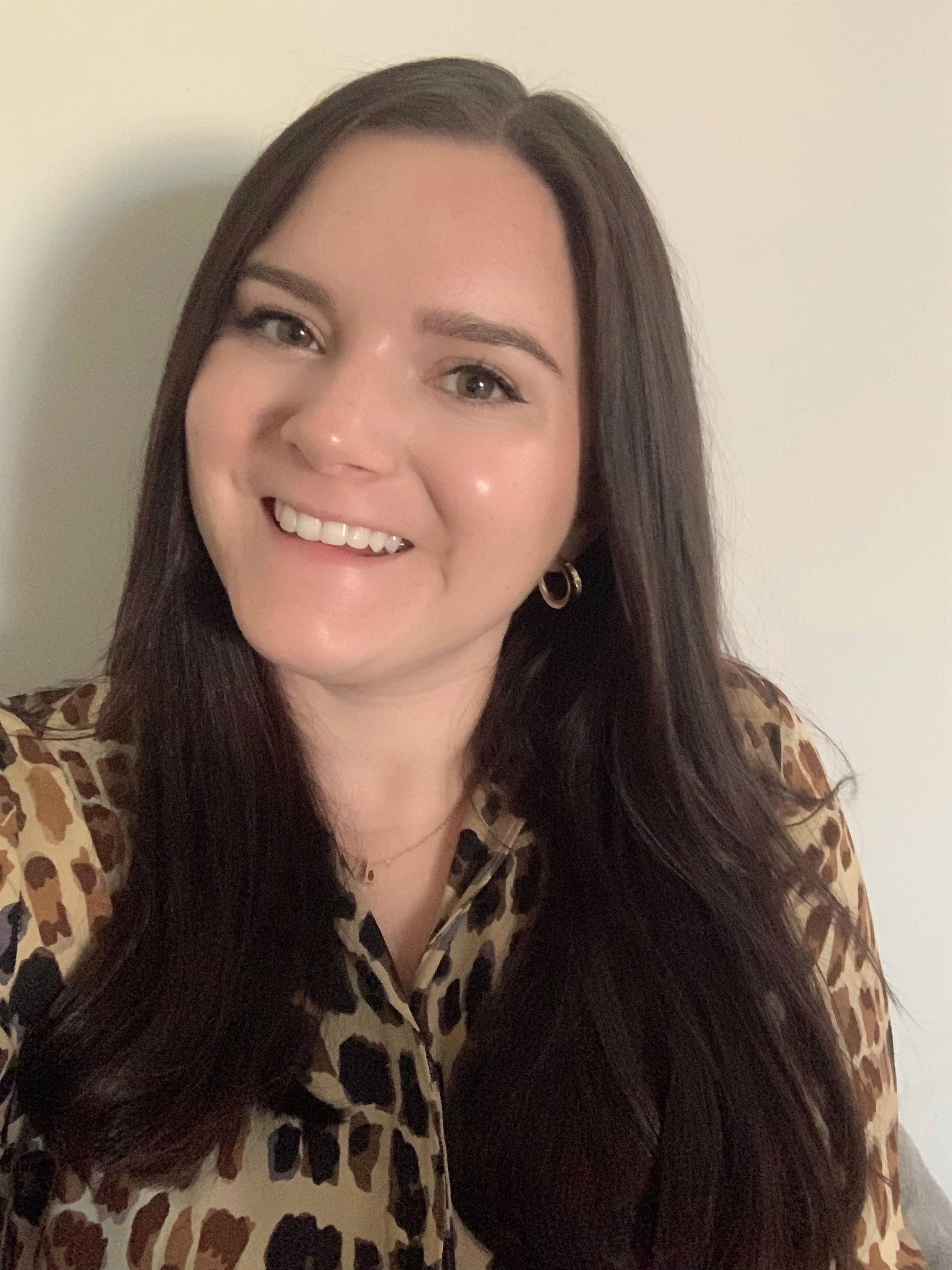 Brooke Knappenberger is Contributing Writer at Marie Claire, where she writes across the board from fashion and beauty to books and celebrities. As a pop culture junkie, Brooke obsessively consumes and writes about the latest movie releases, streaming TV shows, and celebrity scandals. She has over three years of experience writing on fashion, beauty, and entertainment and her work has appeared on Looper, NickiSwift, The Sun US, and Vox Magazine of Columbia, Missouri. Brooke obtained her Bachelor's Degree in Journalism from the University of Missouri's School of Journalism with an emphasis on Magazine Editing and has a minor in Textile and Apparel Management.