New York Fashion Week Street Style S/S 2013
Marie Claire steps off the runway and onto the streets to snap shots of the best outfits and accessories of New York Fashion Week.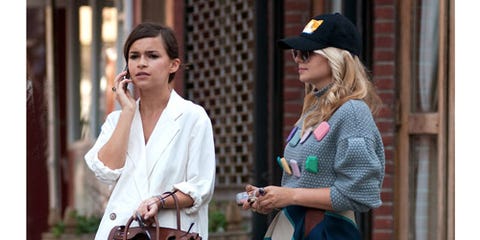 High fashion isn't just on the runways at New York Fashion Week. It's taken over the streets! Our photographer, Guerre of the popular blog Guerreisms finds the most covetable outfits and accessories all week exclusively for MC. For more fashion week coverage, visit our all-access pass to Spring/Summer 2013 Fashion Week.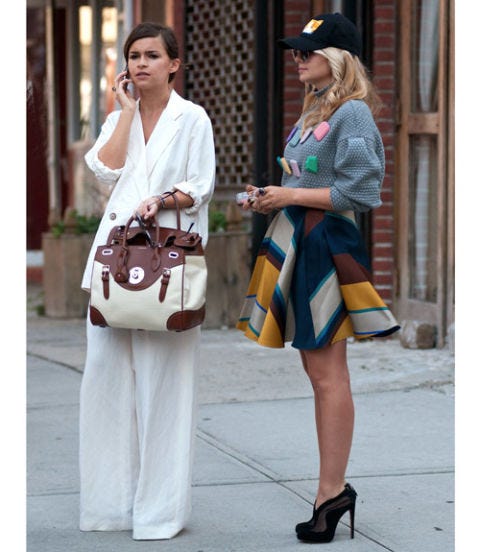 Day 8
These two fashionistas couldn't be in more opposite outfits, but, per usual, opposites attract.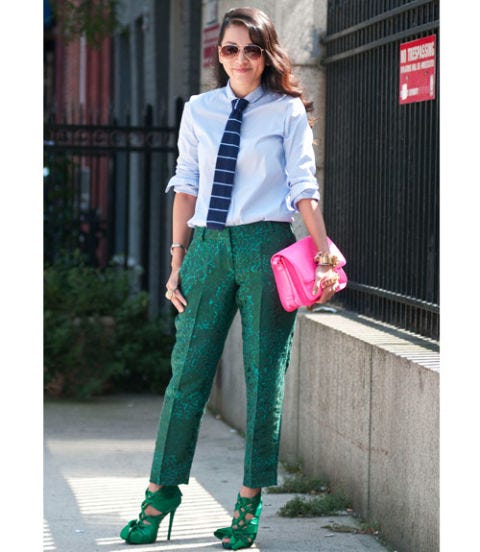 Day 8
She's a vision in green. And pink. And blue. And more green.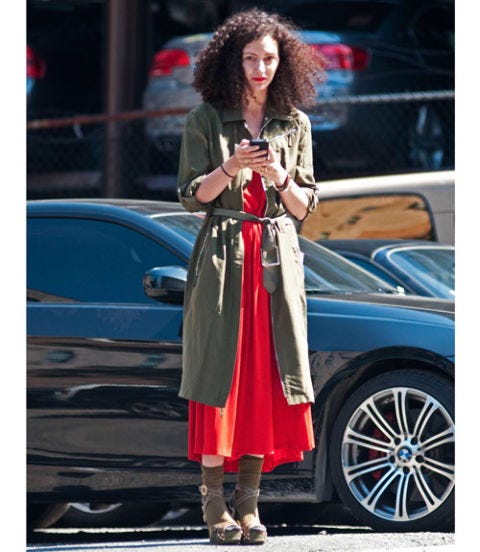 Day 8
Everything is oversized, even her socks neatly tucked into her sandals. How cozy chic does it all look?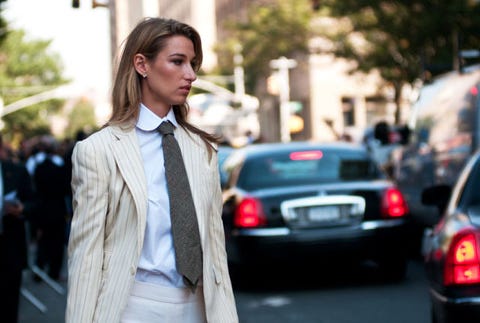 Day 8
Menswear is still in. Honestly, we just don't see it going anywhere anytime soon.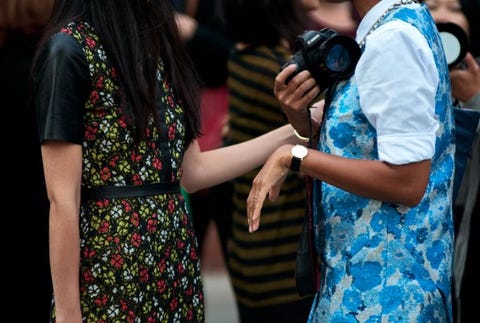 Day 8
So many fall floral patterns!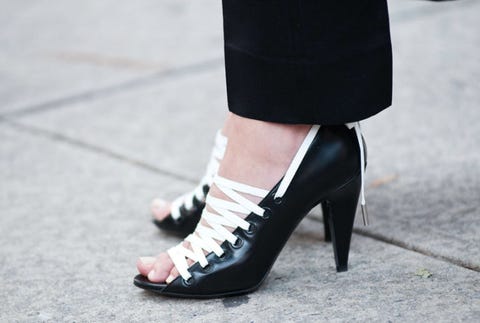 Day 8
We love these dainty little lace-ups!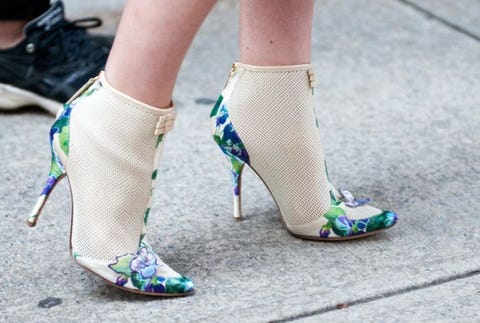 Day 8
At first glance, we expected to see more sandal-sock combinations, but this is just that much better.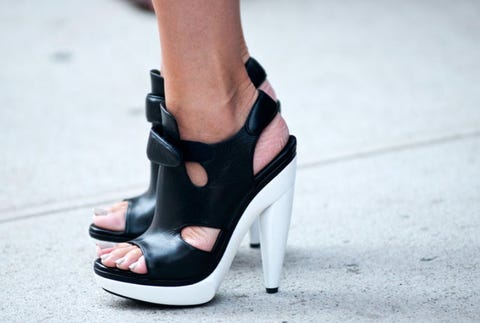 Day 8
There's no outfit we can even imagine that these shoes wouldn't go with.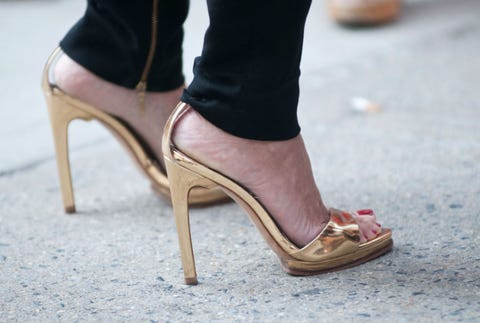 Day 8
Gold! More shiny objects!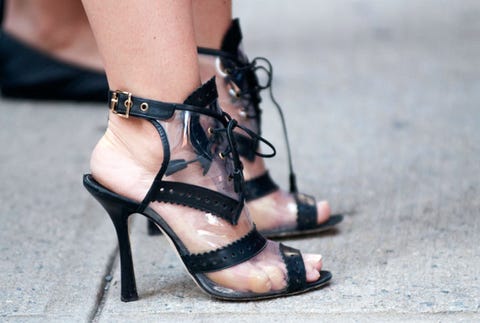 Day 8
These shoes provide an unexpected, though clear, twist.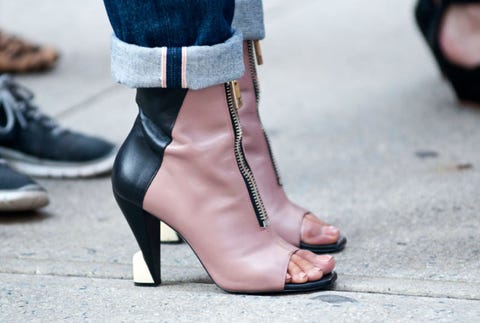 Day 8
Exposed zipper, cuffed jeans, geometric heel — we see nothing wrong with this snapshot.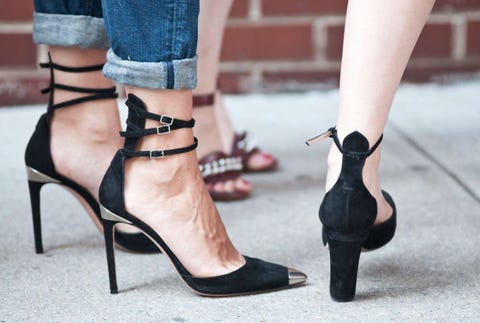 Day 8
The simple black heel, just glammed up a bit.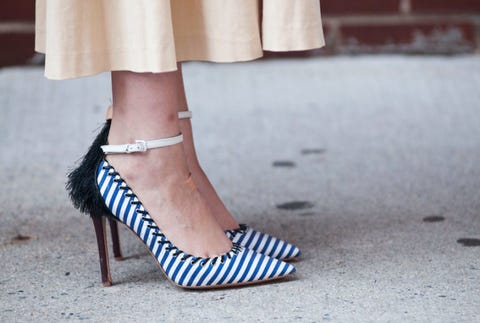 Day 8
Is Audrey Hepburn or Grace Kelly magically the one in these picture perfect heels?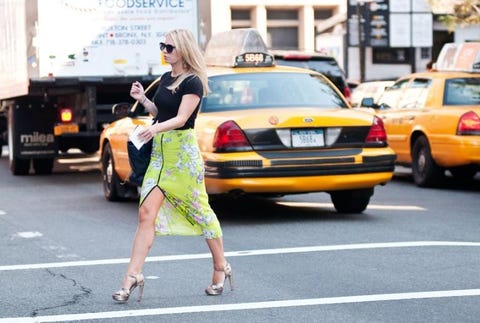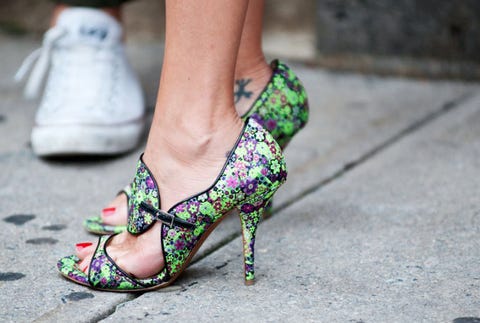 Day 8
First of all, we love the pattern! Second of all, we love the tattoo. Happiness all around.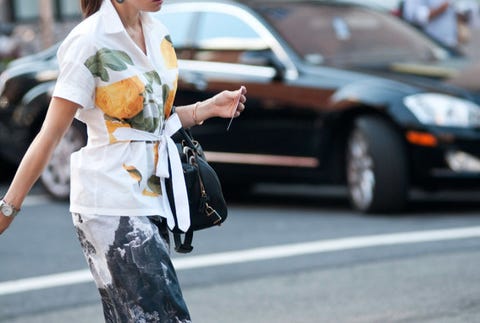 Day 8
Heavenly prints on prints!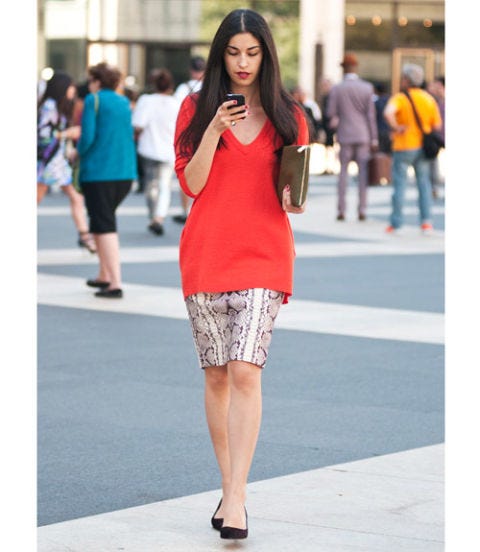 Day 7
Tis (basically) the season for oversized sweaters! Pairing one with a more weather-appropriate skirt makes all the difference.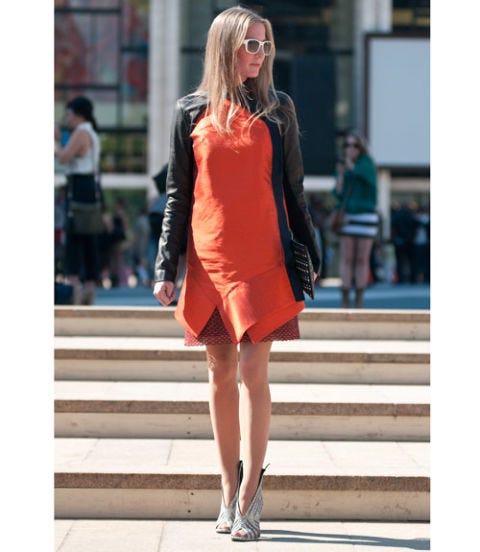 Day 7
There's more geometric figures in this fabulous ensemble than we're able to remember from high school Geometry class.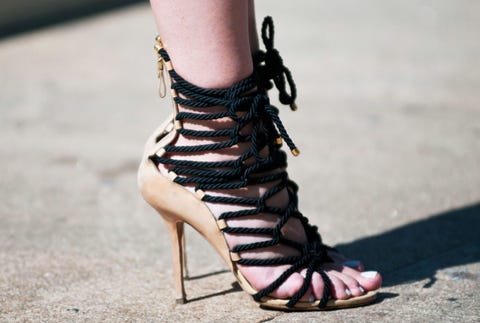 Day 7
Ropes galore! We can't even imagine what it's like to put those shoes on first thing in the morning.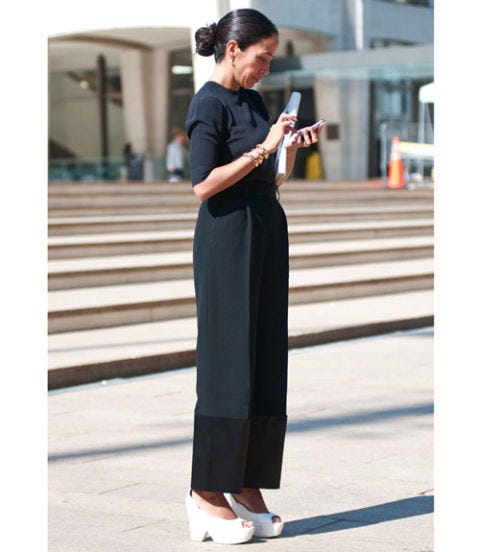 Day 7
We love the stark contrast between the all black dress and oversized white wedges.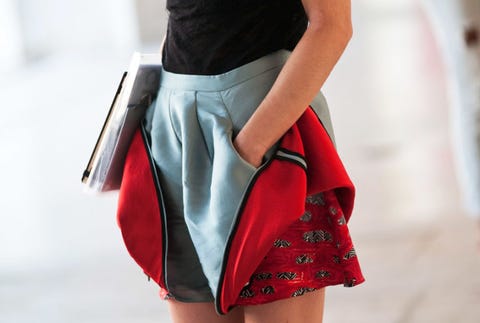 Day 7
The pockets of this skirt look equally as cozy as the entirety of this skirt looks appealing! Perfect for fall, too.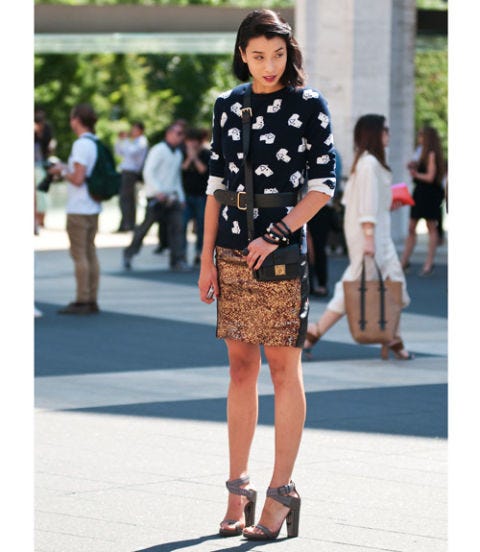 Day 7
The structure involved in this ensemble is wonderful — we love the color combination, too!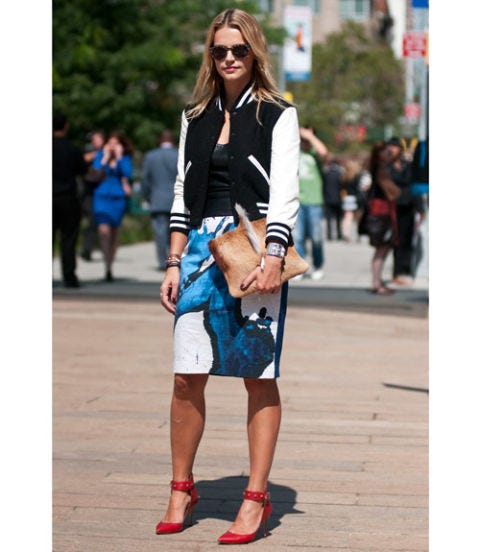 Day 7
Varsity Blues hits the NYFW big leagues with this jacket incorporated into the otherwise dainty outfit.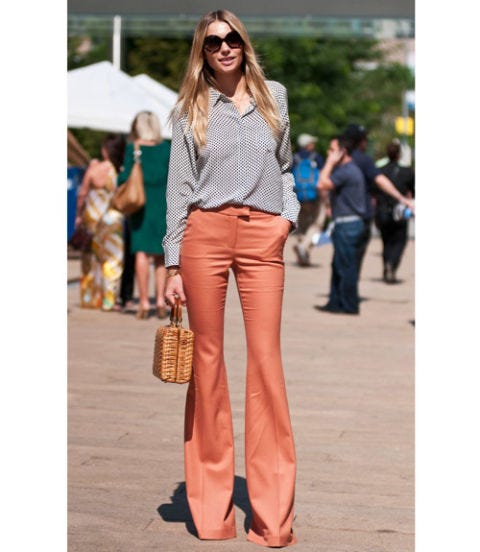 Day 7
70s revival? Well, if it means these pants all the time, we're okay with it.
Day 7
This hat puts the whole outfit over the edge — in a good way.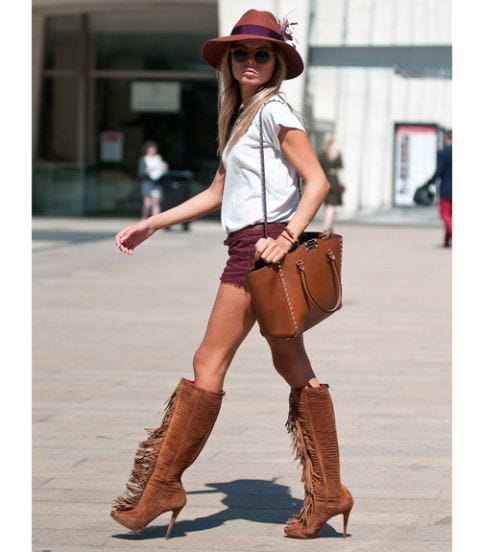 Day 7
Again, we're into the 70s revival. And those boots!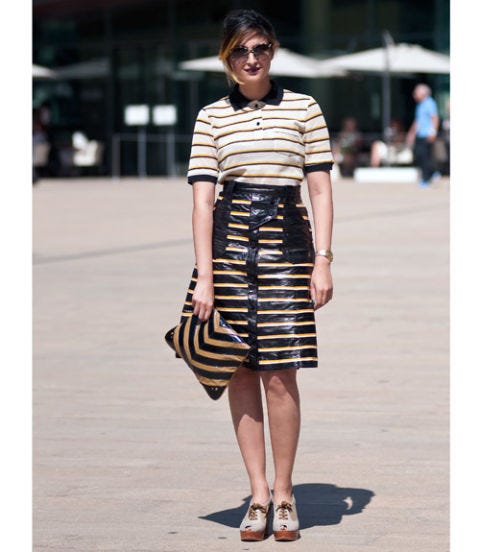 Day 7
Stripes galore! Very on-trend, and we love the use of colors here, too.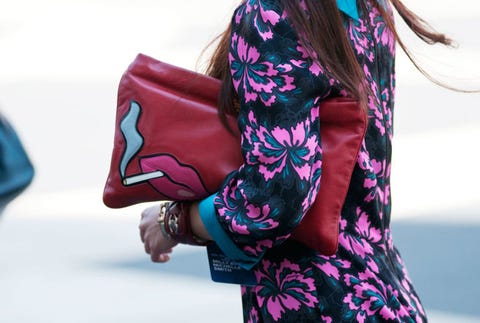 Day 7
Lips have been all over the S/S runways, but with a little less sass than as appears here.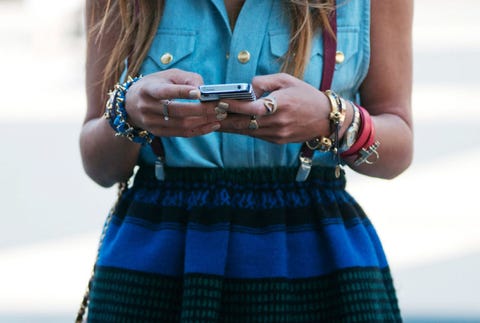 Day 7
It's an arm party, and we're begging for an invite! But honestly, this outfit is perfection.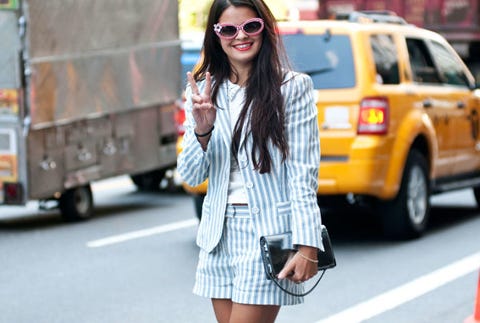 Day 7
Such a cute look for warmer weather, especially those sunglasses!
This content is created and maintained by a third party, and imported onto this page to help users provide their email addresses. You may be able to find more information about this and similar content at piano.io