Plus-Size No-Nos Busted: How to Wear Tricky Looks
Full-figured fashionista Ashley Falcon shows how you can wear stripes, belts, and even skinny jeans, no matter your size.Plus: Ashley's Top 5 Must-Have Picks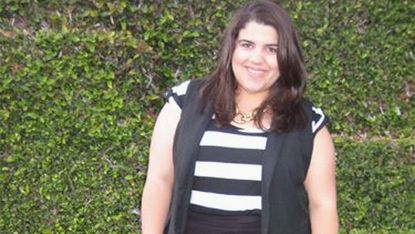 (Image credit: Ashley Falcon)
Big girls are forever being told what not to wear: Shiny fabrics add bulk; pleats make your hips look huge. Even my slimmer friends, self-conscious about this or that, are slaves to these rigid fashion diktats. One size-8 colleague looked like I'd splashed paint on her Louboutins when I suggested she rock a pair of booties with a shirtdress. "Booties?! They'll make my calves look like pork chops!" she shrieked.
While it's true that many fashion rules are based on a kernel of fact—shiny garments made of cheap fabrics will accentuate every roll—most are just guidelines and can be tweaked. Take skinny jeans. No question, these are less flattering on bottom-heavy women. One saleswoman had the gall to sniff, "These jeans aren't for you," as I was buying a killer pair of size-18 dark-rinse skinnys. "Tell that to my AmEx," I told her. Here's my no-fail antidote to the thunder-thigh effect: Pair skinny jeans with a tailored blazer, longer shirt, and towering heels. You'll look like a glamazon in them, trust me.
Another notorious plus-size no-no: horizontal stripes. Rummage through the drawers of a thousand full-figured fashionistas, and you'd sooner find sequined hot pants than a striped sweater or tee. It's true, thick stripes call attention to your width. If you've got a paunch, you could look like you're wearing a stack of Goodyear tires. But, in fact, the opposite is true for thin stripes stacked close together, which actually create a slimming optical illusion.
Disregard everything you've ever heard about the plumping effect of belts. The secret is wearing them above your natural waistline (also the smallest part of your torso), which helps even apple-shaped bodies cut an hourglass figure. This only works with flouncy shirts. Cinch a tight spandex number and brace yourself for some serious muffin top. As for accessories, experts (like me!) constantly plug chunky necklaces to balance an outfit far better than, say, a dainty necklace strand. Still, if you're jonesing for something subtler, I suggest layering several strands or adding a pendant to achieve a look that is ladylike and trendy, minus the heft of a big statement piece.
These days, I'm experimenting with menswear. While my wafer-thin friends look instantly chic matching their boyfriends' button-downs with jeans, oversize shirts tend to make me look, well, oversized. Here's how I combat the Roseanne-and-Dan effect: I look for fitted women's shirts with masculine touches—pinstripes, French cuffs—then buy them in a size or two larger than my own. The result is a sophisticated, relaxed look that complements my curves.
Got tips for turning a big-girl fashion don't into a do? Don't be stingy! Share them at marieclaire.com/ashley (opens in new tab).