LaCroix Is in the Midst of a Seltzer Scandal
How up are you on sparkling water news?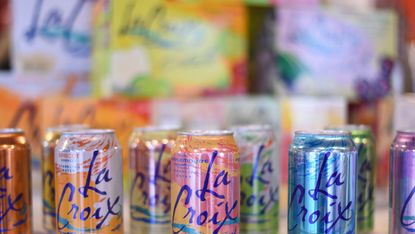 (Image credit: Vivien Killilea)
Marie Claire Newsletter
Celebrity news, beauty, fashion advice, and fascinating features, delivered straight to your inbox!
Thank you for signing up to Marie Claire. You will receive a verification email shortly.
There was a problem. Please refresh the page and try again.
Look, there are a lot of things to think about right now, but you can't consider yourself informed unless you know about the biggest sparkling water-adjacent scandal of the week, guaranteed. You see, the manufacturers of "It" sparkling water company (insofar as carbonated water can be "It"), LaCroix, was hit with a lawsuit that claimed that it wasn't being truthful when it said it contained "all natural" ingredients. Specifically, the suit alleges that it contains a chemical called linalool, which is also found in cockroach insecticide, which LaCroix denies.

First things first: Get that Peach Pear LaCroix away from the cockroach in your life immediately! I don't care how much he likes it!

Second, let's look at the facts and assess how much we should worry about this. LaCroix's parent company, National Beverage Corporation, "categorically denies all allegations" in response to the lawsuit, and according to ABC, experts say that "LaCroix would have to contain 50 percent of the linalool in order to pose a health risk, and that the natural chemical is often found in fruits and spices such as cinnamon."
But that doesn't mean you've been spared from picking a side in the Great Seltzer Wars of 2018. LaCroix seems to be recruiting:
We are proud to serve LaCroix to our families, in our hospitals, and in our schools. Please stand with us as we defend our beloved LaCroix.October 5, 2018
See more
On the other side, the lawsuit—which was filed on behalf of a consumer named Lenora Rice—is seeking class action status.
This isn't LaCroix's first scandal of the year: In July, the Wall Street Journal reported that two airline pilots publicly accused the company's CEO of "unwanted touching." (The CEO's attorney denied the allegations.)
I've reached out to LaCroix for comment about the whole insecticide thing and will update if I hear back.
Before you decide which side you're on (and don't you dare say Polar, you seltzer water contrarian), I think there's something important you should know: Pamplemousse is the only good flavor and it's definitely pronounced luh-CROY.
Have a blessed day.
Celebrity news, beauty, fashion advice, and fascinating features, delivered straight to your inbox!
Cady Drell is a writer, editor, researcher and pet enthusiast from Brooklyn.