10 Espresso Martini Recipes for Your Next Soirée
Also known as: How to create this year's buzziest cocktail at home.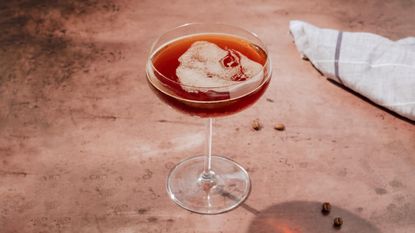 (Image credit: Courtesy of Made in 1)
Marie Claire Newsletter
Celebrity news, beauty, fashion advice, and fascinating features, delivered straight to your inbox!
Thank you for signing up to Marie Claire. You will receive a verification email shortly.
There was a problem. Please refresh the page and try again.
It's impossible to miss the resurgence of the espresso martini at bars nationwide, but what if you want to make them at home? Whether you're looking for late '90s nostalgia or an energizing digestif for your next soirée, this cocktail has got you covered with its creamy texture and decadent coffee flavor. In celebration of the classic caffeinated cocktail, here are espresso martini recipes sure to get you buzzing.
Classic Espresso Martini
A fresh shot of espresso is key to a delicious espresso martini, shaken hard with vodka, coffee liquor, and lots of ice. Garnish with three espresso beans to represent three blessings: health, wealth, and happiness.
Clouds in My Coffee
If you don't have access to fresh espresso at home, try a recipe that leans on cold brew coffee instead. Adding in notes of coconut and vanilla will help the cocktail hint at tropical vacations.
Shake all ingredients together with ice and strain into a martini glass.
Irish Whiskey Espresso Martini
Another fun twist on an espresso martini is to swap in Irish Whiskey for vodka, providing the flavors of an Irish Coffee in your cocktail.
1.5 oz. Slane Irish Whiskey
.5 oz. Cooled Espresso
.5 oz. Amaro
.5 oz. Coffee Liqueur
3 Coffee Beans as Garnish
Add the whiskey, espresso, amaro and coffee liqueur into a cocktail shaker with ice and shake. Strain into a coupe glass and garnish with three coffee beans.
Icelandic Espresso Martini
For a sweeter espresso martini, add a little simple syrup (which is basically liquid sugar) to your recipe. Using Reyka, a vodka from Iceland, gives an Icelandic twist to your cocktail.
Gingerbread Express
If you're looking to up your espresso martini game, making your own gingerbread syrup will take the cocktail to the next level!
Add all ingredients into a cocktail shaker with ice and shake vigorously. Double strain into a chilled martini glass. Garnish with star anise.
Gingerbread Coco Lopez directions: Add 1 can of Coco Lopez to a saucepan with 2 oz. of fresh grated ginger, 2 oz. cinnamon and 1 oz. vanilla paste. Bring everything to a boil while stirring often. Allow to simmer for 15 minutes. Let cool and store in a mason jar.
Black Espresso Martini
Mr. Black is the coffee liquor that mixologists rave about for espresso martinis. The cold extraction provides a bittersweet blend and with 25% ABV, it'll pack an additional punch when combined with vodka in your cocktail.
Combine all ingredients in a cocktail shaker with ice and strain into a coupe glass.
Espresso Martini Cocktail Kit
Looking for a fool-proof way to start making espresso martinis at home? The Absolut Espresso Martini Cocktail Kit includes everything you need to get started, including Absolut and Kahlua, espresso, seasonal garnishes, and a cocktail stencil, as well as a cocktail shaker and jigger.
Fill a shaker with 1 part Absolut Vodka, 1 part Kahlúa and 1 part espresso. Add ice and shake for 15-20 seconds for a frothy foam. Top with your favorite seasonal garnish!
Espresso Rumtini
While vodka quietly blends into the coffee flavors of an espresso martini, an aged rum will bring more forward-facing flavors of vanilla and spices.
Pour all ingredients into cocktail shaker. Shake with ice. Strain into a chilled coupe glass. Garnish with coffee beans.
The Walton Goggins Espresso Martini
Walton Goggins, the American actor best known for his standout roles in Quentin Tarantino films, co-owns Mulholland Distilling and has created a twist on the espresso martini with additional aromatic spirits that complement the bitterness of the coffee.
Combine all ingredients except the mint leaf into a cocktail shaker and shake with ice. Strain into a chilled coupe glass. Garnish with mint leaf.
Nonalcoholic Espresso Martini
Enjoy the buzz of espresso without the addition of alcohol with a boozeless faux-tini recipe. Three Spirit Social Elixir is a great-tasting alcohol alternative and the addition of maple syrup as a sweetener will provide an extra layer of flavor!
2 oz. Three Spirit Social Elixir
1 oz. espresso
1 1/2 bar spoons of maple syrup
Add all ingredients to an ice-filled cocktail shaker or a mason jar. Shake hard until ice-cold and strain through a tea strainer into a chilled cocktail glass. Garnish with grated raw cocoa beans.
Celebrity news, beauty, fashion advice, and fascinating features, delivered straight to your inbox!
Michelle Stansbury is a San Diego-based freelance writer who writes about travel, food, cannabis, and relationships. Misuse of the word "literally" drives her figuratively insane.