Editors handpick every product that we feature. We may earn commission from the links on this page.
The 25 Best Food Gifts for Home Chefs and Foodies Alike
Trust us: They'll eat these up.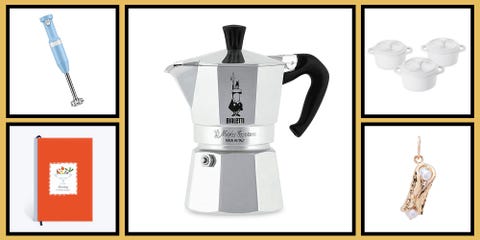 We all have that friend—the one who collects dutch ovens, kitchen tools, and glassware no matter how much they already have in their cabinets and on their bar carts; they love hosting their friends no matter how small their apartment is; and they spend much of their hard-earned cash hitting up new restaurants (right now, strictly outdoor dining and to-go). They sprinted to the supermarket to snatch up as many lentils and beans they could possibly carry before the second wave and they bake...constantly. Oh, and the condiments! They never stop buying condiments. In my group, I just happen to be that friend. But if you, reader, are not, you might need to buy a sweet and suitable gift for that friend. So, I'm here with some suggestions to make sure your present satisfies all of their foodie needs.
If you're stuck on ideas, there are plenty of options for your hungry host-with-the-most. This year has birthed dozens of incredible cookbooks with cuisines from all over the world. Kitchen tools have gotten increasingly more advanced—and a hell of a lot cuter. There are countless kitchen towels, spice racks, and measuring cups to spruce up the dull corners of someone's kitchen. Hey, there's even fine jewelry shaped like dessert to satisfy a stylish friend's sweet tooth. Ahead, the best food gifts to help your friend cook, eat, and enjoy this holiday season.
This content is created and maintained by a third party, and imported onto this page to help users provide their email addresses. You may be able to find more information about this and similar content at piano.io