Meghan Markle Got New Boxing Gloves, So I Bought New Boxing Gloves
Gloves that will make you punch like a Duchess.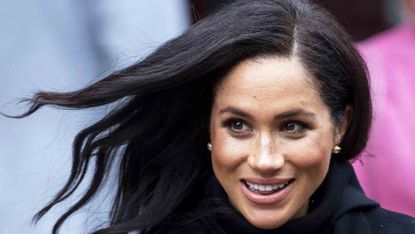 (Image credit: Getty Images)
When I first started working at Marie Claire I didn't know much about the Royal Family. Sure, I knew about Princess Diana and her fantastic style. I knew that Harry was the hot brother. Oh, I also knew they had some seriously fancy accessories after I visited the crowned jewels during a trip to London and realized I'd never wanted a 'Princess Diaries' moment more in my life. Hey, miracles happen once in a while. But that about summed up my Royal Family knowledge. Anyway, then I joined the Marie Claire team and before I knew it, my life was heavily influenced by the Royals. All of them. I know all about their traditions, their most scandalous PR moments, all of Meghan's fashion choices, and how adorable Charlotte is–but mostly I know a lot about Meghan Markle. Like A LOT.
I now know that she eats vegan-ish, has changed Prince Harry's lifestyle significantly, and tries to get the Royal staff to live a healthy lifestyle. I'd be lying if I said I wasn't inspired to shop some Duchess staples like her Strathberry bags, or her trusty Aquazzura heels, but since I'm not a Princess I have to be realistic with my purchases. Which brings me to the first item I will be buying: these Everlast gloves.
Royal correspondent Rebecca English shared that Meghan and Harry would both receive a pair of personalized gloves when they visit Empire Fighting Chance, an organization that focuses on helping young adults in the Bristol area though boxing.
Meghan will be given a pair of personalised boxing gloves when she and Harry visit Empire Fighting Chance later in Bristol - and there's a pair for Harry too! pic.twitter.com/ZKzHDIwAGzFebruary 1, 2019
See more
I've personally been on a bit of a kick to get healthier in 2019, which has included making my way to the gym or a workout class a few times a week. Boxing and yoga are definitely my go-tos, but I admittedly use the gloves you can rent at the studio because I honestly never went regularly enough to care to invest in a pair of my own. That all changed as soon as I saw these babies.
Mine obviously won't say 'The Duchess of Sussex' on them, but they will help me kick some serious ass and help get me into better shape. I love the color and the laces on the back which make you feel like a real, profesh boxer vs one that goes once in a blue moon. The PowerLock technology also helps your hand go naturally into a fist which an inexperienced boxer like myself very much appreciates. After all, I need my hands for texting and my job and just life in general so I'd prefer to keep them safe. I'm into the white and gold version Meg is being given, but you can add a little color if that's more your speed. Shop your royal gloves below.
Celebrity news, beauty, fashion advice, and fascinating features, delivered straight to your inbox!
Krystyna was the former Social Media Editor of Marie Claire where she oversaw all things social media and connected with MarieClaire.com readers. She came to Marie Claire from Racked.com, where she was the Community Manager. Before that, Krystyna was at Latina Mag and Cosmo for Latinas. She graduated with a Marketing major from Fordham University.