Kris Jenner for President? The Kardashians Posted a Photo That Has Us Wondering
It's probably a joke, right? Right?!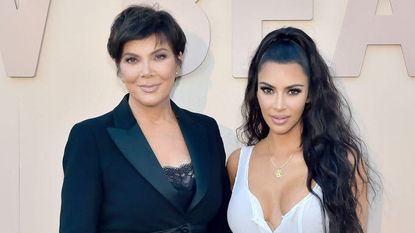 (Image credit: Getty Images)
Marie Claire Newsletter
Celebrity news, beauty, fashion advice, and fascinating features, delivered straight to your inbox!
Thank you for signing up to Marie Claire. You will receive a verification email shortly.
There was a problem. Please refresh the page and try again.
The world's leading momager, Kris Jenner, may have just hinted that she intends to be America's momager. Both Kim Kardashian and Khloe Kardashian posted photos to their respective Instagram stories showing a plane flying over what is presumably Los Angeles towing a banner with the phrase "KRIS JENNER FOR PRESIDENT." And honestly, she's more qualified than several people who have actually been President of the United States so we could probably do a lot worse? Also, with 353 million followers, Kim could help spur record voter turnout. That's like almost the entire population of the U.S. right there!
Of course, we're getting ahead of ourself. After all, it is probably an increasingly elaborate joke—and this wouldn't be the first time the Kardashians have made it. Back in 2022, Jenner capitalized on a viral TikTok trend that featured a morsel of gossip followed by a clip of Jenner dancing to "Lady Marmalade" and the phrase "U Just Got Krissed #Krissed." (Wow, it's kind of hard to describe TikTok trends, isn't it? But trust us, it was cute.) Jumping on the trend, Jenner posted a video of her face with some presidential-sounding music in the background, alongside the caption, "I'm so excited to finally announce..."
Some speculated that Jenner was poking fun at a spot of fake news that was making the rounds suggesting Jenner was actually planning a presidential run. But it's been over a year and the joke is apparently still funny enough to Kim and Khloe Kardashian that they hired a freakin' plane about it, so maybe it's becoming real?!
And Jenner would be joining in on what's becoming a bit of a family tradition. Recall that Ye (né Kanye West), ex-husband of Kim, had an ill-advised presidential campaign in 2020, where he ran on the Republican ticket, threw some confusing campaign rallies, cozied up to Donald Trump, and made a slew of antisemitic comments.
There was also Caitlyn Jenner's run for governor of California in a 2021 special election in which state Republicans failed to recall Democrat Governor Gavin Newsom. Caitlyn also ran on the Republican ticket, alongside 50-plus other gubernatorial hopefuls, and ended up garnering around one percent of the vote.
Just saying: Kris is a little too savvy to follow in the footsteps of those shoddy campaigns. You just know she would deliver the goods. I guess we could just write her in? (We kid, but like Kim and Khloe, we're only slightly joking.)
Celebrity news, beauty, fashion advice, and fascinating features, delivered straight to your inbox!