Hillary Clinton Wants Hollywood on Her Side
The Democratic front-runner is making friends with the rich and famous.
Every political candidate (especially Democratic) knows the power and deep pockets that comes with the support of Hollywood's elite, and Hillary Clinton is no rookie. This week, Clinton has been touring Southern California, rubbing elbows with A-listers and entertainment execs alike—and raking in serious campaign cash along the way.
Following a successful (with a capital $) donor event in Newport Beach on Thursday, Clinton shifted the fundraising into full gear on Friday. The packed schedule started in Beverly Hills with a mid-day luncheon hosted by Westfield Corp. co-CEO Peter Lowy ($2,700 per person), then a late afternoon gathering hosted by HBO executive Michael Lombardo (also $2,700 per person), ending with a sold-out event on Friday night at actor Tobey Maguire's home in Brentwood (again $2,700 per person, which is the maximum amount an individual can contribute to a campaign). The guest list read like movie credits with top celebrities such as Leonardo DiCaprio and Elizabeth Banks counted in attendance.
According to The Hollywood Reporter, Clinton gave a brief speech in which she requested the support of the entertainment industry "to help inspire and get people excited," before closing with a comment about having a grandmother as the next White House resident.
The evening's event alone was expected to raise over $500,000, with the total count for her trip coming to upwards of one million dollars. We hope her bags are big enough, because she's bringing home some major dough.
Marie Claire email subscribers get intel on fashion and beauty trends, hot-off-the-press celebrity news, and more. Sign up here.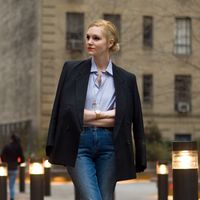 I am an experienced editor, writer, and creative strategist, specializing in fashion, beauty, and lifestyle content for digital media outlets, as well as video and social platforms. While I currently operate as a freelance contributor/consultant, with such clients as The Zoe Report, my 10+-year background in the industry was cultivated at the dot-coms of elite publications, including Harper's BAZAAR, ELLE, and Marie Claire.