People Are Really Upset That Miss America Interned At Planned Parenthood
The newly crowned Miss America spent three months interning for what is perhaps the nation's best known provider of women's healthcare. And many Americans aren't pleased.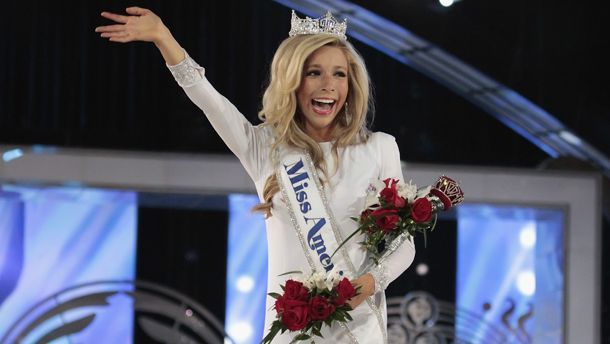 (Image credit: Archives)
Just hours after the sparkling silver crown was placed on Kira Kazantsev's head, signifying her triumph at this year's Miss America pageant, she was the subject of a swarm of internet backlash. Why? Kazantsev interned at a Planned Parenthood affiliate in Hempstead, New York last year. And as conservatives tend to do with any hot-button issue, they immediately took to Twitter to express their displeasure that the country's freshly crowned Miss America has worked with the organization.
This chick sure doesn't represent me. She should've been disqualified for Miss America. #tcot @michellemalkin http://t.co/Thwi2qv4iMSeptember 16, 2014
See more
The fact that our newly crowned Miss America worked for Planned Parenthood makes me kind of sick. Actually it makes me really sick.September 16, 2014
See more
Planned Parenthood has garnered nationwide recognition (and kickback) for providing reproductive health care to women. And despite what anti-abortion advocates would have you believe, abortion care accounts for only three percent of Planned Parenthood's services. But these low numbers haven't stopped conservatives from trying to derail the organization with their pursuit to cut off funding and regularly setting up camp outside their clinics to engage in protests.
To respond to these disgruntled tweeters, Eric Ferrero, Planned Parenthood Vice President for Communications, spoke out in support of Kazanstev's work with the organization through a post on The Daily Beast. Ferreo makes an important point: With pro-life supporters constantly trying to discredit Planned Parenthood, having a figurehead like Kazantsev will only serve to further their mission—to provide all-encompassing reproductive health care and to encourage a greater understanding of women's sexual health through education and research, regardless of the many who claim otherwise.
Related:

Planned Parenthood Launches Digital Appointments

Cecile Richards Has Our Back and Yours....Always (#THANKS!)
Primary Protection: The History of the Pill
Scarlett Johansson Steps Up To Support Planned Parenthood
Image via Getty Images