Pussy Riot Members to Come to U.S. for Human Rights Concert
Pussy Riot comes stateside.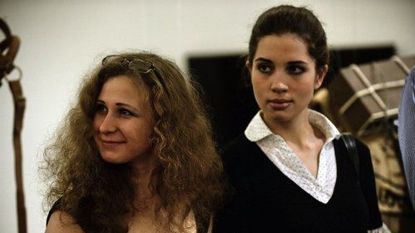 (Image credit: Archives)
Released early from their jail sentence, Pussy Riot members, Nadezhda Tolokonnikova and Maria Alyokhina, will be coming stateside to appear in the Amnesty International concert in support of human rights, in Brooklyn, New York on February 5th, according to The New York Times (opens in new tab).
The Pussy Riot pair was arrested on charges of hooliganism for holding an anti-Putin protest in Moscow's main church. They were sentenced to two years, but were released early in December as they were nearing the end of their sentences. In September, Tolokknikova held a hunger strike in protest of the harsh prison conditions (opens in new tab).
The pair released this message:
"A month ago we were freed from Russian prison camps," they added. "We will never forget what it's like to be in prison after a political conviction. We have vowed to continue helping those who remain behind bars and we hope to see you all at the Amnesty International concert on Feb. 5 in Brooklyn!"
The concert will include performances by Lauryn Hill and The Flaming Lips.
Additionally, Tolokonnikova also released a statement on her Facebook account, that the duo will visit several American prisons in New York, including a high security women's prison (opens in new tab).
More from Marie Claire:
Red Square Renegades: The Passion of Pussy Riot (opens in new tab)

Woman Wins Historical Tennis Match, Gets Asked Sexist Interview Question (opens in new tab)

Time Magazine's Yawwwn-Worthy Yet Questionable Magazine Cover (opens in new tab)

Help Up Use Social Media to Redefine Beauty (opens in new tab)