Why You Need to Tell Your Doctor if You're Having 'Fifty Shades'-Style Sex
If Christian and Ana inspired you to get kinky in the bedroom, this is why you should tell your GP.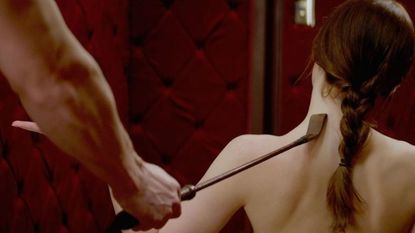 (Image credit: Archives)
Six years ago, whips and chains were anything but mainstream. But thanks to literary juggernaut-turned-film-phenomenon Fifty Shades of Grey, everyone and their grandma knows kink. But what most don't know is how concealing bedroom behaviors can hurt your health.
A study recently published in the Journal of Sexual Medicine titled "Fifty Shades of Stigma: Exploring the Health Care Experiences of Kink-Oriented Patients" revealed that less than half of BDSM practitioners (that's bondage/discipline, dominance/submission, and sadism/masochism) confess their kinky lifestyles to their doctors, and most cite fear of judgement as the reason for their secrecy.
The stat suggests a pretty large community (accounting for 11-14% of Americans, according to rough estimates) is failing to get adequate health care because its members are afraid of what doctors may think of their bedroom behavior.
"Other sexual minorities, like those in the LGBT community, have all been found to suffer from health disparities," says Jess Waldura, MD, medical director of The Alternative Sexualities Health Research Alliance (TASHRA), the team behind the study. "This shows up as poorer health, worse access to culturally competent medical care, and healthcare-related stigma."
This prompted TASHRA researchers to dig deeper, and they're currently crunching the data from a larger follow-up survey that explores the reasons why so many kinky people stay closeted. This new study, likely to be published later this year, also delves into the potential consequences that can arise from keeping BDSM behaviors secret.
"A [clinician] might bypass or fail to recognize your needs if they don't have all the information," says Carol Queen, sex educator and author of The Sex & Pleasure Book. "Doctors aren't mind readers, and they're mostly very poorly trained about kinky sexual practices. Hearing real info from patients will help them put faces to sexual practices and help them better understand what the stakes are."
For some BDSM practitioners like Sally,* a kinkster from suburban South Carolina, the stakes can feel astronomically high. "I fell while being untied from a suspension bondage scene and hit the edge of a table," she says. "I broke a rib. I didn't seek treatment because I was embarrassed to tell them how it happened." Despite the act being consensual and the injury an accident, she was worried: "I thought they would take my boyfriend in for domestic abuse."
This kind of fear is overwhelmingly common in the kink community, according to Anna M. Randall, LCSW, MPH, a San Francisco-based sex therapist and TASHRA's executive director. "About 13 percent of the survey respondents told their doctors their injuries were caused by something other than BDSM," she says. "People make up stories; some are embarrassed, but most are more worried about being shamed by their doctors or not getting good care."
"I've delayed OB/GYN visits due to bruises," says Julie*, a submissive from Hanover, Massachusetts. "Having visible marks when going into a medical setting usually means I have to 'out' myself and that I won't receive the care I require."
While a busted ankle or broken rib may not seem like a major health concern, the injuries that sometimes arise from BDSM can potentially lead to bigger issues if left untreated. According to Randall, bruises, muscle strains, and piercing tears are common medical issues associated with kink, but foregoing medical care for seemingly minor problems isn't a good idea.
"Big bruises can develop into hematomas, for example," she says. "There are rare injuries from rough sex that may lead to serious complications, such as torn vaginal tissue or scrotum injuries, and because more risky sexual BDSM behaviors may include controlling the breathing of a partner, those with asthma face real risks if they're not treated for attacks immediately."
Others, like Jen* from Knob Noster, Missouri, risk complicating existing chronic conditions by delaying treatment. "I have rheumatoid arthritis and frequently injure myself [during BDSM sex] because of joint deterioration," she says. "I worry about the multiple medical visits being seen as a sign of abuse, and being further questioned, so I often delay going to the doctor. Right now I have a severe sprained ankle that needs an X-ray, but I had a wrist X-ray a month ago and I'm not sure what reaction it might create."
But while the TASHRA team acknowledges the risk of BDSM-related injuries, their research has helped refute some widespread stereotypes regarding the root causes of practitioners' interests. "People who engage in this appear to be no different from the regular population," Randall says, noting that her one major gripe with Fifty Shades involves Christian being the son of—as author E.L. James not-so-delicately puts it—a "crack whore." "They're no more likely to have been sexually abused than vanilla folks. In fact, we found they had the same ACE scores as the general population, which measures Adverse Childhood Experiences like neglect and poverty."
One Australian study found that BDSM practitioners were no more likely to have been coerced into sexual activity, nor were they any more unhappy or anxious; in fact, the men who'd engaged in BDSM reported significantly less psychological distress than other men.
These findings hint at something Randall and other researchers have speculated about: that kink could actually have positive health effects. A 2013 study found BDSM practitioners to be less neurotic, more extraverted, more open to new experiences, and more conscientious than non-kinksters. And a study published last year suggests BDSM has the potential to reduce psychological stress and negative affect, increase sexual arousal, and put practitioners in a state of "flow," allowing them to get completely lost in the moment. Positive psychologists have argued that achieving the flow state on a regular basis can go a long way in fostering overall happiness. Randall and her TASHRA colleague, Richard Sprott explored this notion in a 2016 paper published in the Journal of Positive Sexuality, which found profound effects that Randall says are comparable to the sought-after rush of a "runner's high" or a really intense meditation session.
But to access the possible positive aspects of kink, it's imperative to get educated about safety and seek experienced mentors. First thing's first: find a doctor who's also an open-minded ally. Clarisse Thorn, BDSM practitioner and author of The S&M Feminist, suggests checking out the National Coalition for Sexual Freedom's (NCSF) website, where you'll find the Kink Aware Practitioners (KAP) Directory. "This list shows how critical it is for us to have access to medical care that doesn't stigmatize us," she says.
Randall says the KAP Directory is an important resource, but kink-oriented people should be aware that the list isn't necessarily comprehensive or carefully vetted. That's why she recommends doing extra research. "The social media site Fetlife is like Facebook for kinky people," she says. "It has over 5 million members and is an enormous wealth of information. People often go online to ask this highly knowledgeable community about safety because most physicians know so little."
That lack of awareness in the healthcare community is the reason TASHRA provides basic BDSM/kink health education in medical schools and conferences. And as doctors learn the ropes (pun absolutely intended), researchers are hopeful that anyone interested in any level of kink will get the care they need and feel comfortable coming out. "It's also important to know that people anticipate more stigma than they experience actual stigma," she says. "There's a really good chance you're not going to get shamed and often even if doctors don't know the answers, they'll usually try to find out more."
*Names have been changed.
Follow Marie Claire on Facebook for the latest celeb news, beauty tips, fascinating reads, livestream video, and more.
Celebrity news, beauty, fashion advice, and fascinating features, delivered straight to your inbox!