20 Crazy Thoughts Everyone Has Before a First Date
I'm going to be so cute and nice but also ~*mysterious*~ and sexy and so smart all at the same time. Easy, right?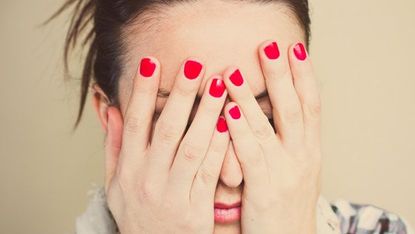 (Image credit: Archives)
1. What am I possibly going to wear that makes me look great but come off so *~effortless~*
2. Heels? No heels?
3. I want to get there on time but after him. I have to make sure I'm two minutes late but ONLY two minutes late otherwise I'm rude and he'll think I'm always late.
4. DON'T mention anything from his Instagram that shows I stalked him way back to the first week he started. And then his followers. And then who he follows.
5. I bet my parents would really like him.
6. Talking about his ex girlfriend is off limits. And by that I mean don't get too drunk.
7. How many drinks is too many drinks?
8. Remember to ask questions.
9. Relax. No really, please relax.
10. How many jokes is too many jokes?
11. I'm going to be really mysterious tonight.
12. I wonder if I wear my sweatpants if he'll think that's cool or... psycho.
13. It's raining. Should I cancel? He can't see my hair like this. Can't a girl catch a break?
14. You have to come off casual-cool but also sexy but also smart but also DON'T TRY.
15. How exactly should I pull off the "Oh, I'm reaching for my wallet now, oh you want to pay? What a surprise! I totally thought I was going to pay!"
16. Please don't start talking about how recently you've been sort of, kind of into Taylor Swift. Save that for date #7 at least.
17. Or your rant about how you think Kim Kardashian really IS smart.
18. To shave my legs, or not to shave my legs?
19. I wonder if he's ever changed his relationship status on Facebook.
20. Please don't tell him about the time you danced on a table.
Related:
14 Signs He's Only Interested in Sex (opens in new tab)
5 First Date Outfits You'll Actually Want to Wear (opens in new tab)
13 Things to Never Say on a First Date (opens in new tab)
Hallie has worked in beauty editorial for ten years and has been editorial director at Byrdie since 2021. Previously, she was a senior editor at Byrdie since 2016. During her time at Byrdie, she's written hundreds of high-performing stories on skincare, wellness (including fitness, diet, mental health, body image, et al) makeup, and hair. She's a regular on set, helping to source inspiration for makeup and hair looks, as well as interviewing celebrities, models, and other notable women and men in the beauty space.
Before that, Hallie ran Marie Claire's social media and wrote beauty and culture stories for the site, and helped launch Time Inc.'s digital-only beauty brand, MIMI. After college, she contributed to Time Out New York's Shopping & Style section before landing her first beauty editor gig at Hearst's Real Beauty. Hallie's writing has also appeared in ELLE, Cosmopolitan, and InStyle. Hallie graduated with a BA in Communication Arts from the University of Wisconsin-Madison.