10 Places to Keep Cool This Summer
Ain't nothing wrong with a little AC.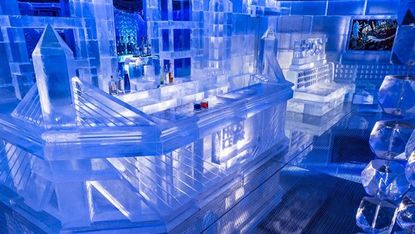 (Image credit: Archives)
1. The Brooklyn Kitchen

This Brooklyn, N.Y. cooking (opens in new tab) store offers a variety of tools and equipment, as well as recreational cooking classes (opens in new tab). Peter Litschi and Anthony Falco, chefs at Roberta's in Bushwick, teach everything from pizza to fresh pasta to sushi, and even offer lessons in knife skills.
2. The Rock and Roll Hall of Fame and Museum

This Cleveland, O.H. staple has something very new and very exciting (opens in new tab) going on in the Ahmet Ertegun Main Exhibit Hall: a fashion exhibit (opens in new tab) centered on Beyoncé (opens in new tab). The exhibit includes the outfit from Queen Bey's (opens in new tab) Super Bowl performance, the Givenchy gown she wore the 2012 Met Gala, and full costumes from legendary music videos like "Single Ladies" and "Crazy in Love," among iconic pieces from the likes of Michael Jackson, David Bowie, and Bruce Springsteen.
3. Sister Louisa's Church of the Living Room and Ping Pong Emporium

For an alternative bar experience (opens in new tab), head over to this church-themed bar and art gallery in Atlanta, G.A. The owner's invented tale of a runaway nun is complete with a full bar (opens in new tab), church organ karaoke, and original artwork both for admiration and for purchase.
4. AMC Dine-In Theaters

Forget the movie (opens in new tab) with a side of popcorn — AMC Dine-In Theaters now offer premium movie theatre-restaurants with luxurious recliners, an extensive menu, a full cocktail bar, and service with the push of a button. Current locations include Phoenix, A.Z., Creve Coeur, M.O., Olathe, K.S., and Grapevine, T.X., with more listed on the website (opens in new tab).
5. Adler Planetarium

Knock off an outer space-filled day from your summer bucket list with the first one built in the country (opens in new tab) and entire Western Hemisphere, and the oldest left in existence. Recent renovations have left this Chicago, I.L. location with three theaters equipped with some of the most technologically advanced equipment available.
6. Frost Ice Bar

There's no better way to cool off than in a room completely made of ice (opens in new tab) — Boston's year-round ice bar remains the world's largrest permant indoor and includes ice walls, floors, furniture, and drinking glasses. It's so chilled at 21 degrees Farenheit, guests will be happy to put on their insulted purple parkas and gloves.
7. Wynn Resort and Casino

The best place to beat that desert heat in Nevada is, of course, in a Las Vegas casino. The Wynn (opens in new tab) is a classic spot for some gambling, but few people know it's also home to a relaxing (and beautiful) Koi pond.
8. Botanical Center

Pop inside New England's largest indoor gardens (opens in new tab) located in Provide, R.I., complete with a waterfall and the fragrance of flowers from all around the world. It's located in Roger Williams Park, which also has a museum and casino.
9. Magic Hat Brewery

This South Burlington, V.T. brewery (opens in new tab) cranks out 400 bottles of beer (opens in new tab) every minute, though it calls its beverages "elixirs" while visitors tour the "artifactory." And bonus: dogs (opens in new tab) are welcome.
10. Black Stallion Winery

If wine's more your thing, you'll love the Black Stallion Winery (opens in new tab) in the Napa Valley of California. Named after a historic equestrian center, the indoor track still has remnants of the original 26 horse stalls among the winemaking production.
Related:
The 15 Best Summer Beach Reads (opens in new tab)
5 First Date Ideas for People Who Don't Drink (opens in new tab)
Beauty Fails and Fixes: Summer Edition (opens in new tab)
5 AMAZING Jell-O Shots to Serve This Summer (opens in new tab)
Photos via the Rock & Roll Hall of Fame (opens in new tab), AMC Theatres (opens in new tab), Frost Ice Bar/Facebook (opens in new tab), ProvidenceRI.com (opens in new tab)