5 Delicious Game of Thrones Recipes You Have to Try For Fourth of July
Daenerys would totally eat everything on this menu, it's the patriotic thing to do.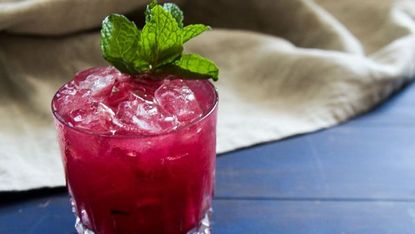 (Image credit: Archives)
Marie Claire Newsletter
Celebrity news, beauty, fashion advice, and fascinating features, delivered straight to your inbox!
Thank you for signing up to Marie Claire. You will receive a verification email shortly.
There was a problem. Please refresh the page and try again.
Fourth of July is coming and in honor of a show that should never end, here is a menu that is so good, you may just Valar Morghulis yourself (sorry not sorry).
1. Inn at The Crossroads Deviled Eggs
Deviled eggs are delicious. Deviled eggs with caramelized ramps? They are everything.
Recipe makes a dozen deviled eggs
12 farm eggs, hard boiled

½ cup of mayonnaise

1 crushed clove of garlic

Teaspoon of lemon juice

1 bushel of ramps, finely sliced crosswise

1 tablespoon of olive oil

Salt and pepper to taste

Pastry piping bag and tip
Take your 12 perfectly boiled eggs (note: when boiling eggs it's actually better to use some that are a little old) and carefully slice them lengthwise. A tip to stop the egg white from breaking is to dip the knife in cold water before each cut.
Remove the yolks from each egg by gently popping them out. One trick is to lightly tap the back right where the yolk is.
Place your yolks in a medium sized bowl and add you mayonnaise, lemon and garlic. Mix together until completely smooth and place in the fridge.
Thoroughly clean your bushel of ramps and chop off the roots in addition to leaves. Though edible, you will only be caramelizing the bulbs. Finely chop the bulbs crosswise and heat a skillet or nonstick pan to medium heat. Pour a tablespoon of olive oil into the pan and once heated (should not be smoking), dump the sliced ramps in.
The trick to good caramelizing vegetables is do not touch them too much, and get your heating right. After about 8-10 minutes they should start to get brown and sticky on the bottom. Stir once and wait another 8-10 minutes making sure nothing burns.
As your ramps are caramelizing, take your egg mixture and place in a pastry-piping bag with metal tip of your choice. Taking your empty egg whites carefully pipe the egg mixture into each egg. If you don't have a piping bag you can always fill a plastic Ziploc bag and cut one end.
Place your eggs carefully onto a serving tray, sprinkle the caramelized ramps onto the top, and finish with pepper and salt.
Read more: 4 Genius BBQ Recipes That Will Be A Huge Success
2. Dornish Fritters (in honor of the Red Viper love you forever)
SPOILER ALERT: Oberyn Martell, also known as the best hot guy of GOT, will be the most missed character of Season 4. Drawing from the ingredients and flavors characterizing Dorne, these zucchini fritters have a spicy kick and might, just might, make you feel better about his short-lived performance.
Oberyn, there just weren't enough shirtless moments.
Recipe Serves 4 (recipe inspired by chef Barbara Wallace)
2 medium zucchini

1 medium onion grated

1 cup of crumbled feta

2 tablespoons of finely chopped mint

1/3 cup of flour

1 teaspoon of lemon rind

2 teaspoons of red chili flakes

1 egg

Olive oil for frying
Grate your zuchinni and squeeze out as much water as possible—cheesecloth is a fantastic way to get all the water out.
Add you onion, feta, lemon rind, mint, and chili flakes mixing well and squeezing out any additional water if necessary. Once the mixture is dry, add in one egg stirring in your flour and any seasoning—note, feta is really salty so you won't need much.
Heat your olive oil in a frying pan and fry large dollops of the mixture (a little more than a tablespoon approximately) gently for about two minutes on each side.
Serve with Greek yogurt and more lemon rind.
Read more: The Emotional Stages of Watching Game of Thrones
3. Blue Cheese Stuffed Mini Lamb Burgers
Meat and cheese are staples in the Seven Kingdoms, combine the two to make burgers that are fit for The Iron Throne.
Recipe Serves 4
1 pound of ground lamb

1 teaspoon of salt and pepper

1 teaspoon Dijon mustard

2 cloves of garlic, crushed

¾ cup of blue cheese crumbled

10 mini buns
In a large mixing bowl combine your lamb, seasoning, Dijon, and garlic. Mix well.
Taking your mixture, mold a tablespoon of lamb into the palm of your hand with a tiny well in the middle. Place a tablespoon of the blue cheese place into the well. Taking another tablespoon of lamb, cover the top of exposed blue cheese and mold into a patty. Repeat 9 more times using all the blue cheese.
Heat a pan to medium heat (or grill) and cook for approximately 3-4 minutes on each side or until the center is at least pink. If you like burgers well done cook for an additional minute on each side.
Spread Dijon onto your toasted buns, add a cornichon for good measure, and enjoy.
Read more: 12 Zesty Ways To Enjoy Lemonade
4. Sansa's Lemon Cookies
Wouldn't be a Game of Thrones menu without Lady Sansa's favorite dessert—lemon cakes. These lighter, incredibly addictive cookies have the consistency of a cake in the highly convenient form of a cookie.
Recipe Makes 2 Dozen Cookies, adapted from Giada de Laurentiis
Cookies:

2 ½ cups all-purpose flour

2 teaspoons baking powder

1 teaspoon of salt

1 stick unsalted butter

2 cups of sugar

2 eggs

15 ounces of whole milk ricotta cheese

4 tablespoons of lemon juice

1 lemon rind (zested)
Glaze:

1 ½ cups powered sugar

3 tablespoons lemon juice

1 lemon, zested
Preheat your oven to 375 degrees F.
In a large bowl, mix your flour, baking powder, and salt. Set aside.
In the large bowl combine the butter and sugar using an electric mixer or stand mixer until light and fluffy, or approximately 2-3 minutes.
Add the eggs, 1 at a time, beating until mixed well. Add the ricotta cheese, lemon juice, and lemon rind mixing to combine stirring in the dry ingredients.
Butter three baking sheets and spoon about two tablespoons of batter for each cookie. Bake for 13-15 minutes (right before they get golden on the edges).
While your cookies are baking, in a large mixing bowl combine your confectioner's or powdered sugar, lemon zest and juice in a large bowl and whisk until smooth.
Once cooked, take your cookies out of the oven and using a spatula place gently onto a cooling rack with parchment paper underneath.
Spoon about ½ a teaspoon of the glaze onto each cookie and spread slightly.
Can be eaten immediately but the glaze will harden in about an hour.
Read more: 14 Game of Thrones Quotes That Turned Us Into Superfans
5. Shade-of-the-Evening Lemonade
Inspired by the hallucinogen drink the Warlcoks of Qarth used to down to have their visions and whatnot, here is a blueberry, mint lemonade that won't involved any of the Undying Ones.
Recipe Serves 4
1 cup of fresh blueberries

5 sprigs of mint

3 lemons, juiced

2 teaspoons of maple syrup

4 shots of gin

½ cup of seltzer water
Blend your cup of blueberries in a mixer until it creates a pulp. Strain and set aside.
Muddle your sprigs of mint and place into a shaker with the blueberry pulp, lemon juice, maple syrup, and gin.
Shake well (about one minute) and pour into short glasses topping with more mint, crushed ice, and seltzer water.
Related:

What To Do While You Wait For The Next Game of Thrones


Which Game of Thrones Characters Are You?


The 13 Greatest Iced Coffee Recipes


The Hot Guys of Game of Thrones


Marie Claire's Fire & Ice Game of Thrones Cocktail

Celebrity news, beauty, fashion advice, and fascinating features, delivered straight to your inbox!
Charlotte Palermino is the co-founder of Nice Paper and is a freelance beauty and food writer based in Brooklyn. Obsessed with carbs and a sharp cat-eye, she was formerly the editorial development lead at Snap Inc., and prior to that an associate director at Hearst Digital Media where she ate a lot pizza.