Why You Should Travel to Mexico City Right Now
For one, flights from most U.S. cities are less than $250.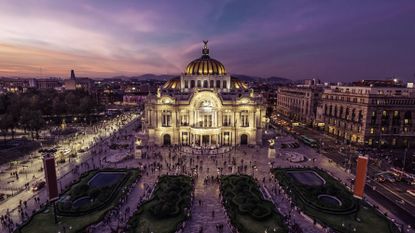 (Image credit: Getty Images)
After not just one, but two earthquakes hit Mexico in September, the areas in Oaxaca and surrounding Mexico City are dealing with the long process of rebuilding. But that doesn't mean you should cancel your trip, or avoid going there in the upcoming months. In fact, this might be the perfect time to go, especially considering that Aeroméxico and United have nonstop flights for less than $250 from cities across the U.S. from now through next spring.
RELATED STORY
The Mexico City Tourism Board says that 96 percent of hotels were declared structurally safe by local officials and are currently operating as usual, Condé Nast Traveler reports. Many of the city's museums have also reopened by now, including the Palacio de Bellas Artes, Museum of Anthropology and the Museo Frida Kahlo.
Keep in mind that the Roma and Condesa neighborhoods were affected the most by the earthquake last month, so Condé Nast Traveler recommends looking for hotels and Airbnbs in the nearby Polanco and Chapultepec neighborhoods, instead.
While the $196 fares from San Francisco, Denver and Washington D.C. to Mexico City that The Flight Deal reported yesterday are all gone by now, if you search Google Flights you can still find nonstop fares for less than $300 from most U.S. cities from now through this upcoming spring, including $260 flights on Aeroméxico from New York, and flights under $232 on United from Los Angeles, Atlanta, and Houston.
Lyndsey Matthews is the Destination News Editor for AFAR; previously she was a Lifestyle Editor across all of Hearst Digital Media's brands, and a digital editor at Martha Stewart Weddings and Travel + Leisure.