Weekend Trip Guide: Where to Stay, Eat, and Drink in Verona
The perfect trifecta of food, wine, and picturesque views.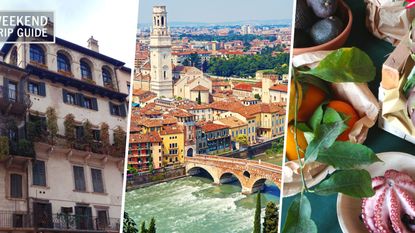 (Image credit: Instagram/Getty/Design by Monica Park)
It makes sense that the historic city which set the scene for Shakespeare's star-crossed lovers Romeo and Juliet also houses some of the most beautiful architecture and scenic landscapes out there. It's hard to imagine anyone not falling in love in Verona.
Hence, my fast infatuation with the charming Italian town. Verona might be overlooked by travelers rushing to get to cities like Rome, Tuscany, and Venice, but trust: it's one of the best places to sample authentic food and wine in one of the most heart-eye-emoji, beautiful regions in Italy. Below, some vignettes from an idyllic weekend in Italy plus tips on where to find the best eats, sips, and sights in the area.
Where to Stay
Verona has dozens of sweet B&Bs and boutique hotels, but it's preferable to nab a room by the Piazza Bra, where the grand arena is located, or Verona's town square, Piazza delle Erbe. On my visit, I caught up on much needed sleep at the Palazzo Victoria, a beautiful five-star hotel tucked away minutes from the town square and the Via Mazzini, the main shopping center of the town.
The creative design of the hotel creates an "old meets new" experience that gives a nod to Verona's historic past. Ornate, modern interiors mingle with rustic furniture, not to mention an especially lovely courtyard covered with creeping ivy. And lest the colorful interiors deceive you, the hotel has much more history on site than meets the eye. In the basement, you'll even spot the Roman ruins the hotel was built over.
What to Do
For the most part Verona is a quiet and sleepy town that's not as touristy as its larger counterparts. The beauty is in all the sensory details: the food, the vino, and the spectacular views are what really set the city apart.
The city is extremely walkable, though many locals get around in adorable bicycles with baskets (AKA not your average CitiBike). Everything is pretty central, from Piazza delle Erbe outwards, but if you don't want to miss the views, stroll by the old fortress bridge Ponte Pietra, survey the candy-colored houses from the Castelvecchio Museum walls, and work-out your calves with a trek up to Lamberti Tower for a bird's eye view of the city.
For fashion fiends, the Via Mazzini is the place to lose yourself window-shopping and doing mental gymnastics on how much rent money to spend on clothes. The cobble-stone streets guide you from one designer shop—you can find major labels like Chanel and Gucci here—to another.
And yes, you will see familiar sights like Zara there, but my favorite stores were exclusive to the region. One was a hip boutique called Lazzari which looks like the brain child of Zooey Deschanel: think blouses and dresses colored with illustrated cats, adorable leather shoes and lady bags, plus a very 'grammable interior.
At another corner of the Via Mazzini lives the equally cute Italian kitchenware staple Bialetti. Stop in here for all your gift shopping: teeny percolators, pots, and pans in every shade of pastel? Sold.
Another hard-to-miss attraction is the famous balcony that put Verona on the map. The Capulets' house, where Romeo and Juliet supposedly exchanged their first vows of love, is a tourist magnet where lovers come to scribble their devotion to each other on the stone walls, and romantics relive the drama through re-enactments of the famous Shakespeare play.
During the summers, locals crowd The Verona Arena to attend concerts and operas played out in the open air. If you're lucky enough to be there during opera season, make sure you get there early because people line up around the block for entry.
If you have space in your itinerary for a day trip outside the city, just an hour beyond Verona by car and 30 minutes via train lies a serene area called Lake Garda that's the epitome of Mediterranean beauty. The drive there snakes through streets skirted by ice-cream colored houses and the views by the lake are golden: imagine coral sunsets, azure waters, stony castles, and lemon groves. Celebrities and politicians like Winston Churchill vacationed at local villas like Punta San Vigilio in the summer, and it's not hard to see why.
What to Eat
My visit to Verona was all thanks to Giovanni Rana's "Dine with Rana" welcome tour, a biannual prize contest that invites Americans to share the sights and tastes of Verona—where the Rana family tradition began. (For the uninitiated, you may recognize the pasta legend Giovanni Rana as a smiling face in the refrigerated section of your nearest grocery store.) On the trip you discover more about how the fresh, artisanal pasta brand became the top seller in Europe, learn how to make and plate your own pasta like an Italian, and earn a private tour of the city.
Oh, and did I mention the food? Contest winners are immersed in a carb-heavy paradise that involves multiple courses of pasta and a potential inch or so to your waistline—they're definitely worth the extra SoulCycle time. And it wasn't just your traditional spaghetti Bolognese or fettuccine alfredo. Consider all the pasta you've had in your life, multiply it by five, and add a selection of sublime sauces, cheeses, plus fresh meat, vegetable, and seafood fixings (mmmmmm)—bam, you've got the Rana dining experience. There were even deep-fried ravioli pizza options for dessert with berries and nutella *chef finger kiss*.
If you come here on your own terms, though, clearly the city is full of good eats. In the central Piazza delle Erbe, food stalls line the middle of the square. Snack on delicious fruit cups (trust me on this, the presentation is *everything*) and sample the gelato.
Nearby, Caffè Carducci has one of the prettiest interiors and cozy tables for charcuterie and cheese, a glass of wine, or a cocktail.
For more substantial bites, locals dine in at the Re Teodorica located right above the Verona ampitheatre for a modern take on traditional Italian cuisine. Or, the Ristorante 12 Apostoli, a vegan- and vegetarian-friendly restaurant that's considered one of the historical, culinary landmarks of the city.
What to Drink
The phrase "When in Rome…" could equally apply to Verona when it comes to their vino: even if you're not a local, you've gotta appreciate the regional favorites like the Campofiorin and Amorone. The city is surrounded by lush vineyards like the Masi Tenuta Canova vineyards that are available for tours, plus food and wine pairings. The vineyard offers a view of the local countryside and has one of most selfie-worthy, Dior-esque floral backdrops around.
For more wining and dining, visit the historic wood-paneled restaurant and wine bar Antico Bottega del Vino for an entrée into traditional Italian cuisine and wine. The cellar boasts wall-to-wall wine selections, with bottles dating back to 1840. If you're a true "wino forever," make sure that you stop off here and sample a glass.
If you want to unwind and dance after dark, see hipster Club Così è for craft cocktails and DJs spinning only vinyl music.
And for those who are more of the espresso and macchiato sorts, there's also a quick walk to Caffè Borsari, one of the oldest cafes in the city, for a mid-day pick-me-up. Pinkies up!
Follow Marie Claire on Facebook for the latest celeb news, beauty tips, fascinating reads, livestream video, and more.