20 Game-Changing Beauty Products That Got Even Better Over Time
Looking good has come a long way in the past two decades (we like to think the 1994 launch of Marie Claire had something to do with it). Here, 20 noteworthy hair, skin, and makeup innovations that paved the way for today's must-haves.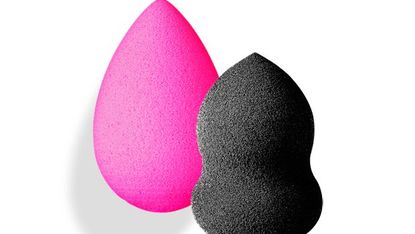 (Image credit: Courtesy of Company)
Marie Claire Newsletter
Celebrity news, beauty, fashion advice, and fascinating features, delivered straight to your inbox!
Thank you for signing up to Marie Claire. You will receive a verification email shortly.
There was a problem. Please refresh the page and try again.
Nars Velvet Matte Lip Pencil in Dragon Girl, $25; Yves Saint Laurent Rouge Pur Couture Vernis À Lèvres Glossy Stain in Rouge Gouache, $35
1. LONG-LASTING LIPSTICK
1994: Revlon launched ColorStay long-wear lipcolor, which set in 60 seconds to an opaque, matte finish that lasted through dessert.
Now: Long-lasting colors come in a wider variety of textures, from the high shine of Yves Saint Laurent's Rouge Pur Couture Glossy Stain to the suede-like finish of Nars' Velvet Matte Lip Pencil.
2. LASER HAIR REMOVAL
1995: The FDA approved the first doctor-administered, fuzz-zapping laser—a permanent stubble solution.
Now: Innovative at-home devices from Tria, Silk'n, and Veet make forever-smooth skin even easier (and cheaper) to achieve.
3. PORE STRIP
1997: Bioré came out with de-gunking strips that got noses cleaner than face scrub ever could.
Now: The latest from Bioré, a Self Heating One Minute Mask, gets the grime out with natural charcoal—like a pore strip, but for your whole face.
4. BLURRING PRODUCTS
1997: Benefit launched Dr. Feelgood, a silica-based balm that blurred fine lines, softened skin, and made pores seem smaller. Eight years later, Clarins put out a cream version, Instant Smooth Perfector.
Now: The latest blurring primers offer all the pore-hiding and wrinkle-softening of the originals in mattifying (L'Oréal RevitaLift Miracle Blur) and hydrating (L'Oréal RevitaLift Moisture Blur) formulas.
T3 Featherweight Luxe 2i, $250
5. IONIC BLOWDRYER
2000: When ionic blowdryers came on the scene, we were all thankful for the tiny charged particles and the few extra minutes of sleep they afforded us (ions speed drying time up to 40 percent).
Now: T3, Harry Josh, and Remington have upped the ante with ultralightweight ionic tools that have ceramic technology for a more even airstream.
6. LIGHT-DIFFUSING MAKEUP
2000: Light-diffusing makeup was a new concept when Prescriptives launched its Magic Liquid Powder; buffed on over foundation, it made imperfections, well, magically disappear.
Now: Light-scattering foundations—like Smashbox's Liquid Halo HD Foundation and Burberry's Sheer Luminous Fluid Foundation—offer one-step luminosity that looks natural.
7. WHITENING STRIPS
2001: Crest launched hydrogen- peroxide-laced Whitestrips, allowing all of us the Chiclet-like perfection of a celebrity smile without the dentist visits.
Now: The at-home whitening category has exploded in recent years. Some favorites: Colgate's Optic White Toothbrush and Crest's 3D White line with Whitestrips that work even more quickly.
8. INJECTABLE FILLER
2003: We got to turn back time with wrinkle-filling Restylane, the first FDA-approved hyaluronic-based injectable for cosmetic use.
Now: Derms still rely on Restylane, but they've also added new injectables like Juvéderm Voluma XC (for plumping large areas) to their antiaging arsenal.
9. SONIC SKINCARE
2004: Face washing wasn't the same after Clarisonic presented its first sonic device, proven to remove more dirt than cleanser alone.
Now: Oscillating technology goes below the belt with Clarisonic Pedi, a foot-smoothing system that puts pumice stones to shame.
10. FRACTIONAL CO2 LASER RESURFACING
2004: Since the approval of Fractional CO2 lasers, we've been able to get wrinkle-reducing, collagen-stimulating benefits without the side effects (redness and peeling that last for weeks) of traditional carbon dioxide lasers.
Now: Fractional lasers continue to advance, but the best news for the gun-shy? New topical products that mimic laser treatment results (see: Dr. Brandt's Laser Fx Series).
11. ACNE DEVICE
2005: A pimple meant wearing concealer for days, until Zeno came out with its zit zapper that killed bacteria responsible for blemishes.
Now: Devices such as the Tanda Zap and IlluMask Anti-Acne Light Therapy Mask treat existing blemishes and help prevent future breakouts with LED light.
Credits: Jergens Natural Glow Daily Moisturizer, $13; Clarins Radiance-Plus Golden Glow Booster, $30
12. GRADUAL TANNER
2005: With the advent of Jergens gradual tanner, we were able to bronze subtly, over the course of a few days—meaning fewer chances of streaking.
Now: Clarins recently came out with Radiance-Plus Golden Glow Booster, self-tanning drops that let us turn our favorite moisturizer into a customized gradual-tanning lotion.
13. CONTINUOUS SPRAY
2005: SPF got a lot easier with the launch of Coppertone's Continuous Spray sunscreen, which went on in a superfine mist (and even worked upside down).
Now: Brands such as Vaseline and St. Ives have adapted the easy-to-use sprayers for applying their quick-absorbing, lightweight body lotions.
14. MEXORYL SX
2006: L'Oréal's super sun-shielder became available in the U.S. for the first time in La Roche-Posay Anthelios SX SPF 15. It offers UVA and UVB protection in a single ingredient and is less likely to degrade after sun exposure.
Now: Mexoryl SX is in several La Roche-Posay sunscreens and a few other products, including Vichy UV-Activ Daily Moisturizer Cream.
15. KERATIN TREATMENT
2006: Curly haired girls wanting semipermanent straightening rejoiced when in-salon "Brazilian blowouts" became widely available. They were followed a few years later by formaldehyde-free versions that were deemed safer.
Now: Tresemmé's 7-Day Keratin Smooth System is a formaldehyde-free, at-home alternative to salon treatments and offers smoother strands for up to a week.
Credits: Pink 'The Original' Beauty Blender, $20; Black Stila Double-Ended Blending Sponge, $12
16. MAKEUP BLENDER
2007: The Beautyblender started popping up in almost every makeup artist's kit. Pros love how it picks up just the right amount of foundation and fits a face's unique contours.
Now: Lots of brands have jumped on the Beautyblender bandwagon with curvy sponges. We like Stila's acorn-shaped option (top left).
17. EYELASH GROWTH SERUM
2008: Allergan released Latisse, a prescription eyelash growth treatment.
Now: Those of us not ready for an Rx have OTC lash strengtheners such as RapidLash, and we can get even more dramatic, instant results with eyelash extensions from companies like Xtreme Lashes.
Sally Hansen Miracle Gel in Hydro Electric, $10
18. GEL MANICURE
2010: The long-lasting, light-cured lacquers we all kNow and love first came to salons around this time.
Now: Sally Hansen's Miracle Gel lasts up to 14 days and doesn't need a lamp to cure (the topcoat hardens upon exposure to ambient light).
19. AMMONIA-FREE PERMANENT DYE
2010: For years, permanent hair dye required ammonia to open the follicle and let color molecules in. The downside? It dried out strands (and smelled horrible). Then, L'Oréal Professionnel launched INOA, a revolutionary salon dye that delivered color without the chemical.
Now: Similar formulations are available in at-home kits such as Garnier Olia and Revlon Luxurious ColorSilk Buttercream.
20. BB CREAMS
2010: Wildly popular in Asia, these makeup-antiager-sunscreen hybrids arrived on our shores. (South Korean brand Dr.Jart+'s was one of the first.)
Now: In 2012, Olay stepped it up with a CC cream (BB benefits, plus "color-correcting" ingredients to even out skin tone). And Now there are color-correcting cushion compacts, from brands like Amorepacific and It Cosmetics.
Related Video: Lazy Girl Hair Hacks
Related:
The 15 Best Summer Beach Reads
22 Beauty Products Insanely Successful Career Women Use
Our First Annual Most Wanted Beauty Awards
Photos Courtesy of Brand
Celebrity news, beauty, fashion advice, and fascinating features, delivered straight to your inbox!