When You're Sick, a Manicure Becomes a Link to Life Before the Hospital
Alanna Wall started Polished Girlz as a teenager to help sick people in hospitals feel good.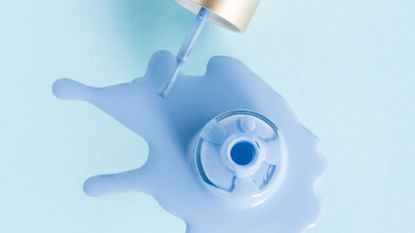 (Image credit: getty image)
Marie Claire Newsletter
Celebrity news, beauty, fashion advice, and fascinating features, delivered straight to your inbox!
Thank you for signing up to Marie Claire. You will receive a verification email shortly.
There was a problem. Please refresh the page and try again.
When Alanna Wall was ten years' old, she loved glitter nail polish. "My mom, my Nana, and I used to always go get 'glitter toes' done at the nail salon," Wall, now 18, laughs. "I always loved getting my nails done—I loved the way I felt, the confidence it gave me."
Sitting on her bed in Dayton, Ohio, Wall recalls spending hours playing with the glitter polishes her Nana would send her all the way from her home in sparkle-studded Las Vegas. "One day I thought, 'I could do something with this,'" she says. "I remembered how good I felt when I got my nails done and I knew that there were people that needed to feel the same. I thought, 'Well, if nail polish makes me smile so much and makes me happy, then maybe I could use it to make other people feel good—beautiful, powerful, and like they can take on the world.'"
That's a lot of pressure for one manicure.
Polish for a Purpose
As a kid, Wall was well-versed in giving back. Her parents stressed the importance of volunteering to her and her siblings as far back as she can remember. "Helping our community is a big part of my family; it's something we really value," she says. Starting a full-on non-profit didn't seem at all out of the ordinary for the preteen.
In 2011, Wall started Polished Girlz, a 501c3 non-profit that organizes a roving crew of amateur, volunteer manicurists to bring a little sparkle to hospitals and groups for people with disabilities. With her dad's website building expertise and her mom's know-how as a nurse, Wall began looking for a list of organizations she could help.
"We were able to find a group of kids that had Down Syndrome whose parents met monthly at the Dayton Down Syndrome Association for support," she says. "The kids didn't really have anything to do though, so we thought it was the perfect place to start. That was the first place we polished."
When Wall started Polished Girlz, she wasn't even old enough to volunteer in her local hospital (the minimum age was 15), but the organization still grew quickly. She reached out to family in Chicago and Atlanta to start local chapters and recruited Ohio high schoolers who were old enough to log time at the hospital. Polished Girlz (which also includes some guyz) now has chapters in 32 states.
"We're hoping to polish our 20,000th client this year," Wall says.
The Beauty of Caring
Of course, the point of Polished Girlz isn't really the mani.
"Our mission is really to promote self-love and confidence," especially for those who may not have the luxury of a little self-care. "We even do polish on the moms that are supporting these kids in hospitals or with special needs," Wall says. "Our goal is to take the hospital or hospital bills or whatever is going on off their mind for even just a little bit, so that they can get a break from having to worry."
One of Polished Girlz's very first clients, a blind woman in a rehabilitation center, still sticks with Wall.
"The first time that I polished her, she wanted balloons," Wall says. "Now, I was only 10—I was like, 'Okay, I can do this, I can do balloons!' She loved them, even though she couldn't see them." After a couple of sessions doing extravagant designs for this woman, Wall's mom finally asked her how she knew that this 10-year-old was doing a good job. "She said that because I took just as long as I would take with anybody else, she knew I was putting in the effort. When I polished, I would talk to her, I'd tell her stories, she'd tell me stories—it wasn't really about the nails. It was about getting to tell her story and what was important to her. I thought that was kind of awesome."
In hospitals, a common refrain from patients is the worry that they'll be too sick to be pretty. She recalls one client, looking at Wall's own elaborately polished nails, worrying that her nails were too damaged from cancer to be able to get a manicure like everybody else.
"She wasn't quite sure about it, but I assured her that it doesn't matter how long or short your nails are, it's the work you put into them," Wall says. "It just made her feel beautiful knowing that it didn't matter what her nails looked like—I could still polish them and make them just as beautiful as anything she'd seen on social media."
Self-Care and Confidence
Through her nail art and rainbow-spectrum polishes, Wall knows she's working in service of something greater. A simple act of beauty—whether a manicure or compliment—has the potential to leave a lasting sense of confidence.
"When I have my nails done, I just feel like I can take on the world. It's these cool designs that I know I took forever to perfect and worked really hard to do," she says. "It's not for everybody else to see—it's more for me."
Wall graduated high school this spring as a Jackie Robinson Scholar and plans to join the class of 2022 at the University of Southern California in the fall, where she'll be studying business. But that doesn't mean she'll be taking a step back from lacquering on confidence where it's needed most. "I hope to start a Polished Girlz chapter on campus—we have a California chapter already, so I'll be volunteering with them."
Ultimately, Wall hopes she's spreading the message that you don't have to look a certain way to feel beautiful and confident. "It doesn't matter what you look like—it's all about how you contribute on the inside and what you put out from that," she says. "I think that's really important. It's good for girls to see that they don't need the fake nails or the gel or anything like that—we can polish them just the way they are, and they're beautiful just the way they are."
Celebrity news, beauty, fashion advice, and fascinating features, delivered straight to your inbox!