Beauty Travelogue: Istanbul
In a city that (literally) bridges Europe and Asia, beauty rites run the gamut from hammams to healing teas. Ying Chu hunts for true Turkish delights.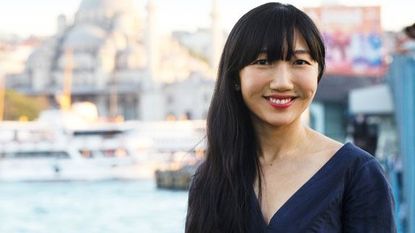 (Image credit: Marie Claire)
FROM THE MOMENT MY 11-hour flight from JFK touches down at Atatürk International Airport, I realize that things in Istanbul are changing—and fast. Modern Turkey (formed in 1923) is a stark contrast from its Byzantine roots, and it's obvious as I approach the city: Ornate mosques juxtapose sleek skyscrapers (many of which house luxury malls like The Kanyon), bustling women in hijabs (headscarves) shop alongside others in jeans and flirty blouses. I blend in the best I can with flowy dresses and scarves, ready to explore the eclectic culture, old and new. One thing's for sure—the steely blue Bosphorus Sea, which acts as a physical divide between Turkey's European and Asian sides, is the pride of Istanbul. The water is credited with the city's vibrant energy (and serves as a picturesque backdrop for the upcoming Bond flick, Skyfall). A trip by ferry is also a dream because, like in NYC, traffic here is a mess. I feel instantly at home.
COMING UP ROSES
"We are brought up living and breathing the roses—it's in our skin tonics, shampoos, perfumes. We drink it in teas, eat it in lokum [Turkish Delight]," says Seren Yücel, a 24-year-old reservation coordinator at The Edition Hotel in the Levent, Istanbul's financial mecca. Tall, thin, with rolling chestnut waves and honey-complected skin, Yücel is a poster child for Turkish gorgeousness and my first anthropological source for this story. Needless to say, I'll have what she's having.
I learn that these magical Turkish roses are grown in Isparta, a town in the Anatolian countryside, where they're hand-harvested once a year in June. Cosmetics companies from far and wide flock here for the divinely fragrant petals and oils—the latest being DKNY (which has forged a sustainable-sourcing pact with the farmers) and Jo Malone. Closer to home, rose teas, scented soaps, and skin tonics are found in abundance in The Spice Bazaar.
THE GREAT ESCAPE
Back in the day, hammams—public bathhouses—were social hubs, where women could congregate sans husbands in tow. Today, many historic spots—like the Ayasofya, established in 1556—still operate. But instead of gossiping locals, tourists top the client pool. The treatments, though, remain authentic: the mélange of steaming and head-to-toe scrubbing and sudsing by besmocked therapists all happens in a bright marble room full of strangers in the buff.
For contrast, I also splurge on a private session at The Edition with Lale (her name charmingly means "tulip"). An hour of serious exfoliation in her capable hands (she's a seventh-generation therapist) and my skin is buttery, purged of city grime. As Yücel notes, young Istanbullus don't have time for a weekly hammam, but preholiday sessions are a must.
COMPLEXION PERFECTION
All that time invested in scrubbing and pummeling the body—so what about the face? Well, save for the raw ingredients and a few natural salves found in the traditional bazaars, I'm hard-pressed to unearth many local skincare wares.
"Our grandmothers just used natural oils and soap on their skin," reveals Asli Sümer, the 40-something founder of the buzzy artSümer gallery. "But traditions shift with each generation. Women now rely on European and American brands."
One U.S. brand that's made a big splash in Turkey is the famously kelp-infused La Mer, which launched in Istanbul six years ago. (Could its success be a tribute to the Bosphorus?) With the introduction of The Moisturizing Soft Cream, an insanely hydrating potion delivered with a new, Cool Whip-esque consistency, the brand's looking to win even more devotees in balmy locales like Istanbul. "I labored over this formula for four years," says Loretta Miraglia, head of product development at La Mer. "We make 1,000 kilos at a time, but the first few batches simply weren't right, so I rejected them." They finally nailed it on the fourth try.
MAKEUP WAKE-UP
Strolling through Istanbul's sprawling neighborhoods, I discover that Turkish women aren't shy about glamour. Thick kohl eyeliner and glossy lips are as ubiquitous on bar-hoppers in Beyoglu as they are on Turkish CNN's morning news anchors.
"At first I was shocked to see all that makeup," says Shelley Lashley, a British-born makeup artist who's lived in Istanbul for five years. "Even brides want sexy, smoky eyes. I was so used to the virginal look for weddings," she adds appreciatively.
Her hang-up: When it comes to her work for fashion campaigns, the models cast are often fair-skinned Nordic blondes—a stretch for the average Istanbul native.
Asli Yonter (apparently, "Asli" is this nation's "Jen"), a 30-year-old gallery assistant to Sümer, isn't phased by the Western beauty influx. She pegs it as an appreciation for European sensibility, citing Vanessa Paradis and Audrey Tatou as beauty icons. "It reflects how international we've become," she says.
YOU ARE WHAT YOU EAT
Much like the typical Mediterranean diet, Turkish cuisine consists of local produce, fresh fish, and plenty of olive oil, plus breads and sweets like sütlaç (rice pudding) or buttery baklava at most meals. I guiltlessly indulge in, well, everything. (I'd mainline the yogurt if I could.)
The antioxidant-rich olive oil explains the locals' glowing skin, but what about the lithe physiques—hopped-up metabolisms from all the coffee and tea consumption? "We don't care about fitness like Americans," claims Yücel, who spent years studying in the States. But, as I suggested earlier, times are changing: I spot joggers daily along the Bosphorus shore.
CROWNING GLORY
Finally, hair—a truly universal priority for women, especially the Turks, a majority of whom make weekly salon visits for blowouts, manis, and waxing. "We have a lot of hair," declares Sümer. "And we don't trust just anyone with it." Turns out The One, according to MC Turkey Editor-in-Chief Gülen Yelmen, is Ugur Alevyilmaz, whose tony salon near seaside Bebek (the Laguna Beach of Istanbul) is frequented by local A-listers like supermodel Ozge Ulusoy. In his chair, I express concerns over the general limpness of my always-straight strands, and he lights up. As he wields his curling iron with breakneck speed and deft skill, he shares how he, like most of his peers, started in the biz as a teenager needing to learn a trade. Before long, he sends me on my way with refreshingly bouncy waves.
Celebrity news, beauty, fashion advice, and fascinating features, delivered straight to your inbox!