Ariana DeBose's "Elegant" Oscars Makeup Was Inspired by Josephine Baker
"It's giving '30s Hollywood, art deco vibes, and an element of modern woman warrior."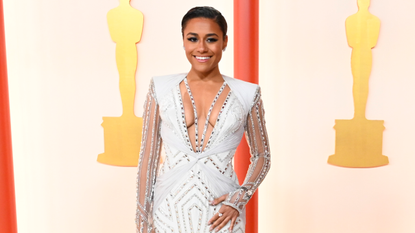 (Image credit: Getty)
Last year, Ariana DeBose made history as the first queer woman of color to take home the Oscar for Best Supporting Actress for her role in West Side Story. This year, the actress, who was tapped as a presenter, hit the 95th annual Academy Awards yet again—this time paying homage to another history-making woman, French performer Josephine Baker.
"The gown is so detailed and structured that I wanted to keep her makeup elegant, putting the focus on Ari's gorgeous skin and eyes," makeup artist Andrea Tiller, who used exclusive Iconic London makeup products to create the look, tells Marie Claire. "For direction, I looked into the iconic Hollywood trailblazer Josephine Baker, but did my modern take on her almond shape and elongated, cool-toned smokey eyes."
The stunning look, which was hallmarked by gorgeous, glowing skin and a "wet" effect, wasn't a spur of the moment decision—it's been days in the making. Tiller got a glimpse of DeBose's Versace gown, which has been in the works for months, two weeks ago. That's when she took to the drawing board.
"My inspiration for this makeup started with the gown. It's giving 30's Hollywood, art deco vibes, and has an element of modern woman warrior. It exudes confidence and strength and I also wanted to translate that through the makeup," says Tiller. The beauty of it all however came via a bit of a juxtaposition. "In this instance, since the gown is so structured and detailed, I wanted to keep the makeup elegant, sexy, and timeless."
To achieve such an end, Iconic London makeup products were at the ready. The layers were plentiful and the artistry was at an all-time high, but there are a *few* products you simply cannot go without if you're on a mission to recreate this vibe. One of the most important just so happens to be the first that went on DeBose's face (and body)—the Underglow Blurring Primer. "Not only does it create a natural radiance as a face primer, but I can also use it on the collar bones and body as a gorgeous body highlighter and it gives a smooth blurring effect as well," says Tiller.
When actual coverage came into play, Tiller opted for one of my personal favorite products, the Super Smoother Blurring Skin Tint. "It's such a beautiful lightweight hydrating formula that also has effective coverage and photographs well," she adds. Fast forward through a little concealer and some contour, and it was time to whip out the MVP: Silk Glow Duo in Rose Glow, which is largely responsible for the dewy, shimmery finish. "I love both colors of the blush and highlighter—it just adds the perfect amount of radiance that looks like you are glowing from within."
A "wet" eye makeup look followed before Tiller sent DeBose on her way with a little makeup goody bag for last minute touch ups on the carpet. "I just left her with the essentials that include the Fuller Pout "T.T.Y.N" lip liner, Lip Plumping Gloss in "Nearly Nude" and "Not your Baby," along with some blotting papers for her T-zone."
To shop DeBose's entire look, scroll ahead.
Samantha Holender is the Beauty Editor at Marie Claire, where she reports on the best new launches, dives into the science behind skincare, and keeps up with the latest trends in the beauty space. She has previously written for Us Weekly, Popsugar, Makeup.com, Skincare.com, and Philadelphia Wedding. Follow her on Instagram @samholender.