Editors handpick every product that we feature. We may earn commission from the links on this page.
Ferulic Acid: A Dermatologist's Guide
Your best complexion is yet to come.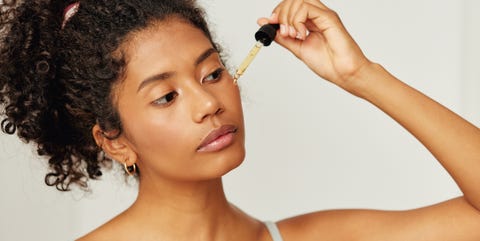 Ferulic acid may not be top of mind when you're thinking about skincare. Maybe you're not exactly sure what it does for your skin, or even what it is. Well, I'm here to assure you it's worth considering if you want a clear and smooth complexion (and really, who doesn't?). The same way you look to your tried-and-true moisturizer to keep your skin hydrated or grab your favorite eye cream to help diminish dark circles and fine lines, antioxidants are here to guard and improve your skin—which is where ferulic acid comes in. This powerhouse ingredient is highly regarded for protecting the skin barrier from environmental stressors like pollution and infrared radiation that ultimately cause premature aging.
To learn about all things ferulic acid, I tapped dermatologist Sheila Farhang, MD founder of Avant Dermatology and Aesthetics in Tucson, AZ. "Ferulic acid is an antioxidant found in rice, corn, and wheat," says Dr. Farhang, adding that skin-revitalizing benefits come with the consistent use of the antioxidant. "Not only is ferulic acid an antioxidant but it is also known to brighten dark spots and overall skin dullness thanks to its ability to inhibit the enzyme [tyrosinase which causes melanogenesis—the production of melanin.]".
You'll often find ferulic acid in anti-aging products alongside ingredients such as niacinamide, resveratrol, and vitamins C and E. "Research shows that [ferulic acid] improves the chemical stability of vitamin c derivatives such as L-ascorbic acid thereby increasing its photo [UV] protection properties," explains Dr. Farhang. But sometimes, ingredient cocktails can lead to breakouts, irritation, or contact allergies, so always start with a spot test, she advises. "I find that ferulic acid by itself is not a huge culprit of negative side effects."
Intrigued yet? The ingredient comes in liquid form and is most effective when stored in an opaque bottle (to avoid oxidation) and stored in cool temperatures. For optimal results, incorporate a few pumps of ferulic acid serum or cream into your morning skincare routine after cleansing, then always follow with SPF.
This content is created and maintained by a third party, and imported onto this page to help users provide their email addresses. You may be able to find more information about this and similar content at piano.io