Editors handpick every product that we feature. We may earn commission from the links on this page.
The 12 Best Treatments for Acne Scars In 2021
Pits, spots, redness—whatever your issue, we've got you covered.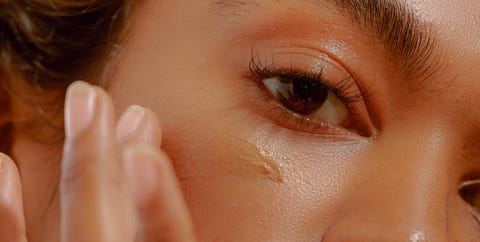 Caroline Tompkins / Refinery29 for Getty Images
Battling acne can be a long and arduous task. It takes maintenance and patience, plus a lot of trial and error. And the worst part? When your acne is finally healed, it can still leave evidence of its unwanted presence behind. Enter acne scars, the pain-in-the-ass leftovers you can get stuck with after harsh bouts of breakouts. They come in many forms: boxcar, icepick, rolling, keloid...the list goes on. The good news is that they can be managed and improved through treatments from the pros and at-home maintenance. You just need to know what you're looking for.
If you're able to see a derm, you have a handful of options—think chemical peels, microneedling, dermabrasion, and even filler (your doc will tell you which type of scarring you have and the best way to treat it). But if you can't head to an office, or just need something to supplement your professional treatments, you can start to tackle those scars and spots at home. That means you'll need an updated arsenal of serums, creams, and targeted formulas made specifically for correcting those persistent little problems. Luckily, there are more potent actives and innovative products out there than ever before that'll help smooth your skin's surface and lift unwanted discoloration so your scars will fade away—right along with the acne that left them there. Here, we're rounded up the latest and greatest in banishing acne scars for good.
For Pitted Scars
InvisiScar Resurfacing Treatment
If you have deep scarring that's too stubborn for other products, Murad's targeted treatment is proven to minimize the scars' depth and discoloration in just two months using BHAs and Vitamin C.
For Overnight
Valo Vitamin C Overnight Bright Sleeping Cream
Cloudberries, the Finnish export you've probably never heard of, are a potent source of vitamin C. This night cream will help lift dark spots and hydrate textured skin while you snooze.
For Hyperpigmentation
Differin Dark Spot Correcting Serum
Differin's retinoid is the over the counter go-to for derms everywhere. and the brand's dark spot serum another anti-aging all-star. It contains hydroquinone, which lifts melasma, age spots, and dark spots caused by scarring to even tone.
For a Budget
Revitalift Derm Intensives Night Serum
L'Oreal Paris
amazon.com
$28.57
Retinol is king when it comes to reversing signs of aging and skin damage, and we love a steal. L'Oréal Paris' serum will perk up skin overnight without breaking the bank.
For Tough Spots
Bright Skin Targeted Dark Spot Treatment
Eminence Organic Skin Care
dermstore.com
$65.00
Sometimes, swiping a serum on your whole face just won't cut it. Targeted treatments can help treat those extra stubborn spots, and dabbing this licorice and turmeric-infused formula on twice a day can clear a discolored complexion.
For Dry Skin
Baku Anti Aging Serum
Terraform
terraformbrands.com
$75.00
Bakuchiol is an all-star natural alternative for retinol, and this silky serum combines it with hemp-derived cannabinoids and fatty acids to treat uneven tone and sooth the skin at the same time.
For A Deep Clean
AHA/BHA Exfoliating Cleanser
Cleansing offers another opportunity to lift spots and exfoliate scarring. This cleanser offers a potent combo of surface buffing AHAs and pore clearing BHAs.
For Post-Pimple Redness
Post-Breakout Fading Gel
Renée Rouleau
reneerouleau.com
$41.50
You know that annoying red spot that lingers after a pimple heals? A potent spot treatment like this one can target the inflammation that's causes it. Dab a little on and watch that stubborn spot fade away.
For Oily Skin
Complexion Renewal Pads
ZO Skin Health
zoskinhealth.com
$51.00
Sweeping a pad over your face and seeing all that gunk on it afterward? There's almost nothing more satisfying. Glycolic acid give these pads an exfoliating kick that improves texture in acne-prone complexions.
For Dry Skin
PlantGenius Creamy Bubbling Cleanser
Alpyn Beauty
sephora.com
$36.00
Creamy cleansers give skin a thorough clean without that uncomfortable tightening sensation, and the fruit acids inside this formula exfoliate away dead skin cells for a lit-from-within glow.
For Uneven Texture
Retexturing Activator
SkinCeuticals
dermstore.com
$82.00
Texture can make scars more noticeable, so smoothing them out can make a big difference—even underneath your makeup. SkinCeutical's lightweight serum contains kombucha and hyaluronic acid to keep skin bouncy while it works its magic.
For an instant glow
Violet-C Radiance Mask
Tatcha
sephora.com
$68.00
Lifting dark spots and smoothing scars takes time, but for a quick dose of brightness before a night out, layer on this pretty purple mask.
This content is created and maintained by a third party, and imported onto this page to help users provide their email addresses. You may be able to find more information about this and similar content at piano.io