The 13 2021 Nail Trends to Take Inspo From
Velvet nails, ombré quartz, French tips, and more.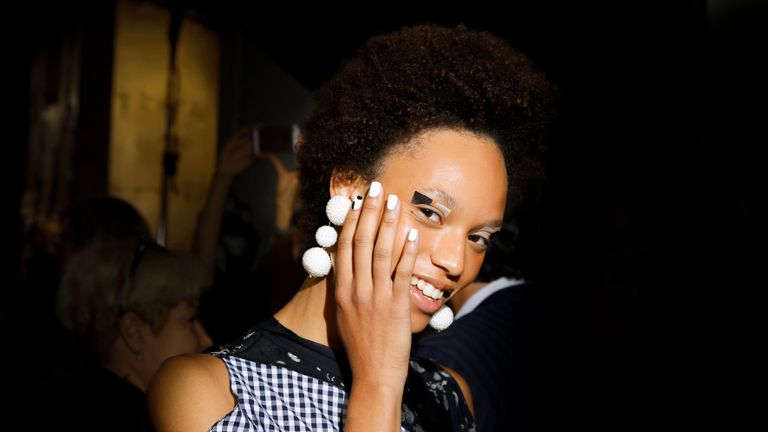 (Image credit: Lorenzo Palizzolo)
2021 is the year to make basic colorways and chipped manis a thing of the past. We're here to provide you with the best, the brightest, and the coolest nail trends for 2021—all of them vetted by editorial nail artist Mabelyn Martin. From trippy velveteen nails to an abstract French manicure you'll forever be inspired by, the intricate nail designs that we've picked as our 2021 favorites are sure to help you stand out from the crowd. (For a season-by-season breakdown of nail colors, check out our summer and fall nail polish guides.)
1/27
Groovy Swirls
While fashion is all about the '90s this season, nail art is tipping a little '70s. Here, an ebb of candy-toned swirls top off a pink cream base.
2/27
OPI Hidden Prism Collection
3/27
Gold-Flecked Jade
In the Chinese feng shui tradition, jade symbolizes luck, strength, and good health aka all that is good and true in this world. It's now wonder that the verdant, veined shade is showing up on nails this season—flecked with gold, no less.
4/27
Opi Stay Off the Lawn Nail Polish
5/27
Opi Alpine Snow Nail Polish
6/27
Gexolenu Metallic Foil Flakes
7/27
Midas Touch
Not everyone is into a French manicure. But—stay with us here—what if the base was a fleshy pink and the tips were 14K excellence? Got your attention now?
8/27
Essie Getting Groovy Nail Polish
9/27
Press-On Nails
"Some of our first nail memories probably include a press-on kit and artists like @lux_k have elevated the experience by creating customized sizing, so each set is truly your own," explains Martin. "Achieving length has never been easier. And whether it's a solid bright matte red or mixed designs, you'll have a set you can reuse time and time again."
10/27
Lux K Signature Press Ons
11/27
Graphic French
"The traditional French mani made a comeback at the 2020 shows and now it's been taken to the next level with graphics, flower prints, and even tiny designs focused only on the tips," says Martin.
12/27
Chanel Le Vernis Longwear Nail Coloura
13/27
Paintbox Power Couple Like Camel + Like Midnight
14/27
Vibrant Foils
"Foils are a glitter alternative and make a bold statement with high shine," says Martin. "Whether applied on the entire nail or added as an accent, it's certainly standing out."
15/27
ceryvop Gold Foil Flakes for Resin
16/27
Outlined Nails
"These outlines are a fun way to use two colors while also making nails appear longer," explains Martin. "It can be a partial or full outlining of the nail perimeter for a super mod look."
17/27
Olive & June HZ
18/27
beetles Gel Polish Nail Art Brushes Set
19/27
Metallic Tips
A classic French manicure will forever reign supreme, however, adorning your tips with a metallic shade is the perfect twist for a head-turning manicure.
20/27
Art Deco
"Geometric shapes, streamlined and sleek forms make for the perfect nail art opportunities to use multiple colors and glitter," says Martin. "You can also mix things up with alternating designs on each nail."
21/27
Paintbox Power Couple Like Gilded + Like Velvet
22/27
Warm Quartz Nails
You've seen marble nails and even pink rose quartz nails, but what about a bronze iteration? Look to this warm-toned manicure for a mesmerizing take on the trend.
23/27
Groovy Waves
"This optical illusion is definitely getting some attention anywhere you show your hands," says Martin. "This look is so hypnotizing!"
24/27
OPI Black Onyx
25/27
Velvet Nails
Keep your manicure bold and beautiful with a blinding (in a good way) manicure set. Press play on these striking velvet-finish nails that are reminiscent of vibrant holographics.
26/27
Negative Space
Extend the life of your manicure by incorporating negative space into the lower half of your design. Take a cue from this lilac and red tip look for your next manicure.
27/27
Paintbox Power Couple Like Desire + Like Dreams
Chelsea Hall is the Assistant Fashion and Beauty Editor at Marie Claire, where she covers celebrity style, fashion trends, skincare, makeup and anything else tied into the world of fashion and beauty