#BigLipstickEnergy: The 3 Lip Scrubs I'm Obsessed With Right Now
Warning: you'll be tempted to eat all of these.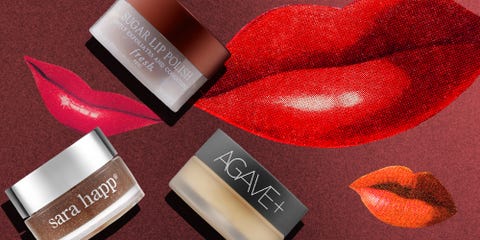 Design By Morgan McMullen
I'm a serial lipstick dater. So many lip products slide onto my desk. Some I double-tap and have all the heart eyes for. Others I ghost and leave on seen. This is #BigLipstickEnergy, an honest breakdown of how I feel about the latest lip launches. Read on for the three lipstick flings I'm keeping in rotation for now. Next week, I'll have a new roster.

MY HOLY GRAIL
Agave+ Weekly Vegan Lip Scrub
Bite Beauty
sephora.com
$24.00
THE DETAILS:
Lip scrubs are godsends for sloughing away all the dead skin on chapped lips. During Covid-19, we've all been playing our parts by staying inside, but the air in my apartment is dry—meaning my lips have needed some sort of scrub every day. This vegan agave scrub, my all-time favorite, has golden sugar for exfoliation, papaya enzymes to alleviate flakes, and squalene for hydration. In other words, it cleanses, exfoliates, and conditions all at once.
WHY I'M OBSESSED:
Sometimes, lip balm alone simply does not cut it. I've been obsessed with lip care lately (i.e. my ode to lips masks last week) to take my moisture levels up several notches. This agave scrub has a luxurious whipped texture that smells like pure vanilla—no, you can't eat it. I use a damp, warm muslin cloth and work this around in circular motions for about a minute, which lifts away all the flakes and dryness to reveal softer, smoother lips on the other side.

MY OG LIP SCRUB
The Lip Scrub in Brown Sugar
Sara Happ
nordstrom.com
$24.00
THE DETAILS:
Feast your eyes on the lip scrub of all lip scrubs. This OG beauty product, named "The Original Lip Scrub" by Sara Happ, has been around the block for good reason: it's legitimately a miracle moisture worker. Using granular brown sugar crystals, this one is sweet and safe to lick away— just don't fully ingest it. The grapefruit and jojoba seed oils mixed with other botanical extracts is the perfect lip primer for balms, glosses, or lipsticks to follow.
WHY I'M OBSESSED:
I've been using this lip scrub for years. The raw brown sugar does such a good job of coating my lips with a veil of softness afterwards. I lather the small bits of brown sugar onto my lips, which transforms into an oil-like consistency that later dries down leaving a comforting feeling of moisture behind that lingers for hours. I find the lip balm I later apply lasts significantly longer with the help of this lip scrub.

MY FAVE LIP POLISHER
Sugar Lip Polish Exfoliator
THE DETAILS:
This lip polish treads the line of being super smoothing and hydrating at the same time. It's made of a cocktail of exfoliating brown sugar crystals and moisturizing natural humectants like jojoba oil and shea butter to give your lips the best of both worlds. If your lips are dull and dry, employ this conditioning agent to breathe life into them and buff away the bad stuff.
WHY I'M OBSESSED:
The idea of "polishing" your lips just sounds so delightful, no? This one has a silky feel, so I enjoy warming it up first with my fingers to activate the jojoba oil and shea butter. Then, I lather it all over my lips for a few minutes. You don't have to rush—sometimes I dance around to music while I'm exfoliating my lips. It's a ritual! When I'm done dancing, I take a tissue and wipe away the excess exfoliator. Afterwards, I use my Fresh lip balm to top it off and seal in the moisture.
...

For more stories like this, including celebrity news, beauty and fashion advice, savvy political commentary, and fascinating features, sign up for the Marie Claire newsletter.
subscribe here

This content is created and maintained by a third party, and imported onto this page to help users provide their email addresses. You may be able to find more information about this and similar content at piano.io