Molly Sims' YSE Beauty Is Your New Skin-Brightening, Hyperpigmentation-Fighting Solution
"I've spent a long time being a beauty guinea pig. This line was like giving birth for three years, but now I have better skin than I did nine years ago."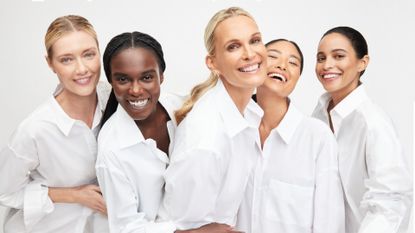 (Image credit: Courtesy of YSE Beauty)
Marie Claire Newsletter
Celebrity news, beauty, fashion advice, and fascinating features, delivered straight to your inbox!
Thank you for signing up to Marie Claire. You will receive a verification email shortly.
There was a problem. Please refresh the page and try again.
When I heard Molly Sims was launching a beauty brand, I was intrigued. Don't get me wrong: There's certainly no shortage of celebrity brands—and I'll spare you the mile-long list of ones that exist. But the "Lipstick on the Rim" host set out to add value to a seemingly saturated industry by creating a carefully curated line of multi-tasking brightening, anti-aging, skin tone-evening products all deserving holy grail fame. "This is not a white label brand. This is not a celebrity brand. This brand lives separate to me," Sims exclusively told Marie Claire about her just-launched YSE Beauty line.
Let's take it back to the beginning—where the journey started. It was 2012, Sims just had her first baby, and her skin did a 180. "My discoloration was severe. I don't know what being pregnant set off in me, but uneven spots started wreaking havoc on my skin," she says. She did all the derm-approved devices and prescriptions: Hydroquinone, Cold Laser, VPeel—everything. Eventually she went "cold turkey" and began cocktailing her own 15+ product regime to get rid of sun spots, dots, melasma, and acne marks.
The kicker? It worked. But it was a game that took time, energy, and expertise that came with years of figuring out what to use when. "I was using Biologique P50, a product from iS Clinical, one from Glytone, another from SkinCeuticals—and I started to notice a difference in about three months." But the mix-and-match regime that switched products in and out depending on the skin concern of the day was unsustainable and unattainable. So, she outlined her methodology, scooped up her massive pile of products, and plopped them in front of SOS Beauty Group, an incubator company specializing in product development.
"We distilled Molly's learnings and did a deep-dive with our R&D team on what the most common culprits are when it comes to uneven pigmentation in the skin." says Charlene Valledor, the President and Co-Founder of SOS. "The most common issues are caused by a combination of biological factors as well as lifestyle, which is why we wanted to create a collection that would not only be effective, but would be easy and enjoyable to use, so that the end consumers would be more likely to comply with the routine, and therefore get a better result."
Development took time, effort, and the help of a handful of well-respected dermatologists. Sims was a self-appointed "guinea pig" for three years, testing products on repeat to make sure they A) "don't smell like cat pee," B) are efficacious, C) have a lightweight texture, and D) don't pill under makeup. "When a product caused me to be red, we would have to send it back. When it was too sticky, we had to send it back; go a quarter up, go a half down. Does it sting? We had to send it back," says Sims. "It was like giving birth for three years."
The SOS team did many iterations, in the end finding that a carefully edited combination of restorative and active ingredients was the solution. "We chose not to focus on one 'star' ingredient, or putting in the highest percentage of an ingredient for the sake of making a marketing claim on the bottle," explains Valledor. "An excessive amount of an active could actually trigger irritation or inflammation to the skin. The key to maximum results with minimal irritation is pairing just the optimal amount of truly functional ingredients with an effective delivery system."
Fast forward to today (yes, products are available right this very moment) and YSE Beauty was born. Each item in the line was designed to be a hero on its own, multi-tasking in nature, and be an easy addition to anyone's skincare routine. "These products are multi-dimensional, meaning that they treat and target brightness, anti-aging, even texture and build back up the barrier. It's all about that balance," says Sims. "I have better skin than I did nine years ago. The power of the products is huge."
Not convinced? Keep reading to get Sims' take on why every product in her line is deserving of a cult-favorite title.
The Problem Solver Brightening Treatment
"Problem Solver—she's special. I had a problem and I wanted to solve it. You have anti-inflammatory acne marks because you've picked a pimple? Just a little dime and the darkness and redness goes away in one night. It brightens your skin while you sleep. It's luxurious, it's hydrating, and it's all around phenomenal."
Your Favorite Ex Exfoliating Pads
"My hair color looks so bright and lasts so long because I clarify it. It's the same with the face. If you don't exfoliate and you don't get dead skin off, you can see your makeup or your skincare sitting on the skin. Instead of using something that makes you red, irritated, and dry, I created this. These alone took two years to develop because I didn't want them to smell. We did it."
"It's always tricky with a retinol. I didn't think I could get it right—and I mean that in the best of ways. Everything that I tried was really strong. I thought: How do I get it to work, get good clinicals, and still not be red or dry? It took a long time to develop. There are amazing retinols on the market, but they'll burn you to death. This one is really calming. It gives you what your skin needs at night. It gives you omegas to calm inflammation and brighten at the same time. You have to have balance."
Morning Cocktail Vitamin C Serum
"Do you know the number one reason why most women don't use vitamin C? It's sticky, it smells, and it peels under makeup. I don't want to be wearing my serums, I want them to feel weightless. With Morning Cocktail, you can layer on however much you want and you're not going to smell it, feel it, or have it pill."
Take It Off Oil Gel Cleanser
"This is a double cleanse all in one. It takes all your makeup off, aside from waterproof mascara. I prefer to apply to dry skin to really get in there. Then, when I rinse it off, I feel like I have a serum on. Listen, a lot of people make great cleansers. There are phenomenal ones out there. I just wanted something very specific. I love a foaming cleanser and I love a balm, but they do not love me. I wanted something really soft and really hydrating."
Xtremely Rich Moisturizer
"I love moisturizer, but I don't want to feel like I'm wearing one. It's weightless, it's velvety, it's soft. You can wear it in the morning, at night, you can refresh. It's magic and it has a ton of ceramides. Listen, I love a cicalfate and I love a thick cream, but because of my cystic acne I can't use one. I wanted to make my products as clean as possible without losing efficacy, which is the most important thing to me."
Celebrity news, beauty, fashion advice, and fascinating features, delivered straight to your inbox!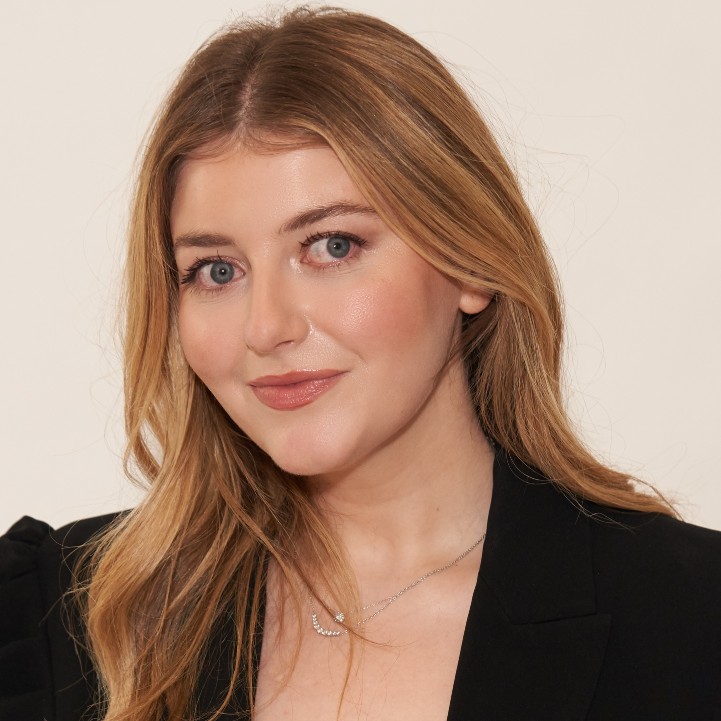 Samantha Holender is the Beauty Editor at Marie Claire, where she reports on the best new launches, dives into the science behind skincare, and keeps up with the latest trends in the beauty space. She has previously written for Us Weekly, Popsugar, Makeup.com, Skincare.com, and Philadelphia Wedding. Follow her on Instagram @samholender.