Polar Vortex Be Damned: I Have Moisturized Lips Anyway Thanks to This Awesome Product
Your move, winter.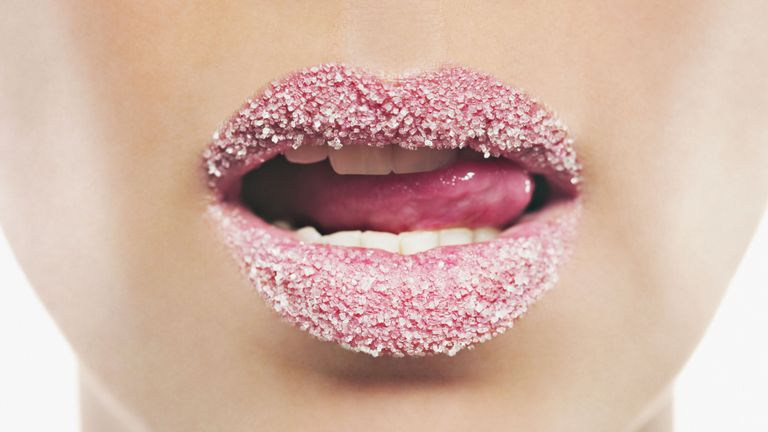 (Image credit: Getty Images)
Let's get one thing straight: you can apply all the makeup you want, but nothing is going to look good on dry, flaky lips. Fact. Yes, a smooth and soft pout is the best thing to have when trying to achieve a look—any look—and it's not always as easy as it sounds. (Can I get an amen?)
Typically, I'm able to rely on a quick pat of Vaseline before bed to do the trick, but this season I've found myself smack dab in the middle of a polar vortex—the kind that wreaks havoc on your clothing choices and lipstick agenda. To save my lips in their sad, sad state (and as fast as possible), I turned to Bite Beauty's new 5 Night Fix for Lips (opens in new tab), a two-step treatment that promises to give your thirsty lips everything they've ever wanted.
The Test Drive:
When I opened up Bite's little red package, I immediately noticed that it looked like something straight out of an apothecary shop—which it very well could be, seeing as the ingredients are natural, food-grade, and free of parabens, sulfates, and phthalates. The package featured a small, sleek glass jar and two miniature vials, which held a Whipped Cherry Scrub and Agave Lip Mask.
Step one? Exfoliating. (Bye bye, flakes.) The sugary scrub is made of castor oil beads (a notorious warrior against chapped lips) and fruit extracts, to buff away flakes. I'm not going to lie—after the first application, my lips were noticeably irritated and red. Like, just-got-stung-by-a-bee red. However, they were quickly soothed with a brush of the hydrating agave lip mask, which was basically a shot of moisture for my lips that made them as soft as pillows.
The next morning, my lips looked like better, smoother versions of the originals. Almost like they had been dipped into the fountain of youth and had just come up for a breather. Cracks? I don't see no stinkin' cracks.
As I continued to use the scrub portion of the treatment, I noticed that things became less painful and irritated. Amazingly, by the fifth night I found that I had virtually no dead skin left to target. (#nocomplaints.) As far as the mask, it kept working wonders, leaving my lips replenished and looking good. Real good. Real, real good. (Have I mentioned how much I love this mask?) Plus, applying it had become as second nature to me as a swipe of Vaseline each night. All in all, my lips have never felt healthier or looked fuller. (Angelina Jolie, I'm coming for you.)
While I'm not retiring my nightly Vaseline or daytime lip balm application just yet (routine, you guys), this treatment single-handedly made conquering our 7-Day Lipstick Challenge (opens in new tab) during NYFW a breeze. If you, like us, look for any incentive to wear lipstick more often, this is the secret weapon you've been waiting for. (And if you're not looking to wear lipstick more often, it's still pretty awesome.)
Buy It: Bite Beauty (opens in new tab)5 Night Fix for Lips, $15; sephora.com (opens in new tab).
You should also check out:
Glossier's New Masks Are Like a Juice Cleanse for Your Face (opens in new tab)
A 24-Hour Drink Menu for the Prettiest Skin of Your Life (opens in new tab)
The 8 Worst Things You Can Do to Your Skin (opens in new tab)
Forget a Facialist: All You Need for Flawless Skin Are These 8 Foods (opens in new tab)
Lauren is the former beauty editor at Marie Claire. She love to while away the hours at coffee shops, hunt for vintage clothes, and bask in the rough-and-tumble beauty of NYC. She firmly believes that solitude can be a luxury if you've got the right soundtrack—that being the Rolling Stones, of course.