How to Minimize Your Pores, According to Dermatologists
Say goodbye to the gunk.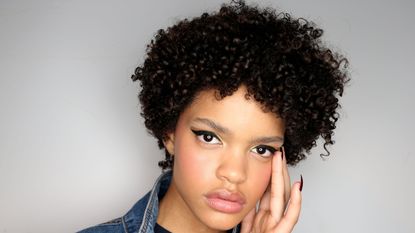 (Image credit: Lisa Maree Williams)
Let's get something straight: You cannot "erase" or "eliminate" your pores. Love them or hate them, pores are a structural layer of your skin that will always be there. If you want to know how to minimize pores, though, we've got you covered—just keep your expectations realistic. No mask or strip is going to "eradicate" your pores or remove all blackheads—unless they take off a layer of your skin, this won't happen.
But all hope isn't lost: You can focus your attention on unclogging and tightening your pores, which in turn, will make them appear smaller. There are a handful of skincare products and dermatologist-approved tips to get out all the gunk and make your pores look less noticeable. Lucky for you, we've spoken to the experts and meticulously laid out how to minimize your pores, ahead.
How to Minimize Your Pores
Pore size is genetically determined, so there's a certain amount you can't change. However, you can unclog your pores and generally make them retreat to where you see them as little as possible. So, even though you can't do much about the pores themselves, you can minimize their appearance until everybody's like, "Pores? What pores?"
Use Acids
Alpha hydroxy acids (AHAs), like glycolic acid, and beta hydroxy acids (BHAs), such as salicylic acid, are the holy grail of ingredients when it comes to penetrating and "cleaning out" your pores. "AHAs and BHAs dissolve the connections between your cells and the surface of your skin to essentially 'unclog' pores," says Joshua Zeichner, M.D., board-certified dermatologist director of cosmetic and clinical research at Mount Sinai Hospital in New York City.
While both types of acids exfoliate on a cellular level, AHAs work on the surface layer of your skin to brighten and smooth (making them more tolerable for skin that's dry and sensitive). At the same time, BHAs penetrate deeper to remove dead skin cells clogged in pores, which makes them ideal for oily or acne-prone skin.
Just a reminder: Acids make your skin more sensitive to the sun, so make sure to wear sunscreen every day.
Incorporate Retinol
Not only does retinol smooth wrinkles and brighten dark spots, but it also works to stop acne and shrink pores. Retinol's magic results from its ability to increase your skin's collagen production while simultaneously decreasing its oil production. This leads to smoother skin, fewer breakouts and blackheads, and tighter pores.
Because retinol can be irritating at first (you'll likely have a couple weeks of dry, flaky skin at the get-go), you want to start out with a gentle formula. Smooth a pea-size dollop over completely dry, clean skin every other night—on the opposite day you use your BHA/AHA—wait five minutes for it to absorb, and then apply your moisturizer.
Those with ultra-dry, sensitive, or rosacea-prone skin can mitigate irritation and build up skin's tolerance by using retinol only once a week for one week, twice a week for two weeks, and then three times a week for three weeks.
Wear Sunscreen
"The sun breaks down your skin's collagen, which is responsible for keeping your face firm and elasticized, so you're left with larger pores and stretchier skin after repeat exposure," says Rachel Nazarian, M.D., a dermatologist at Schweiger Dermatology in New York. So, slather on a minimum of SPF 30 every morning.
Try Lasers
"Lasers are a fantastic way to address pore problems," says Dr. Nazarian. She prefers the less-invasive Laser Genesis, a milder option compared to Fraxel, which zaps microscopic holes into the skin to resurface deep acne scars and uneven pores. Laser Genesis it stimulates the skin's deepest layers to smooth and plump your complexion with minimal pain. You get the results of retinol, sunscreen, and acids all at once.
That in mind, the treatment is pricey. It runs around $300 per session. You'll need at least three sessions to see full results. Consult with your dermatologist to determine what treatment is best for your skin and wallet.
The Best Pore Minimizing Products
The products on this list have been vetted by Marie Claire's Beauty Editor, Samantha Holender (that's me!) and Marie Claire's Beauty Director, Deena Campbell; or have been hand-selected by a board-certified dermatologist. Each product, be it a serum, peel, or mask, contains ingredients designed to shrink the appearance of pores, decrease oil, ad is highly rated by reviewers. While the *best* pore minimizing beauty product for you will vary based on personal preference, every item on this list will do its job. For a more personalized recommendation or if you have any concerns, check with your board-certified dermatologist.
What to Look For
In addition to retinol, sunscreen, and acids, there are so many serums and primers that promise to minimize your pores. When deciding what products are best suited for large pores, cosmetic chemist Ginger King recommends looking for water- and gel-based formulas. "Water-based products are less oily and suitable for all skin types," she says. They feel light and fresh on the skin compared to oil-based products.
The best pore minimizing products are going to contain ingredients that are designed to de-gunk your complexion, get rid of dead skin cells, and absorb oil. In addition to looking for retinol, along with alpha- and beta-hydroxy acids, King also recommends keeping an eye out for ingredients like lecithin (egg yolk), niacinamide, rose extract, avocado extract, hydroxystearic acid, and butyl avocadate.
SkinCeuticals Retinol 0.5 Refining Night Cream
ICYMI: Retinol is one of the best possible ways to shrink your pores. Even using an over-the-counter option, such as this Skinceuticals retinol cream, twice a week can help decrease your oil production, get rid of dead skin cells, and tighten up your complexion. The additional benefits (read: wrinkle reduction, brightening) are just a bonus. This is one of the stronger iterations, but the options are plentiful, so you can work your way up to minimize irritation.
Pros: Doesn't require a prescription; Effective
Cons: Expensive
Customer Review: "I started using the .3 and when that was finished, I tried this .5. I am working up to the 1 retinol. Meanwhile, my skin is looking better without too much dryness. I am happy with this retinol." — Dermstore
EltaMD UV Daily Face Sunscreen Moisturizer with Hyaluronic Acid, Broad Spectrum SPF 40
As Dr. Nazarian previously explained, wearing sunscreen day in and day out is hands down, without a question one of the best possible ways to prevent large pores and create a firmer, tighter complexion. We have a long list of favorites, but this Elta MD option takes the top slot. It's lightweight, invisible, and works for all skin types—especially oily and acne prone.
Pros: Works for all skin types, Derm-approved
Cons: None
Customer Review: "I've tried tons of different sunscreens. This is the only one that doesn't feel super oily on my face. I put this on before I do my makeup (even at night LOL), as it's a great primer! For reference, I have combination skin." — Dermstore
Glow Recipe Strawberry BHA Pore-Smooth Blur Drops
If you're waiting for the effects of your new skincare products to kick in, but still want a quick, pore-minimizing fix, look no further than this miracle primer. It smooths and blurs the look of pores to create the appearance of a flawless complexion. Plus, the it's packed with a handful of good-for-your-skin ingredients that will actually tighten pores, smooth skin, and reduce oil production over time.
Pros: Fast acting; Blurring
Cons: Scented
Customer Review: "I am SO excited about this product! I've loved Glow Recipe for a long time and their primer/serum is amazing. My pores around my nose make a good amount of texture and when I used this as a serum it made them less "crater-like" and smoothed them out. I also used this as a primer quite a few times and the longevity of my makeup as well as the shine control without drying my skin out is amazing. The bottle feels small for the price, but you do not need a lot of product so this is going to last for a long time!" — Sephora
Caudalie Vinopure Natural Salicylic Acid Pore Minimizing Serum
Salicylic acid is the MVP when it comes to targeting stubborn blackheads—especially on the nose. Enter this skin perfecting serum, which is formulated with salicylic acid *and* niacinamide to even out skin texture and clean out clogged pores. The texture is extremely lightweight, and while it does have a slightly tacky texture, it's able to mattify your complexion.
Pros: Contains acne fighting ingredients; Great texture
Cons: Has a smell
Customer Review: "I don't write reviews often, but I have been using this serum for years now, and I like to a keep a relatively minimalistic (but still rigorous) skincare regimen. I have tried a range of skincare products over the years, but this one is my go-to for dealing with acne and enlarged pores." — Sephora
Farmacy Deep Sweep 2% BHA Pore Cleaning Toner with Moringa + Papaya
While toner isn't a must-have product in your skincare routine, it can be extremely beneficial if you're chasing a deep clean. It's going to accomplish two main things: 1.) Get rid of any remaining dirt, impurities, and makeup, and 2.) Balance your skin's pH to prep it for maximum absorption of all your products to follow. This particular formula is designed for large pores, featuring salicylic acid, along with papaya enzymes which are loved for their exfoliating powers.
Pros: Exfoliates; Smooths skin
Cons: Not for sensitive skin types
Customer Review: "My skin is improving so fast! It cleared out my pores like nothing i have ever used before. Farmacy does not get enough credit for their amazing products!" — Sephora
Drunk Elephant T.L.C. Framboos™ Glycolic Resurfacing Night Serum
Let me be clear: You don't want to overdo it on the exfoliation front. But if you're looking for one, single product that'll do everything you need it to and then some, this Drunk Elephant option is the way to go. It has both AHAs and BHAs that work in tandem to get all the gunk out of your pores so you look fresher and tighter come morning. Start off slow, using this once a week and work your way up.
Pros: Do-it-all exfoliant; Hydrates
Cons: Expensive
Customer Review: "After finishing my first of many bottles to come., my skin looks fresh, radiant, and hydrated. My pores have shrunk and my skin tone is even. Definitely a keeper." — Sephora
The Ordinary AHA 30% + BHA 2% Peeling Solution
With an extremely affordable price tag and near immediate results, it's no surprise this peeling solution achieved viral TikTok status. The acid blend (it contains glycolic, lactic, and salicylic acids) has acne-fighting, skin refining benefits that will deliver quick results. Just a warning: Don't leave this guy on for longer than 10 minutes—you don't want to dry out your skin.
Pros: Affordable; Fast acting
Cons: Too drying for some
Customer Review: "Wow...I am sold on this product. it does sting on blemishes, and I would not recommend to people with sensitive skin. That said, this formula is potent and works. I am so glad to have it as part of my routine. It leaves my skin feeling soft and looking bright." — Sephora
Paula's Choice Daily Pore-Refining Treatment 2% BHA
If anyone ever asks me to recommend a product for their pores, I'm always going to suggest this treatment—it clears up skin like nothing I've ever seen. It contains the highest concentration of salicylic acid and is packed with antioxidants and peptides to refresh, protect, and hydrate skin. You can use it morning and night, or as a few-times-a-week treatment.
Pros: Affordable; Contains acids
Cons: Too strong for some
Customer Review: "I use this toner in the morning and night before I put my moisturizer on. It has great ingredients and helped minimize my pores. This bottle will last a long time so I think it is a great buy. No smell which I love!" — Sephora
Meet the Dermatologists
As the Director of Cosmetic and Clinical Research at Mount Sinai Hospital's Department of Dermatology, Dr. Zeichner has a broad interest in medical and cosmetic dermatology as well as clinical research. His specialty is the treatment of acne, as well as the cosmetic rejuvenation of the aging face. Dr. Zeichner treats general skin conditions, including eczema, rosecea, psoriasis, and skin cancer. In addition, he is well-versed in the use of Botox and dermal fillers, as well as lasers and chemical peels.
Rachel Nazarian, M.D., F.A.A.D.