#SpringCleaning: I KonMari-d My Beauty Stash
And you should too.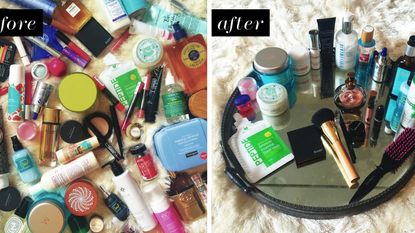 (Image credit: Marie Claire)
My hoarding tendencies are never more evident than when you peek inside my overstuffed makeup bag or try to close my medicine cabinet. I work in a business where products literally show up on my desk day in and day out (I know, hard life, right?), which means I have a perpetual impulse to take them home and add to a steadily growing collection. And I always indulge it.
But the other day, I finally reached my breaking point. It wasn't just a messiness thing...it was like having all this stuff around, some of which I used but most of which I didn't, was starting to stress me out.
I knew it wasn't just going to be a matter of straightening up—I'd have to seriously whip my stash into shape. Having recently become privy to Japanese spick-and-span expert Marie Kondo's life-changing KonMari method for decluttering, which she lays out her book The Life-Changing Magic of Tidying Up, I knew I had found a hard-and-fast guide for cutting down. Here, the 5 KonMari steps that took me from stockpiling everything I could get my hands to concentrating my energy on the tried-and-true products that get me through the day.
In the context of beauty supply, what I wanted was a neat-looking space that's super streamlined. I don't want to have to dig through piles and piles of product only to not be able to find the single black eyeliner pencil I rely on every single day.
While I firmly believe that binging on Netflix is zen in its own right, and definitely makes a tedious job less so, Kondo believes that TV and music can be distracting while you're going through your objects. So as much as it pained me, I made sure to get my zen on without the "noise" by simply lighting a lavender candle and devoting 100% of my attention to the job.
Kondo's philosophy really kicks into gear when she asks you to "declutter, then store" by laying everything out, going through every single item, and questioning whether these items "spark joy." As a beauty writer tending to her skin and hair, this can be tricky as even though I'm not in the daily habit of wearing bright tangerine lipstick or lathering my face with exfoliating coffee ground scrub, knowing that I have these options (and hundreds more) does, in fact, bring me joy.
So, instead of doing an out-and-out keep or toss, I broke it down like this: If it could reasonably bring me joy today, I kept it in my main stash, the one that gets the precious real estate that is my dresser top or adjacent to my bathroom sink. If it could bring me joy in the future (or I'd need it in the near future as part of my job), I stored it away neatly in boxes in my closet. If I was certain, in realistic terms, that a product or tool *wouldn't* ever bring me joy, I gave it the official boot AKA it was up for grabs for friends and family or would be donated.
As a hoarder, the notion of using something "someday" because we might use it is pervasive, but harmful to this process. To ensure it didn't get the best of me during my KonMari session, I re-assessed some of the "keeps" I had a mental attachment to by looking at when and why I got it in the first place. This really put how long I've held on to things (ahem, 3-year-old mascara) and why (because, er, lashes?) into perspective.
Even for an utter beauty worshiper, this takes things a step further. According to the KonMari ideology, you should treat your possessions as if they're alive—even by talking to them. To reassure my peers that I'm sane, I didn't talk to my makeup, skincare, and hair products aloud, but telepathically thanked La Mer for helping me achieve attempt to get J. Lo's glow or my felt-tip eyeliner pen for simplifying the ever-challenging cat eye process. To me, this also meant keeping my newly minted, streamlined beauty station immaculate and treating each individual item with a newborn-like safekeeping. No more leaving the cap unscrewed, okay?
I've dedicated a single tray (the rest is safely stored) to all of my post-KonMari, day-to-day essentials (22 in total, to be exact) and it's a welcome lifestyle change. I not only have everything I need in one place, at arm's length, but I am also reminded of every single necessary step of the beautification process. Meaning, I'll never *forget* all the layers of my skincare regimen or forget how important masking is—not when these products are staring me straight in the face.
Lauren is the former beauty editor at Marie Claire. She love to while away the hours at coffee shops, hunt for vintage clothes, and bask in the rough-and-tumble beauty of NYC. She firmly believes that solitude can be a luxury if you've got the right soundtrack—that being the Rolling Stones, of course.