Why Washing My Hair with a Scalp Brush Was the Best Idea I Ever Had
Never. Going. Back.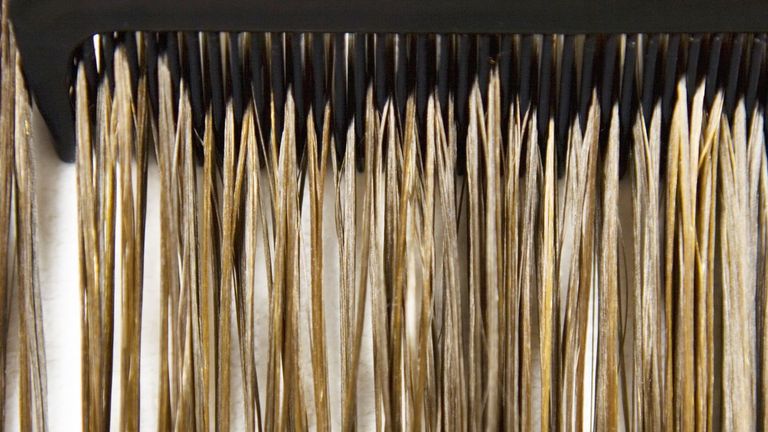 (Image credit: Getty)
Washing my hair is one of my least favorite activities. It's not that I don't enjoy a good cleanse, but shampooing my long, thick, and curly is a straight-up chore that requires diligence, patience, and at least an hour at a time. And, let's be real, it just doesn't compare to the professional lather and scalp rubdown you receive at the salon.
So, when I got word of a brush designed specifically for the shower—one that detangles, soothes the scalp, and improves the hair's overall health—I just had to get my hands on it.
The Brush
A cult favorite amongst Japanese women for the past decade, word of the S Heart S Scalp Brush (opens in new tab) is finally getting around stateside. The secret behind its 376 nylon bristles? The rounded tips are the same size as your pores, which makes them perfectly-suited to gently exfoliate the scalp, sopping up all the dirt and oil. Massaging the scalp also stimulates microcirculation, which is essential for healthy hair.
While I was reluctant at first—many experts warn that hair is weakest when wet—I was hopeful that, if used carefully, it would be the solution to my lifelong struggle of spending way too much time tending to my hair under the shower head. (Plus, kneading the anxieties of the day right out of my head on the regular is just too tempting.)
The Test
Going about my showering routine as I normally do, when it came time to shampoo my hair, which had a lot of dry shampoo build-up (because always), I lathered first, then used the brush to help work the foamy formula through my strands, focusing especially on the grease-prone areas.
This not only resulted in a more even distribution, but helped rinse away every last sud—detangling my hair in the process, to boot. When I hopped out of the shower, my hair was squeaky clean and snag-free. Plus, my scalp felt just as good as it does post-salon. I could practically feel the uptick in blood flow.
Going forward, I definitely want to have my scalp brush at the ready, but want to be sure not to overdo it. I'm going to approach it with the same way I do exfoliating my face—meaning 1-2 times a week and very carefully.
[image id='a9cb90ac-5479-4721-8622-d5f293830d47' mediaId='a71ffe3a-9b55-474e-b9ff-fe015e302c12' caption='' share='true' expand='true' loc='C'][/image]
Shop It: S Heart S' Scalp Brush, $79.99; s-heart-s.com (opens in new tab).
Lauren is the former beauty editor at Marie Claire. She love to while away the hours at coffee shops, hunt for vintage clothes, and bask in the rough-and-tumble beauty of NYC. She firmly believes that solitude can be a luxury if you've got the right soundtrack—that being the Rolling Stones, of course.