The 13 Best Detanglers in 2023
Use these editor-approved picks to brush without breakage.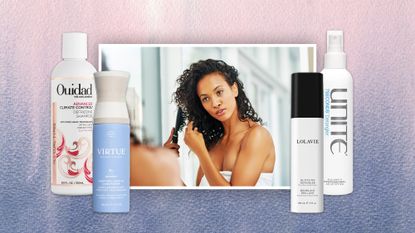 (Image credit: Future)
Taking a hair brush straight to your hair post-shower is a recipe for breakage. It doesn't matter if your hair is silky, smooth, and straight or textured and curly, powering through knots with a comb and zero product to help ease tension is going to cause extreme damage. The solution is an easy one: Incorporate one of the best detanglers into your routine.
"A detangler detangles hair—it's a pretty literal name—but it also usually has conditioning properties which make hair healthier and more manageable," explains celebrity hairstylist Clariss Rubenstein. "It also evens out the porosity of your hair so all other products (hair oil, cream, etc) go on more evenly."
In short: The benefits are plentiful. Of course, you'll want to find the best product for your specific hair type and needs. Some are designed to be nourishing enough for coarse hair, while others are feather-light and won't weigh down fine strands. There are some detanglers that double as shine-boosters and heat protectants, while others are no-fuss, straightforward, and great for kids. To find the best detangler to add to your routine, scroll ahead.
What to Look For in a Detangler
Hair Type
"There are so many different detanglers. Some are universal and can be used on all hair types, others are specifically formulated for different textures," explains Rubenstein. "My advice is if you are looking for a more specific detangler, look for one that speaks to your hair needs and type."
Benefits
At baseline, a detangler is going to get rid of your knots. But that's not all they do. Many are formulated to be multi-purpose. "Most of them can double as a leave-in conditioner, they can be heat protectants, curl enhancing, or frizz fighting, to name a few," says Rubenstein.
The Best Detanglers
The Best Detangler Overall
UNITE Hair
UNITE Hair 7SECONDS Detangler (8 oz.)
"7 Seconds by Unite is a big love of mine," says Rubenstein. "I would use it on any hair type, just adjust the amount based on hair texture. I use it as a foundation for my other products, but it can also stand alone as a leave-in conditioner. It's perfect." The pro-loved detangler has three star ingredients: Panthenol (for hydration), hydrolyzed rice proteins (to strengthen), and amodimethicone (to detangle and heat protect).
Pro: Expert-recommended; Multi-benefit; Works on all hair types
Cons: Very thick
The Best Hybrid Detangler
Arkive Headcare the Good Habit Priming Oil
"When using a detangler, I think oil like The Good Habit Hybrid Oil is the best for that slip as it acts as a natural lubricant. It can help reduce damage and knocking. The baobab oil, which is featured in The Prologue Hair Primer, is great for keeping the scalp moisturized and not dehydrated," says celebrity hairstlist Adam Reed. You'll also want this on hand to finish of your style—it'll provide extra hydration to your ends and a nice shine.
Pros: Stylist-recommended
Cons: Hard to get even distribution
The Best Detangler for Fine Hair
LolaVie
Glossing Detangler
I genuinely believe that Jennifer Aniston has the best celebrity beauty brand out there. Case in point? LolaVie's first-ever launch, The Glossing Detangler, is a true miracle product. It's unbelievably lightweight and manages to smooth and de-knot even the finest hair without weighing it down. Trust me, I would know. I use a generous helping of the spray every time I step out of the shower. My wide tooth comb flows through with ease.
Pros: Lightweight; Good for fine hair; Adds shine
Cons: A little sticky
The Best Heat Protectant Detangler
Virtue
Detangling Heat Protectant Purifying Leave-In Conditioner
For those who want one product that will do quite literally everything and anything they could ever ask for, this Virtue option is the solution. It works across all hair types and textures, seeing hair through every aspect of styling. For starters, it will detangle. But it's also going to offer protection against pollutants, smooth out the hair cuticle for shinier strands, and provide nourishment to defend against frizz and dryness.
Pros: Multi-benefit; Smells great; Works on all hair types
Cons: Not a lot of product in the bottle
The Best Detangler for Curly Hair
Ouidad
Advanced Climate Control Detangling Heat Spray
Curly girls know it's a fine line between a product that defines their curls and one that weighs them down. Rest assured, this detangler-meets-heat-protectant falls into the former category. It's specifically designed to control frizz across climates (translation: humidity doesn't stand a chance), while simultaneously giving structure to all curl types. Just separate your hair into sections and put a generous amount of product on your mid-lengths and ends.
Pros: Provides heat protection; Frizz control; Great for curls
Cons: Strong scent
The Best Detangler for Shine
Oribe
Run-Through Detangling Hair Primer
There are plenty of five-star shine sprays, boosters, and mists on the market, and even though this detangler isn't marketed as such, I can confidently say you will see a reflective shine on your hair after using it. The detangling, oil-based formula makes brushing through knots incredibly easy, but also provides a shimmery luster and soft feel to your mane.
Pros: Boost shine; Protects against damage; Works on all hair types
Cons: Expensive
The Best Detangler for Thick Hair
Davines
OI All In One Milk
Thick and knotty hair needs a super-powered detangler—and this particular product is just that. With intensely hydrating ingredients such as panthenol and plant oil extracts, the creamy texture penetrates hair tangles and breaks down knots so your brush can pass through without a fight. You'll find that your hair is also softer, more hydrated, and stronger after a generous coat. Just be warned: This is not ideal for fine, thin hair.
Pros: Good for thick, coarse hair; Controls frizz
Cons: Too heavy for some
The Best Detangler for Color-Treated Hair
IGK
Good Behavior 4-in-1 Prep Spray
If you have color-treated hair, you want to ensure that every product in your routine is both sulfate-free and has a color-safe claim. That way, your tone will stay as vibrant and untainted as possible. This IGK product boasts both—as well as a slew of other benefits. Coconut oil provides detangling powers and hydration, spirulina protein nourishes and strengthens, and there's a special compound that delivers up to 450 degrees of heat protection.
Pros: Color-safe; Includes heat protection
Cons: Strong smell
The Best Detangler for Stubborn Knots
Rahua
Rahua Hydration Detangler + UV Barrier, 6.5 Fl Oz, Moisturizing Formula Softens Hair, Smooths Frizz, Prevents Breakage and Damage, Creates Instantly Brushable Hair, Best for All Hair Types
Sometimes there's just an extra tough tangle that won't budge despite your conditioning and wet brush methods. When that happens, I instinctively reach for Rahua—it's truly one of the most powerful detanglers out there. With fatty acid-rich Rahua and moringa oil as well as antioxidants, the delicious-smelling formula instantly softens tough sections and will allow your brush to glide right through. (Pro tip: Brush through a knot from the bottom to the top—not vice versa.)
Pros: Ethically-sourced; Smells great; Powerful; Vegan
Cons: Can come out a bit clumpy
The Best Moisturizing Detangler
Drunk Elephant
Wild Marula Tangle Spray