What's in Georgina Chapman's Bag?
The Marchesa cofounder and designer reveals what's inside her self-designed handbag.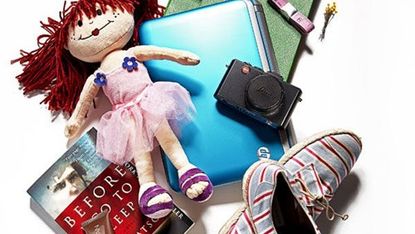 (Image credit: Jeffrey Westbrook/Studio D)
Marchesa cofounder and designer Georgina Chapman is as much a fixture on red carpets as her fabulous gowns. Here, she assesses what's in her purse.
The Bag: Marchesa Bridgette. "This is more of a day bag. It's a really great size, and I love the tassel detailing. The red-orange is very bold, so it spruces up any outfit. I like a little pop of color."
Cloth doll: "We don't leave home without my daughter's doll La-La. She looks like a bit of a rag, but India is obsessed with her."
HP Mini computer: "I use this mostly for e-mail when I'm traveling —I like to have a keyboard, and it's small. I'm on a plane more than I care to think about. I just got back from London and Paris, then went straight to Washington, D.C."
Before I Go to Sleep by S.J. Watson: "I read a lot of thrillers because they're easy reading and I'm not a great flier. They take my head out of it. I like the fast pace and that you can't put them down. I also scour my husband's bookshelves —he's an avid reader. I think he buys every book that comes out."
Josie Maran Tinted Moisturizer in Linen: "This has great coverage for a tinted moisturizer, but what I really love is that it's all-organic. When I got pregnant, I became very interested in natural products. You wonder what you're putting on your skin when you're carrying a child."
Benefit Full-Finish Lipstick in Do Tell: "I wear this lipstick all the time. It's a neutral color, but it has a bit more depth to it, thanks to its purple tint. It's a berry neutral, if you will."
Engagement ring on a chain: "One of my most sentimental items is my grandmother's engagement ring that my mom gave me a few years ago. It's a Victorian-style setting that's closed in the back, so it doesn't sparkle the way diamonds do now. I wear it as a pendant. My grandmother died when I was young, so it's special. It's like a good-luck charm."
Garrard bird ring: "This is a ring I made for my collection for Garrard. It's an oval bird with white diamonds and has a pair of matching earrings. It's one of my favorite pieces. A statement ring just works —it's a bit of a no-brainer when you're dressing up."
Tabitha Simmons Dolly flats: "I don't want to walk around the office in heels all day, so I like to have flats with me. These are really cool —they're cricket-striped shoes that almost feel like espadrilles. They're really cute with jeans."
Leica V-LUX 20 camera: "I didn't carry around a proper camera until I had my daughter, India, and I wanted to capture her every moment I could. When I'm traveling, I'll also snap a picture of a piece of architecture or other things as inspiration for my work."
Tape measure: "If I'm fitting someone for the red carpet, I'll usually have a tape measure and some pins thrown in my bag."
Smythson notebook: "I'm a bit old-fashioned —I like pen and paper, or fabric and a mannequin. I'm always sketching and writing news down so I don't forget things. My mom gave me this notebook because it matches my luggage, but it's so nice I almost feel bad about scribbling in it."
Bounty candy bar: "I bring these candy bars back from London. They're made with coconut and milk chocolate. I love them."