The FBI Seizes Computers in Connection with That Massive Celebrity Nude Photo Hack
More than 100 celebrities' nude photos were leaked.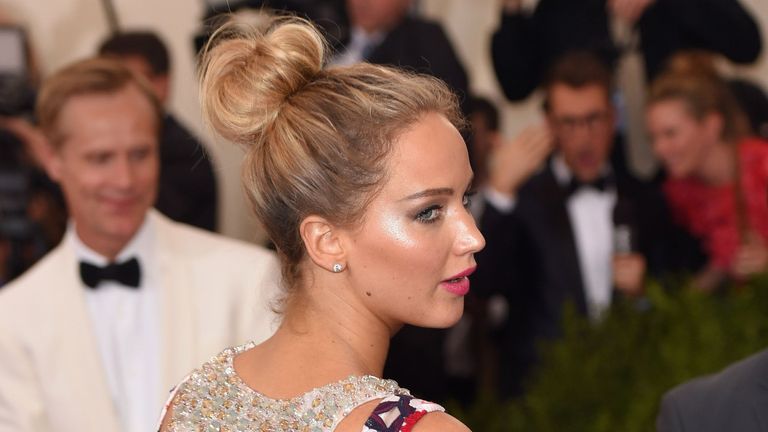 (Image credit: Getty)
Update, 6/10: The FBI has raided two Chicago residences in connection with the the mass iCloud hacking that released more than 100 celebrities' nude photos onto the internet, the Chicago Sun-Times reports.
Several computers, phones, a Kindle, and various disks and drives allegedly used over the course of several months to leak the photos were retrieved, although the homeowners have not been criminally charged. The investigation is ongoing.
Original post, 9/1: Thanks (or no thanks, really, because this is all sorts of gross) to an apparent security flaw in Apple's iCloud remote storage system, hackers have reportedly accessed over 100 celebrities' nude photos — 102 and counting, if current lists of those caught up in the scandal are to be believed. As Gawker notes, a poster at infamous Internet forum 4chan promised last week that scandalous, oh-so-scandalous pictures would emerge Sunday night; lo and behold, they did. At least, some of them did. Those cataloging the photos, because of course people are, include the following potentially* exposed celebs:
Jennifer Lawrence (and, arguably, JLaw's best friend too)
Ariana Grande
Kate Upton (and Upton's boyfriend, baseball player Justin Verlander, whose bare butt appears in at least one photo)
Lea Michele
Victoria Justice
Kaley Cuoco
Glee's Becca Tobin
Downton Abbey's Jessica Brown Findlay
McKayla Maroney
Kirsten Dunst
Brie Larson
Teresa Palmer
Aubrey Plaza
Mary Elizabeth Winstead
*Mass debates are currently raging as to whether many of these images are legit.
That said, three celebs, or their legal representatives, have confirmed that 'their' leaked photos are the real, naked deal. Here's Jennifer Lawrence's rep, in a statement to The Hollywood Reporter, among other outlets:
"This is a flagrant violation of privacy. The authorities have been contacted and will prosecute anyone who posts the stolen photos of Jennifer Lawrence."
And here's Kate Upton's rep, in a similarly outraged statement to The Daily Mail:
"This is obviously an outrageous violation of our client Kate Upton's privacy [and] we intend to pursue anyone disseminating or duplicating these illegally obtained images to the fullest extent possible."
Meanwhile, actress Mary Elizabeth Winstead took to Twitter:
Among the celebs listed at 4chan whose photos haven't leaked yet (but might) are Kim Kardashian, Farrah Abraham, Rihanna, Hilary Duff, Selena Gomez, Cara Delevingne, Hayden Panettiere, and one guy, literally one guy, Dave Franco, who apparently appears in a nude shot with Alison Brie. Gawker reports that TMZ has attempted to buy "a trove" of photos, noting a tweet that says the site offered "six figures" for some pics, and also a 4chan posting, apparently from the original hacker, which reads "I'd rather you get them than TMZ." TMZ has not yet commented on this rumor.
4chan is a wild and nefarious part of the Internet that I can't even pretend to understand; a cursory visit this morning (I clicked through 10 pages of the site's /b/ forum, where the celebrity nudes began being uploaded last night) yielded nudes both male and female, strange memes, lots of people throwing racial and homophobic slurs at each other/the world, and, oh, this request, which is SFW and yet still sums up the rampant messiness quite well:
It's worth noting the authenticity of much (i.e. just about everything, including this mayo raccoon scene request above ) posted on 4chan is up for the debate — at least so far, only Lawrence, Upton, and Winstead have confirmed that their pictures are legitimate, as noted above. Other celebrities and their representatives are denying the photos are for real, like Victoria Justice:
These so called nudes of me are FAKE people. Let me nip this in the bud right now. *pun intended*August 31, 2014
See more
And Ariana Grande, whose publicist told BuzzFeed the photos are "completely fake." A screencapped tweet reportedly from Ariana herself added that "my petite ass is much cuter than that." That tweet does not appear on Grande's Twitter feed currently however, and so it could also prove to be a fake.
Because just about everyone posting on the site remains anonymous, copycat hackers are now reposting all sorts of real/fake images. Many are promising further leaks if people are prepared to pay up, which muddies the already muddy waters.
In the same vein, some 4chan posters claim to have identified the hacker — based upon computer server and network details identifiable on desktop screenshots taken of the apparently-original photo collection. But then others disagree; everything is gospel but nothing is for real. "No one hacks, steals or in some other way buys high-profile nude pictures of 30 A/B-list celebrities and doesn't anonymise properly when posting them," argues one.
Regardless, the momentous event is already being nicknamed "The Fappening," because to "fap," in Internet lingo, is to enjoy some self-pleasure. And many of the posters at 4chan (as well as in subforums across Reddit and beyond) are more than happy to acknowledge that's all they'll be doing this Labor Day. Happy holidays, people!