All the Celebrities Who Attended The Royal Wedding
From Elton John to Serena Williams.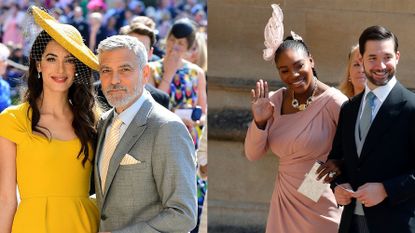 (Image credit: Getty Images)
We're finally here, watching Meghan Markle and Prince Harry get married—so sorry if you didn't receive a wedding invite.
But, thanks to Harry's connections and Meghan's Hollywood career, there are quite a handful of famous folks who are there right now celebrating their special day. Though the groom had played it coy about who's made the cut, Meghan's Suits costars knew they would be here, today. See all the famous people who attended the royal wedding, below!
Oprah Winfrey
Yes, Oprah made a surprise appearance at the wedding today, and we were screaming with excitement! Good job keeping this a secret, Oprah!
Elton John
The singer's close friendship with Princess Diana bagged him an invite to Prince William and Kate Middleton's 2011 wedding, where Ellie Goulding performed his hit "Your Song" for the couple's first dance—and now, to Prince Harry and Meghan Markle's nuptials. He also collaborated with Prince Harry on an AIDS/HIV campaign in 2016, and spoke glowingly of the royal in a 2017 documentary about Harry's late mother.
James Corden
The Late Night host and his wife, Julia Carey, snagged invites to Meghan and Harry's wedding—and we had no idea! He grilled Victoria Beckham on whether or not she was going, but kept his invite a secret the whole time!
Priyanka Chopra
The Quantico actress made the cut! Chopra reportedly befriended the bride-to-be at a party a couple of years ago, and she's been a vocal supporter ever since—one time she seven called out a magazine cover for diminishing Meghan's accomplishments and focusing on her royal romance.
Patrick J. Adams and Troian Bellisario
Meghan's TV fiancé did in fact snag an invite to the wedding! The honor of being the first (and, probably, only) Pretty Little Liar to hobnob with the Queen goes to Bellisario, wife of Patrick J. Adams. Though Meghan didn't make it to the Pretty Little Liars actress' 2016 nuptials, she'll likely extend an invite to her own celebration.
The Rest of Suits
Along with Adams, Suits stars including Gabriel Macht, Sarah Rafferty, Gina Torres, and Rick Hoffman were at the wedding.
David and Victoria Beckham
One good power couple deserves another. Posh and Becks were among the celebrity guests at Will and Kate's wedding, and Harry's social and philanthropy ties to David could make it a repeat honor. Really, we were just excited to see Victoria wear an insane hat.
James Blunt
The singer—who also counts Harry's cousin Beatrice as a bud—once served as the groom's superior officer during their time in the military. The royal recruited him to perform at last year's Invictus Games, which means the odds of "You're Beautiful" being the first dance are appallingly high.
Serena Williams
Count the tennis champ as an official F.O.M. (Friend Of Meghan). The pair have been friends since 2014, and Serena once said, "Her personality just shines. I told her: 'You've got to be who you are, Meghan. You can't hide.'"
RELATED STORY