A Complete Timeline of Channing Tatum and Jenna Dewan's Relationship
I'm never watching 'Step Up' again.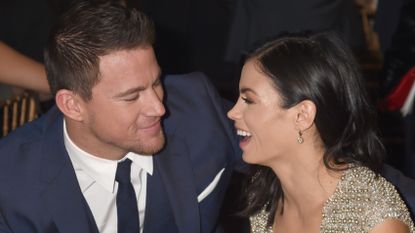 (Image credit: Getty Images)
Marie Claire Newsletter
Celebrity news, beauty, fashion advice, and fascinating features, delivered straight to your inbox!
Thank you for signing up to Marie Claire. You will receive a verification email shortly.
There was a problem. Please refresh the page and try again.
Last night, Channing and Jenna Dewan-Tatum broke our hearts when they announced their split after nearly nine years of marriage. Here, a complete breakdown of their relationship throughout the past decade—starting with their (clearly fateful) meeting on the set of Step Up.
[instagram align='center' id='BI-j94-Bk12']https://www.instagram.com/p/BI-j94-Bk12[/instagram]
March 2006:
The pair met on the set of Step Up and the audition tape will melt your cold heart. Jenna reportedly played hard to get before making their relationship official. "I said, 'Well look, if you want to date other people and be free that's totally fine. But we're not gonna hang out and watch movies. 'You have to figure out what you want because I want a relationship,'" Dewan revealed to Us Weekly last April. Three days later, he came knocking on her door, "drunk with a sombrero on," Dewan told Cosmopolitan.
See their original audition tape below and prepare for all of the feels:
Channing revealed to Elle in 2013 that he wasn't ready for a relationship when he met Dewan, but that their connection was undeniable: "I was trying to run from what I knew Jenna was—not someone I was just going to date."
July 2007:
Dewan and Tatum are photographed looking extremely loved up, with Garrett Hedlung, at the opening of Cove Atlantis in the Bahama.
September 2008:
Channing proposes to Jenna in Hawaii. "When I proposed to my wife I did something pretty cruel because I thought she was on to me. I basically just told her I never wanted to get married to try to throw her off," Channing told BBC. "I was like nah, 'I don't believe in the institution of marriage and I don't think I ever want to get married, ever.' She basically just broke down crying. I was like, 'Oh man, she's crying, this is not going well at all' so I had to propose to her sooner rather than later."
According to People, Channing proposes in Maui, in front of several of their friends, with a Neil Lane ring.
July 2009:
The couple get married in an outdoor ceremony overlooking the ocean in Malibu.
Two weeks after their wedding, the newlyweds attend the Japan premiere of G.I. Joe: The Rise Of Cobra, looking so in love.
July 2010:
Dewan and Tatum attend the Ischia Global Film and Music Festival in Italy together, reminding everyone they're adorable.

April 2012:
The Step Up couple show the world why they're so great together, by performing onstage at Revlon's concert for the Rainforest Fund in New York City. And yes, the dance is incredibly steamy:
December 2012:
The Tatums announce that they are expecting their first baby together, with the couple's representative confirming to People: "Jenna Dewan Tatum and Channing Tatum are pleased to announce that they are expecting the birth of their first child next year."
Dewan's rep also confirms the news in the sweetest Instagram post, writing: "Incredible news!!! Two amazingly beautiful souls are about to bring another beautiful soul into this world!"
May 2013:
Jenna Dewan gives birth to her daughter, Everly Tatum, in London.
June 2013:
Channing celebrates his first Father's Day as a new dad.
While Dewan is filming Witches of East End, Tatum is on-set with Everly. Dewan tells ET Canada, "He is getting really good at being the set husband—that's what I call him. He's in the trailer, he's rocking her to sleep, I'm running back and forth breastfeeding."
June 2014:
Everly celebrates her first birthday.
July 2014:
Dewan and Tatum celebrate their fifth wedding anniversary by sharing the sweetest selfie with Everly. Tatum writes on Instagram, "Another year of love and light..couldn't ask for anything more. Thanks everyone for the anniversary wishes!"
December 2014:
Tatum gets a pedicure for Dewan's birthday. She reveals, "It's my birthday and hubby does what I want him to."
July 2015:
Tatum gives an incredible interview to Vanity Fair about how downright amazing Dewan is as a mother. He reveals:
"My wife, she's a warrior. She did it as natural as you can. [As a man], you're basically a cheerleader. 'Come on, baby. You can do it.' I would've tapped out in the first... Jenna is a super mum. There's no other way to say it. She is there every single second, every single day. I love being a dad."
January 2016:
Appearing on Lip Sync Battle, Tatum performs as, and with, Beyoncé, while Dewan replicates this infamous Magic Mike dance:
February 2016:
Channing gives Jenna the sweetest Valentine's Day surprise.
May 2016:
Tatum's Mother's Day message to his wife is beyond adorable. He said:
"Watching her in those first days transform into a mother was life changing. She was every bit the beautiful, sexy, funny, flawed creature I fell in love with. But the prism turned and showed a whole new light that I had no idea existed, the light of a mothers love. Thank you for that baby."
August 2016:
The pair celebrates 10 years since they've met by recreating their Step Up dance moves.
January 2017:
Tatum shares a very naked snap of his wife on Instagram:
December 2017:
Channing posts a sweet tribute for his wife's 37th birthday. "This creature is 1 more year beautiful. The transformation she invoked this year has been something they only write about in books of fairytale & magic. Your strength & grace ever evolving. You make everything around you grow. So grateful for your lessons. Happy life day my love."
This creature is 1 more year beautiful. The transformation she invoked this year has been something they only write about in books of fairytale & magic. Your strength & grace ever evolving. You make everything around you grow. So grateful for your lessons. Happy life day my love. pic.twitter.com/yXsdAgXieRDecember 4, 2017
See more
February 2018:
Jenna Dewan admits her relationship with Channing is "less than perfect." "When people say, 'You guys have such a perfect life,' I want to scream and tell them, 'No one's perfect,'" she told Health magazine. "I think there are such things as great fits. It is a great fit as long as you are growing together, and I think up until this point we've really grown together. Even if one starts to grow, the other catches up and vice versa."
March 2018:
The couple seems normal when Channing posts a picture of himself and Jenna getting a makeover from their four-year-old daughter, Everly. "This is what it looks like when a little tyrant fairy artist holds you down and makes your face look 'better."
Everly makes her first public appearance at the Kids' Choice Awards.
April 2018:
Channing and Jenna Dewan announce their divorce in a heartbreaking yet uplifting statement:
"Hey world!
So…We have something we would like to share.
First off, it feels odd that we have to share this kind of thing with everyone, but it's a consequence of the lives we've chosen to lead, which we also happen to be deeply grateful for. We're living in an incredible moment in time, but it's also a time where truth can easily get distorted into "alternative facts" 😉 So we want to share the truth so you know that if you didn't read it here then it's most certainly fiction.
We have lovingly chosen to separate as a couple. We fell deeply in love so many years ago and have had a magical journey together. Absolutely nothing has changed about how much we love one another, but love is a beautiful adventure that is taking us on different paths for now. There are no secrets nor salacious events at the root of our decision—just two best-friends realizing it's time to take some space and help each other live the most joyous, fulfilled lives as possible. We are still a family and will always be loving dedicated parents to Everly. We won't be commenting beyond this, and we thank you all in advance for respecting our family's privacy. Sending lots of love to everyone, Chan&Jenna."
Love is dead, everybody.
RELATED STORY
Celebrity news, beauty, fashion advice, and fascinating features, delivered straight to your inbox!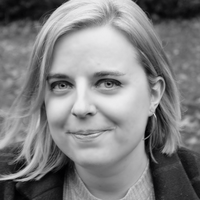 Amy Mackelden is a freelance writer, editor, and disability activist. Her bylines include Harper's BAZAAR, Nicki Swift, Cosmopolitan, Marie Claire, ELLE, The Independent, Bustle, Healthline, and HelloGiggles. She co-edited The Emma Press Anthology of Illness, and previously spent all of her money on Kylie Cosmetics.