Here's Zayn Malik Adorably Picking a Flower for Gigi Hadid
So, yeah, they're definitely back on.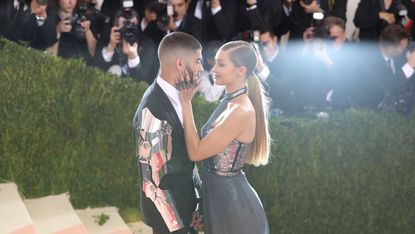 (Image credit: Neilson Barnard)
Today in young love: Gigi Hadid and Zayn Malik are officially (or at least Instagram Stories-officially) back together. On Monday, Gigi shared a photo of Zayn picking a purple flower and apparently handing it to her via her Instagram Story.
Meanwhile, Zayn shared the same photo on his own Instagram.
It's not the first sign that the on-again, off-again couple have rekindled their relationship. Earlier this month, Gigi attended the premiere of Ocean's 8 looking fantastic:
Afterwards, Gigi shared an Instagram of herself lounging in the same dress she wore to the premiere in some very familiar tattooed arms that are attached to a very familiar platinum blond head:
Though you can't see Zayn's face, his hair and inked shirtlessness are quite recognizable. It looks like Gigi came home from her night at the movies to interrupt her on-again boyfriend who was lying on the couch playing Pokemon, as one does.
For reference, Zayn's Insta story during the night in question:
This isn't the first time the pair—who announced their breakup back in March—have given signs that maybe the breakup was just a break. In late April, Zayn was photographed leaving Gigi's house (in the same outfit he was wearing when he was photographed arriving there the day before), and a few days later, the two were spotted kissing on a New York City street corner.
In her statement announcing the split, Gigi wrote, "As for the future, whatever's meant to be will always be," which is a) sage advice b) perhaps a sign that the breakup wasn't really permanent in her mind.
As for Zayn, after announcing the news of the breakup on Twitter, he told Ryan Seacrest in an interview about his new single "Let Me" that he had hoped to love Gigi forever.
"I was in love, and I think that's pretty evident," the singer said about what inspired the song. "I was aspiring to be in love with someone for the rest of my life and the rest of theirs, as we all do. Things change and we move forward in life. Times change, but that's what I was thinking when I wrote it."
Yay for happy things!
Celebrity news, beauty, fashion advice, and fascinating features, delivered straight to your inbox!