Katie Holmes and Jamie Foxx Piled on the PDA During a Date in Malibu
They're not hiding it any longer.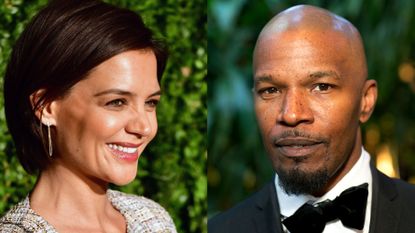 (Image credit: Getty Images)
Although we live in the era of Justin Bieber and Hailey Baldwin-level PDA (opens in new tab), my heart goes out to the celebrities that keep their relationships low-key (opens in new tab). Exhibit A: Although Katie Holmes (opens in new tab) and Jamie Foxx have been dating for five years, their public outings are incredibly rare (and all the more coveted). So, when the duo stepped out for an uncharacteristically affectionate date in California last week, I couldn't help but promptly freak the heck out. You can see the photos here (opens in new tab).
After finally confirming the status of their relationship last month (opens in new tab), Holmes and Foxx took a cute-as-hell day trip to Malibu where they played (yes, played) in the sand like a couple of loved-up teenagers. "They were totally engaged with each other," an onlooker told Us Weekly (opens in new tab). "They were never on their phones. She had this incredible smile on her face. She looked smitten."
Since getting together in 2013—shortly after Holmes' very public divorce from Tom Cruise—the actors have gone to great lengths to hide their relationship (they even reportedly rented out entire restaurants on date nights to avoid being scene together). "Katie and Jamie care about each other a lot and they tried to stay as quiet as possible because they didn't want to ruin that," a source close to Holmes says (opens in new tab). "They knew the second they stepped out together, it would open the gates for criticism."
Welp, I for one am excited these lovebirds are finally coming out of the woodwork. Here's to (hopefully) many more PDA-filled dates.
RELATED STORY
Ruby was the beauty editor at Cosmopolitan, where she covered beauty across print and digital. Her work has appeared on The Zoe Report, Fashionista, and StyleCaster. Follow her on Instagram.