Khloé Kardashian Kept Her Pregnancy a Secret for So Long as a Favor to Kylie
Khloé wanted to give her sister "her own time to shine."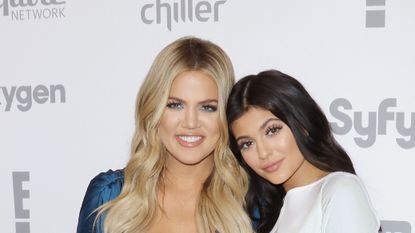 (Image credit: Jim Spellman)
As favors for a sibling go, Khloé Kardashian's has got to be up there with some of the best. In the midst of the tidal wave of Kardashian pregnancies that came earlier this year, Khloé kept hers a secret for as long as possible in order to make sure that her younger sister, Kylie Jenner, (opens in new tab) could have her special moment as a new mom. Wow, when would your big sister ever?
2018 got off to a strong start for the Kardashian dynasty, with Kim Kardashian West welcoming her third child, Chicago (opens in new tab), back in January. Just one month later, Kylie gave birth to daughter Stormi (opens in new tab), having kept her pregnancy (mostly) a secret and deciding not to announce that she was expecting her first child with boyfriend, Travis Scott. Completing the trifecta with a very un-Kardashian-like move, it wasn't until she was over half way through her own pregnancy that Khloé Kardashian unveiled her baby bump (opens in new tab) to the world.
Revealing the real reason that she waited so long to announce that she and boyfriend Tristan Thompson were to have their first child together, Khloé explained on Keeping Up With The Kardashians that she was only thinking of sister and BFF, Kylie. "I am really anxious to announce my pregnancy, but Kylie's three months ahead of me and I want to give her her own time to shine and let her do her thing," Khloé said.
"But Kylie keeps going back and forth on whether she will announce. Waiting is so frustrating because my body is changing and people are super invasive and just not being respectful," Khloé admitted, before an explanation came towards the end of the episode.
Kylie later told Khloé: "I don't think I'm ever going to announce that I'm pregnant. I just don't want to be in the spotlight, I just want to be low-key. You should go ahead, you don't have to wait for me, you should announce—it's exciting for you, too."

It's almost sweet enough to make you forget about the times that the Kardashian-Jenners have almost torn each other apart in brutal, vicious, unforgiveable family arguments (opens in new tab), isn't it? Ahh, sisterly love.
RELATED STORY
Lucy Wood spends most of her time writing about celebrity news, reading books, and waiting for the glorious day that she have enough millions for a pet sloth. She also has a YouTube channel on the go where she pretends to know things about fashion and life advice.