Cardi B and Nicki Minaj Got Into a Huge Fight at the Harper's Bazaar ICONS Party
Cardi B and Nicki Minaj's feud escalated at at New York Fashion Week party Friday night. Cardi threw a shoe at Nicki and then later ranted about her on Instagram.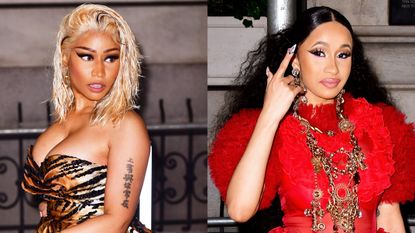 (Image credit: Getty Images)
Last night, things got intense at the Harper's Bazaar ICONS Fashion Week event in New York. Cardi B and Nicki Minaj got into a headline-making fight at the high-profile NYFW party.

A source who was inside the party tells MarieClaire.com it all started when Cardi was walking past Nicki (who, according to another source, was taking a photo with Kelly Rowland and La La Anthony), and Nicki reportedly stepped on the train of Cardi's dress. At that point, Cardi started screaming at Nicki to stop talking about her baby (a sentiment she reiterated later in a public Instagram post), a scuffle ensued and the artists were separated by their entourages, then Cardi removed her shoe to throw it at Nicki.
Omggggg nicki and Cardi almost fought #nickiminaj #cardib #cardi #monse #nyfw2018 #nyfw #omg pic.twitter.com/2gtOL5zoeISeptember 8, 2018
See more
In this exclusive footage from Cosmpolitan.com, you can see Cardi's ripped dress as she takes off her shoe:

"Cardi B took off her shoe to throw at Nicki—and then I don't know if she was escorted out or if she just left, but she left the shoe at the party," the insider tells MarieClaire.com. "In the scuffle, part of Cardi B's wig got ripped off and was left behind. The whole thing lasted about two minutes; it was crazy!"
According to Cosmopolitan.com, when Cardi B left the party, she had a bump on her forehead and the back of her dress was torn.
Later in the evening, Cardi took to Instagram to address the situation.
"I've let a lot of sh*t slide," she wrote. "I let you sneak diss me, I let you lie on me, I let you attempt to stop my bags, fuck up the way I eat! You've threaten other artists in the industry, told them if they work with me you'll stop f*ckin with them!! I let you talk big sh*t about me!! I addressed you once in person, I addressed you a second time in person, and every time you copped the plea!! But when you mention my child, you choose to like comments about me as a mother, make comments about my abilities to take care of my daughter is when all bets are f*ckin off!! I've worked to[o] hard and come too far to let anybody f*ck with my success!!!! B*tches talk all that sh*t in they raps but in real life they p*ssy!! This sh*t really is for entertainment!!
This was the fifth Harper's Bazaar ICONS party, which had a dream red carpet with celebs like Kendall Jenner, Bella Hadid, and Jasmine Tookes in attendance. Christina Aguilera performed later in the evening.
Marie Claire email subscribers get intel on fashion and beauty trends, hot-off-the-press celebrity news, and more. Sign up here.