Channing Tatum Posted a NSFW Photo of Himself In the Shower Because He Lost a Bet to Jessie J
It all began with a game of Jenga, apparently.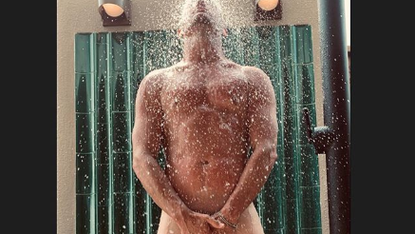 (Image credit: Jessie J)
Channing Tatum just posted a very naughty picture on Instagram because he lost a bet to his girlfriend, a.k.a. Jessie J.
Spoiler alert: He's in the shower. He's also naked.
Channing Tatum is what some would call a hot man™. His girlfriend Jessie J most likely knows this, and therefore, she did the world a service today when she made Channing post a picture of himself in the shower.
Let me explain. Channing posted the above photo, where he is Fully! Naked! In the shower! And while that on its own would be, like, excellent, the caption just added another layer to the whole thing.
"I lost a game of Jenga to Jessica Cornish. The loser (me) had to post a picture the other person (Jessica Cornish) picked... Smh and fml... I'm never playing Jenga with her ever again... 🚿 + 🐰"
In case you're like "Wait, who's Jessica Cornish?" that happens to be Jessie J's given name. The more you know! Therefore, that would mean this photo was posted because Channing lost a game of Jenga to Jessie, and of all the pictures she could have picked to share, she picked THIS ONE. She could have picked something embarrassing where he was making a terrible face at the camera, or something, but no. She's truly out here doing the Lord's work today. Jessica J, the internet thanks you.
Also, she took the photo herself, which means she had full artistic control of this photoshoot and therefore the view. Impressive. So impressive. She hopped into the comments herself and wrote, "Sharing is caring," and if that ain't the truth, I don't know what is.

They also posted this funny joke about the whole thing in his Stories.
Please, please play Jenga again, you guys. You'll make the world a better place if you do.
For more stories like this, including celebrity news, beauty and fashion advice, savvy political commentary, and fascinating features, sign up for the Marie Claire newsletter.
RELATED STORIES
Emma Baty is the Associate Entertainment Editor at Cosmopolitan who focuses on movies and TV.