Miley Cyrus and Kaitlynn Carter's Relationship: A Timeline
It all started with a girls' trip off the coast of Italy...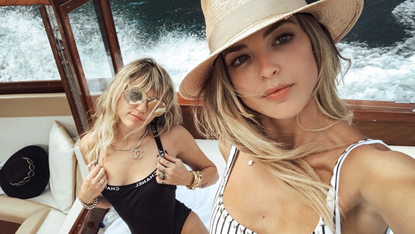 (Image credit: Instagram)
Marie Claire Newsletter
Celebrity news, beauty, fashion advice, and fascinating features, delivered straight to your inbox!
Thank you for signing up to Marie Claire. You will receive a verification email shortly.
There was a problem. Please refresh the page and try again.
Getting over a breakup is often one of the most emotionally trying things that you can ever go through, and it's probably a million times harder when your relationship was in the public eye. But for Miley Cyrus and Kaitlynn Carter, moving on seems to be a matter of just meeting the right person. The women, who found themselves a hot topic in the media in the past month as they announced their respective divorces from their partners, appear to have sparked something new and positive
How did the Miley-Kaitlynn love line get started? Well, it's a little complicated, to say the least. Luckily, we've got a good idea—here, a timeline of their whirlwind relationship.
August 2, 2019
In a public statement shared with Us Magazine, it was revealed that Kaitlynn and her husband Brody Jenner had decided to call it quits. "Brody Jenner and Kaitlynn Carter have decided to amicably separate," read the statement. "They love and respect one another, and know that this is the best decision for their relationship moving forward." The split happened just a year after the couple first tied the knot in Indonesia back in July 2018, though the legality of their marriage has been questioned; notable members of Brody's family were MIA on the big day, and the pair reportedly never even had a marriage license in the United States.
(If you've been watching the reboot of MTV's hit reality series The Hills, the news of the breakup might not have been too surprising. Kaitlynn and Brody often squabbled on the show and were dealing with some pretty serious problems in their married life.)
August 9, 2019
Kaitlynn and Miley headed to Italy for a quick girls' trip, and the Hills' star made sure to take to the 'gram and share some sunny selfies from the vacation. Naturally, we assumed that Miley was being a good friend by supporting Kaitlynn in the aftermath of her public breakup—what better way to get over a man than to stunt on him while on a yacht with your best friend?
August 11, 2019
Maybe there's something in the air in Hollywood (hot girl summer, is that you?), because some of the most high profile couples in the industry went their separate ways, Miley and her hubby Liam Hemsworth included. Miley and Liam, who met and formed a love connection while filming the 2010 teen drama The Last Song, announced their divorce exactly one week after Kaitlynn's breakup, stating that their separation was "what's best while they both focus on themselves and careers."
The announcement came just hours after photos were leaked of Miley and Kaitlynn getting cozy while in Lake Como, and by "getting cozy," I mean full-on kissing. Observers said that the duo were having a super romantic time. "They were not trying to hide it at all," an eyewitness told ET. "They were fully on a date, getting drinks, just the two of them. They even got a couple of massages at the hotel."
We know what you're thinking, but stop it right there—the hookup doesn't necessarily have anything to do with either of the ladies' breakups! Still, that fact didn't stop Kaitlynn's ex Brody from having a few laughs. "Watch out! Pics of Liam and I holding hands on the beach coming soon," the reality star cracked in the comments, only for Miley to swiftly get him together with her own response.
August 14, 2019
The tea about the breakdown of Miley and Liam's relationship just kept coming,and the plot thickened with an exclusive from a source stating that Liam wasn't all that he appeared to be. According to a friend of the couple, Liam struggled with severe moodiness and hardcore partying, which Miley had a serious problem with. "Everyone always thinks Miley is problematic and immature and a hardcore partier while he's this chill surfer dude, but that's actually [not accurate]," the source told People exclusively. "Liam parties with his friends, and Miley thinks he should've grown out of that by now."
August 16, 2019
Remember how I said that there is no better way to get over a breakup than escaping to a beautiful island and posting fire pictures with your friends on Instagram? I lied. There's a much better way—writing a song about your heartbreak à la Beyoncé and releasing it for the world to jam out to your pain.
Miley dropped "Slide Away" across all streaming platforms on the 16th, and the song's emotional lyrics had listeners wondering if the song could be about Liam. Spoiler alert: it totally is.
August 18, 2019
Because people are terrible (and you know...misogyny), Kaitlynn got a lot of backlash after being photographed with Miley, and the bad energy didn't sit well with with her ex. Brody jumped on social media to defend Kaitlynn, proving that he's still got love for her even though things are over between them.
"There is far too much negativity being directed at someone who I love and care about very much. I feel the need to set the story straight," he said. "Kaitlynn and I have been best friends for six years, and we continue to be. We, like many others before us and many after us, grew in different directions over those same six years. Kaitlynn is a wonderful person, beautiful and fun to be with, always a positive force in my life. We decided the best move for both of us was to keep our love for each other strong but move forward separately with our lives. I respect Kaitlynn and care deeply about her. She deserves to be able to move forward in her life with respect and happiness."
August 21, 2019
In a show of ~good vibes~, Miley and Kaitlyn sent Brody a bouquet of bouquet of mary jane for his 36th birthday. "WEED like to wish you a happy birthday!" the attached card hilariously read, warming Brody's heart (and his lungs). Again, it looks like things are kosher between Miley, Kaitlyn, and Brody, and it's always nice to see exes getting along even after a breakup.
That same day, Miley's tattoo artist shared a photo of her latest addition, reportedly inspired by her baecation in Italy with Kaitlynn. Here's what The Daily Mail had to say about the unique tattoo:
"The tattoo is a snake in the act of consuming a child; the biscione is also known as the vipera. The biscione has been the emblem of the House of Visconti for centuries and is the symbol of Milan, according to The Art Post Blog."
A snake eating a baby whole? How...romantic.
August 22, 2019
I can accept that the life I've chosen means I must live completely open and transparent with my fans who I love, and the public, 100% of the time. What I cannot accept is being told I'm lying to cover up a crime I haven't committed. I have nothing to hide.August 22, 2019
See more
In a particularly candid Twitter thread, Miley opened up about her breakup, disputing the rumors that her marriage had ended because of cheating (allegedly with Kaitlynn). "You can say I am a twerking, pot smoking, foul mouthed hillbilly," Miley tweeted, "But I am not a liar."
August 26, 2019
During this year's MTV Video Music Awards, Miley took to the stage to perform "Slide Away" for the first time. Flanked by a orchestra to really set the mood, the performance was edgy and emotional as Miley sang the single's sad lyrics. "Move on, we're not seventeen / I'm not who I used to be," the singer-songwriter crooned onstage, clearing any doubt that Liam was the subject of the song.

Kaitlynn was Miley's date to the VMAs, and the ladies were all smiles when they were spotted heading to an afterparty after the big night.
September 2, 2019
Okay, these two have really moved on...so much so that they've reportedly moved in together! A source shared with People that Miley and Kaitlyn have taken their "romantic friendship" to the next level and are now living under the same roof, which, if I'm being honest, is a huge step—do they even know if the other pulls the tissue from over or under yet?? (Fingers crossed that it's over!). Nonetheless, reports People, the two are having a great time together. "Miley is doing great. She is moving on. She seems to have no regrets. She loves being with Kaitlynn."
There hasn't been an official statement via their publicists or their Instagram pages about their relationship from either Miley or Kaitlynn, but their happiness obviously matters way more than making it social media-official.
September 21, 2019
After a whirlwind couple of months together, Miley and Kaitlynn have reportedly ended the romantic aspect of their relationship—but their friendship remains strong.
"Miley and Kaitlyn broke up," a source told People. "They're still friends. They've been friends forever and were there for each other when they were both getting separated, but they're just not in a romantic relationship anymore."
For more stories like this, including celebrity news, beauty and fashion advice, savvy political commentary, and fascinating features, sign up for the Marie Claire newsletter.
RELATED STORIES
Celebrity news, beauty, fashion advice, and fascinating features, delivered straight to your inbox!