Fergie and Josh Duhamel's Separation Was Reportedly "A Long Time Coming"
Their differences were apparently too much to handle.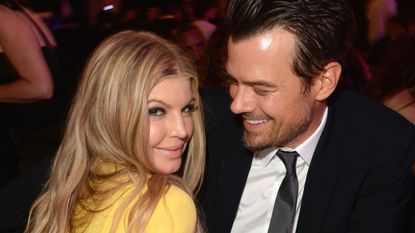 (Image credit: Getty Imaages)
Fergie and Josh Duhamel announced in a joint statement Thursday that they had split after eight years of marriage. The former couple, who have a 4-year-old son Axl, confirmed that they had "decided to separate as a couple earlier this year" and kept the matter private "to give our family the best opportunity to adjust." The split came as a shock to many fans, as Fergie and Josh, who first met in 2004, publicly endured through several bumps in their relationship, including a cheating scandal in 2009.
RELATED STORY
As the shock begins to wear off less than 24 hours later, People has come forward with a report on why the gorgeous couple decided to go their separate ways. According to one source, those close to Fergie and Josh "won't be surprised that this ended," adding that their differences factored into the split. "In the beginning, it was what attracted them to each other and made them so much fun to be around…but they come from totally different backgrounds and they wanted different things." The source also noted that Fergie and Josh "were heading in two separate directions" and that the break up "has been a long time coming." A second source says that in the end, Josh's "low-key" and "laid back" lifestyle was not a good pairing for Fergie's "high maintenance" and career-focused ways. "He definitely wants more kids and has always wanted to be a family man."
Meanwhile, Us Weekly reports that the former couple were trying for a second child "as of last year" but, echoing People's story, couldn't get over their differences for a while. One source reveals that Josh moved out "around early spring."
On September 8, Fergie addressed rumors that she was trying for another baby while appearing on the "Cubby and Carolina in the Morning Show" to promote her new album Double Duchess. "I've heard so many rumors about all of that," she said. "I have no idea what's in the future. Right now, I just turned all my videos in yesterday to everybody. It's like I'm birthing a different kind of baby. I feel like I'm birthing this thing out. It didn't come from my belly but it came from my soul."
RELATED STORY
Fans won't have to wait long to see if Fergie's new album, out September 22, will reveal anything about her separation. She previously told People that Double Duchess allowed her to "peel back the layers and show my vulnerable side." One song, "Love Is Pain," is described by Fergie as "extremely emotional."
In the wake of Fergie and Josh's split, clips from their 2012 sit-down with Oprah Winfrey on an episode of OWN's Oprah's Next Chapter have been recirculating. In the interview, conducted three years after Josh was accused of having a one-night stand with an exotic dancer in Atlanta, Fergie opened up about how the couple dealt with the infidelity rumors. (The dancer, who claimed that she had passed a lie detector test, later apologized to Fergie.) "When you go through difficult times, it really makes you stronger as a unit, as a partnership. It does for us anyway. Our love today is a deeper love. Definitely. We're stronger today because of anything difficult that's happened with us…We went to therapy. We went to a lot of therapy and the whole thing just became a positive for us."
Follow Marie Claire on Facebook for the latest celeb news, beauty tips, fascinating reads, livestream video, and more.
Peggy is Cosmopolitan.com's entertainment writer, specializing in Leonardo DiCaprio, This Is Us, and the royals. She's also a proud Canadian and pug lover. When Peggy's not obsessing over Leo's latest lover or gut size, she can be found watching old episodes of Friends or Gilmore Girls. Her dream is to one day live on a pug farm and write children's books, with illustrations by her very talented husband Greg.