Meghan Markle and Prince Harry Share a Sweet Home Video with Son Archie
An adorable home video of Archie Harrison playing on the beach aired during Harry and Meghan's tell-all interview with Oprah.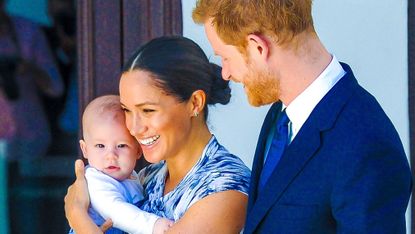 (Image credit: PA Images)
It's clear to anyone who watched Meghan Markle and Prince Harry's bombshell interview (opens in new tab)with Oprah that the two have faced countless tribulations over the past few years. The couple opened up about racism, family heartache, attacks from the media, not feeling supported by "the firm," (opens in new tab) and their difficult decision to break away from their royal duties in order to put their mental health and safety first. Though the conversation was, at times, difficult to watch, it ended with a happy moment:
"What delights you now?" asks Oprah to Harry near the end of the two-hour conversation.

"This year has been crazy for everybody," he says. "But to have outdoor space where I can go for walks with Archie and as a family, with the dogs; to go for hikes or go down to the beach...the highlight for me is sticking him on the back of a bicycling in his little bathing suit and taking him on these bike rides, something I was never able to do when I was young."
What a sweet video of Harry, Meghan, Archie and their dogs playing on the beach 🥺❤️ #OprahMeghanHarry pic.twitter.com/QEXjWErK5GMarch 8, 2021
See more
While Harry was sharing, a black and white home video of the family of three (and their adorable pups!) played on screen. The trio were on the beach (likely near their new Montecito, California home) enjoying quiet family time, tossing a ball around to the dogs. In the brief clip (which, from the angle, looks like it was filmed by Harry) we finally see a moment of bliss—wishing the trio (soon to be, foursome!) (opens in new tab)many more of these moments to come.

Megan DiTrolio is the editor of features and special projects at Marie Claire, where she oversees all career coverage and writes and edits stories on women's issues, politics, cultural trends, and more. In addition to editing feature stories, she programs Marie Claire's annual Power Trip conference and Marie Claire's Getting Down To Business Instagram Live franchise.