17 Celebs Who Seriously Never, Ever Age
They're not plasticized to within an inch of their lives like a Real Housewife, yet stars like Julia Roberts never, ever seem to age. It's almost creepy. What are these people doing, (besides having millions of dollars and access to the best trainers and derms in the universe)? Anyway, good for these 17 positively ageless celebs...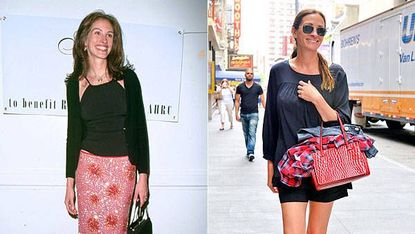 (Image credit: Getty Images)
Julia Roberts
Pretty Woman was 23 years ago. She still looks the same.
Halle Berry
This woman is 46 years old. She may or may not be a robot.
Gwyneth
Evidence that working out for four hours a day does wonders for your skin...
Jen Aniston
If the fountain of youth is yoga and margaritas in Cabo, sign us up.
Kate Winslet
Rose DeWitt Bukater actually gets better looking with age
Robin Wright
Looking like Princess Buttercup for all eternity? As you wish!
Naomi Watts
Endlessly gorge.
Angie
Hair color and husbands may change, but ink and pillow lips are forever.
Christy Turlington
We just can't even...
Charlize Theron


Who else looks good with basically no hair? For like two decades?
Kerry Washington
Getting older with grace? Let's just say it's handled.
Cindy Crawford
25 years elapsed between these two photos, AND NOTHING!
Naomi Campbell
Write it off under the supermodel clause...
Kate Moss
Still hot.
Heidi Klum
And after four kids no less...
Uma Thurman
#TDF
Sandra Bullock
Hands of time, don't even mess with Sandy Bullock.
Related:

14 Celebrities Who Look Exactly Alike (It's Almost Creepy!)


Photo credit: Getty Images, except Julia Roberts credit: GSI/Getty Images, and Uma thurman credit: PacificCoastNews.com/Getty Images
Via Cosmopolitan
Celebrity news, beauty, fashion advice, and fascinating features, delivered straight to your inbox!