Michelle Williams' Red Carpet Milestones
From Dawson's Creek to Hollywood darling, check out the star's fashion hits and misses.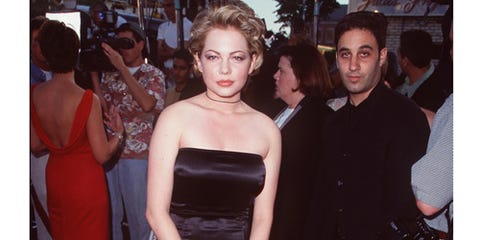 From Dawson's Creek to Hollywood darling, check out the star's fashion hits and misses.Plus: check out Michelle's cover look and shop the clothes from her shoot, and read her cover story!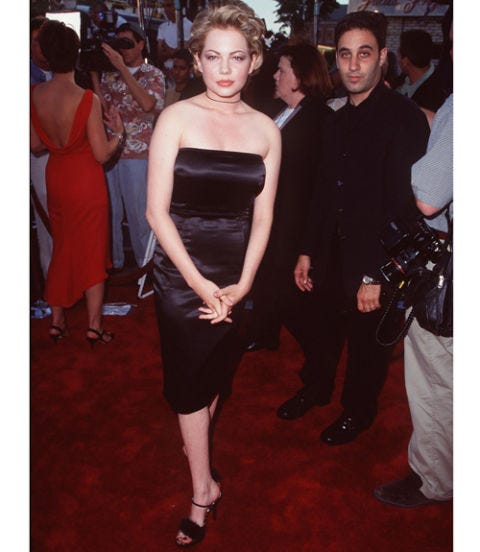 July 1998
Williams, who was now a bona fide TV star as a cast member of teen drama Dawson's Creek, walked the red carpet in a tight, strapless black gown — a bold look for the 17-year old.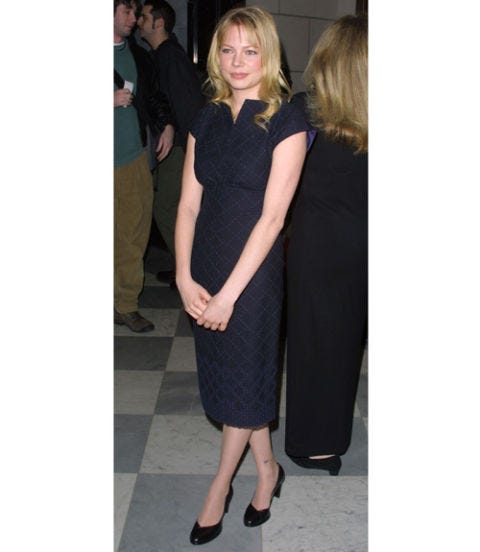 February 2002
In contrast to her bad girl character Jen Lindley, Williams celebrated Dawson's Creek's 100th episode demurely in a conservative long blue frock.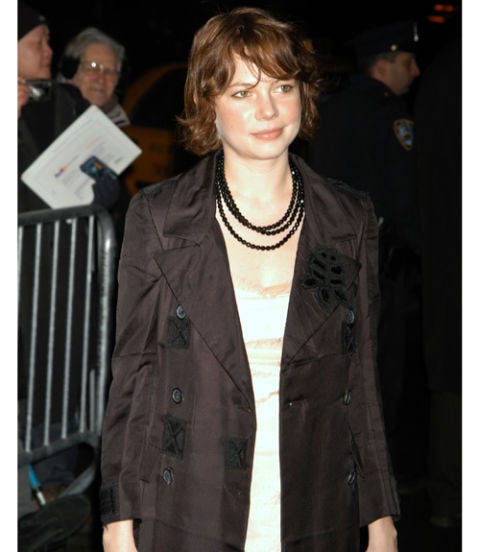 January 2004
In a rare hair color change, Williams swapped her angelic blonde shade for this dark 'do. She lightened it slightly a few months later for the filming of Brokeback Mountain — during which she would meet future fiancé Heath Ledger.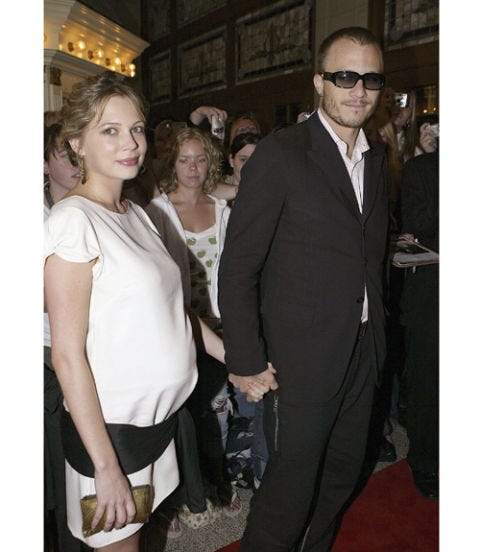 September 2005
Back to blonde and almost eight months pregnant, Williams, accompanied by Ledger, appeared on the red carpet in a white mini-dress.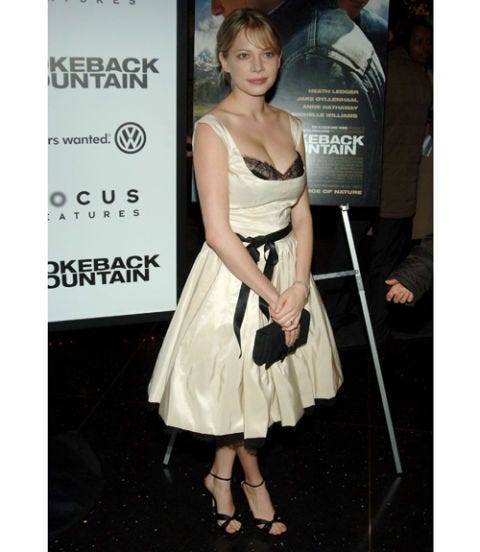 December 2005
Less than two months after giving birth to daughter Matilda, Williams looked incredibly trim in this silk and lace Oscar de la Renta cocktail dress at the Brokeback Mountain premiere in New York City.
January 2006
Looking adorably retro in a sheer, blue flapper-esque dress and headband, Williams and Ledger face the paparazzi in Sydney, Australia.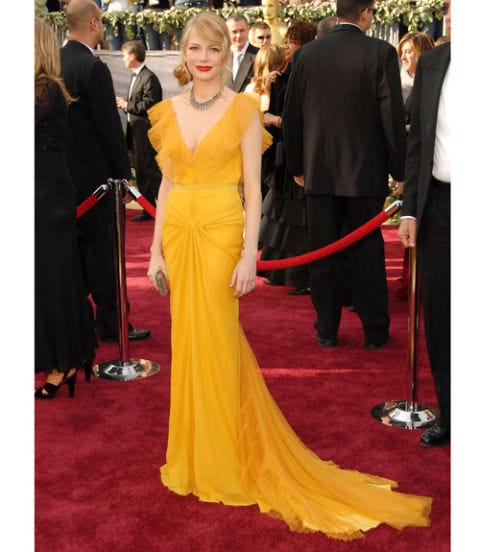 March 2006
Williams at the 78th Academy Awards, in which both she and Ledger garnered nominations. While neither took home a statue, her yellow Vera Wang gown was declared a winner on multiple best-dressed lists.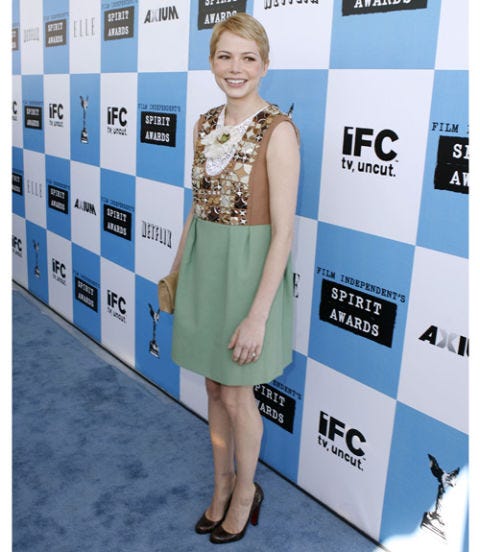 February 2007
In early 2007 Williams channeled Rosemary's Baby era Mia Farrow by cutting her blonde curls into a severe, yet playful pixie cut.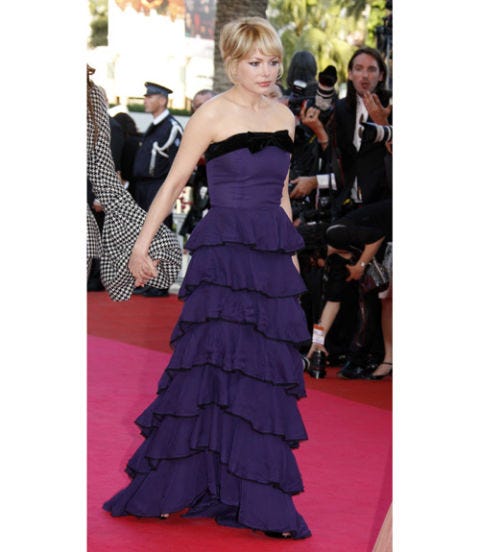 May 2008
Though she did spend most of 2008 avoiding the spotlight after Ledger's death, Williams appeared — holding hands with costar Katherine Keener — at the Cannes premiere of Synecdoche, New York in a stunning purple tiered gown which was adorned with black velvet bow.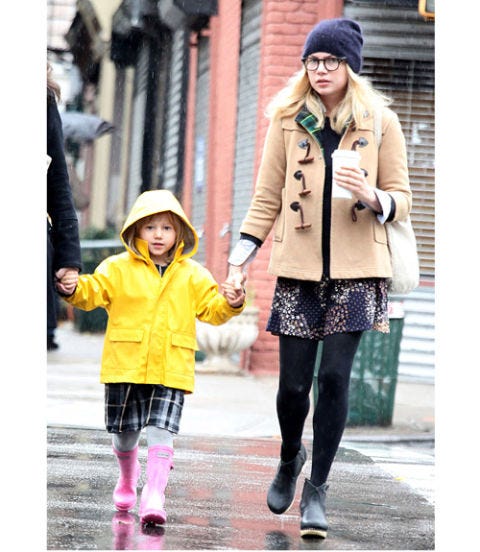 October 2009
Williams donned nerd-chic schoolgirl glasses, tights and a camel-colored toggle coat for a walk around her Brooklyn neighborhood with daughter Matilda.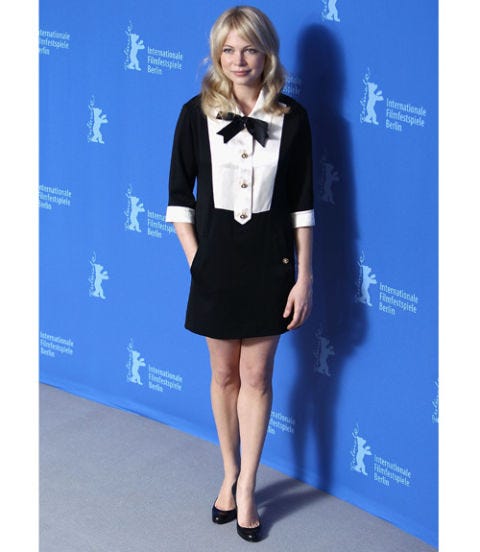 February 2010
Dressed in a 60s inspire black bow-tied shift dress and Louboutin pumps, Williams wore her long flaxen locks down and flowing at the 60th Berlin International Film Festival.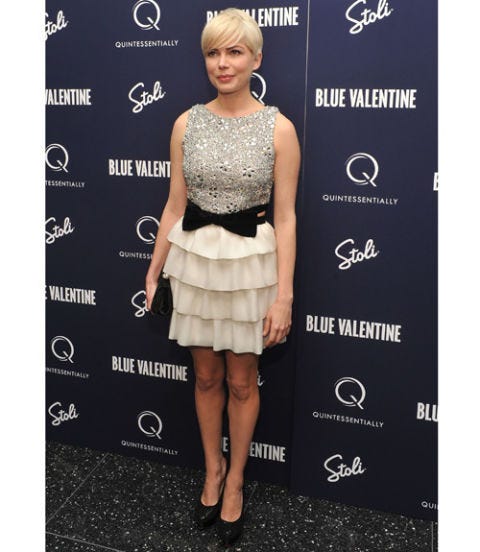 December 2010
Sporting the closely cropped cut she's been wearing since the early spring, Williams walked the red carpet in an embellished — another large black bow— Azzaro cocktail dress at the New York premiere of her latest film, Blue Valentine.
This content is created and maintained by a third party, and imported onto this page to help users provide their email addresses. You may be able to find more information about this and similar content at piano.io